As users become more concerned about how their data is being harvested and used by software and sites that they use, companies have started to become more transparent about the information they collect. In order to provide insight into the data transmitted to Microsoft by Windows, Microsoft released a tool called the Diagnostic Data Viewer.
In Windows 10 Insider Preview Build 17704 Microsoft released an updated Diagnostic Data Viewer to Insiders that now includes the ability to see Problem Reports that have been or will be transmitted to Microsoft. You can see an example of a problem report below, which is ironically from when DiagnosticDataViewer.exe crashed on my computer.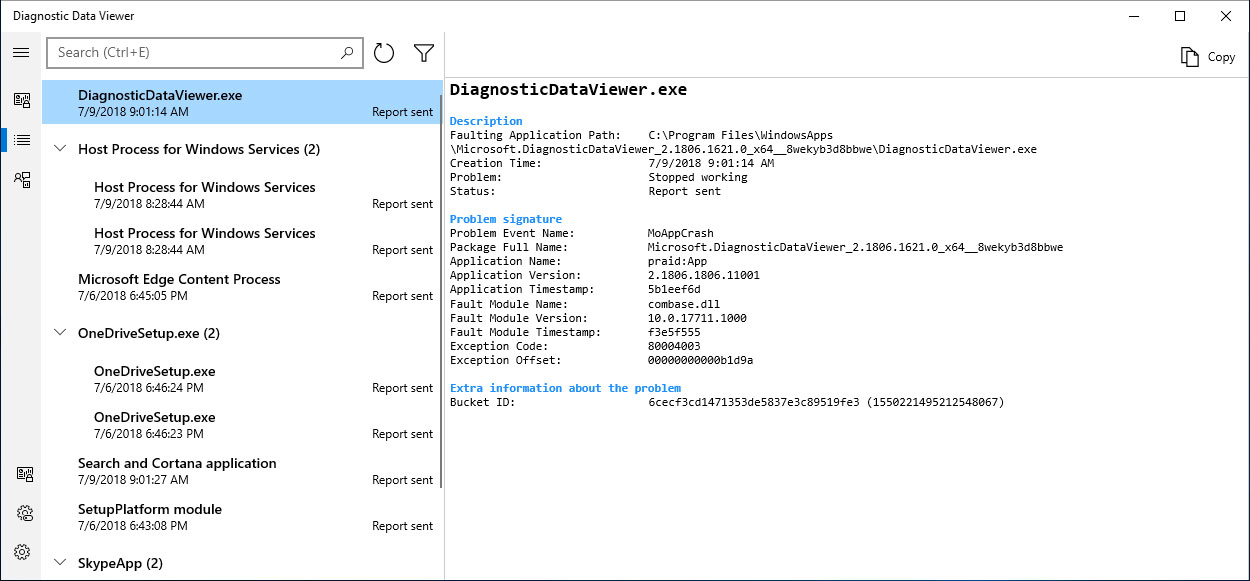 Problem Reports contain diagnostic data collected from an application and Windows at the time an application crashes, hangs, or stops working. Using this data, Microsoft can find bugs based upon the similarities in multiple crash reports for the same program.
For example, if a new update is causing a Windows app to crash, Microsoft will see a large amount of incoming problem reports related to that application. If all of these crash reports show a similar pattern, Microsoft can use this information to make it easier to narrow down what could be causing the problem.
While problem reports typically do not contain personal or private data, it will disclose what programs may be running on a computer.
Diagnostic Data Viewer also allows users to see other information collected by Microsoft, such as the following:
Common Data like the OS name, version, device ID, Device Class, and diagnostic level selection
Device Connectivity and Configuration such as device properties, preferences, settings, and network information
Product and Service Performance such as device health, performance and reliability, and device file queries (this is not meant to capture user patterns or habits)
Browsing History such as frequently visited sites
Product and Service Usage data like applications and services used
Software Setup and Inventory such as installed apps and device update information.
Deleting Diagnostic Data for your computer
For those who wish to remove diagnostic data, you can go into the Diagnostics and feedback settings screen and delete it as shown below. This option, though, will only delete data collected by Microsoft on the particular devices you are deleting from.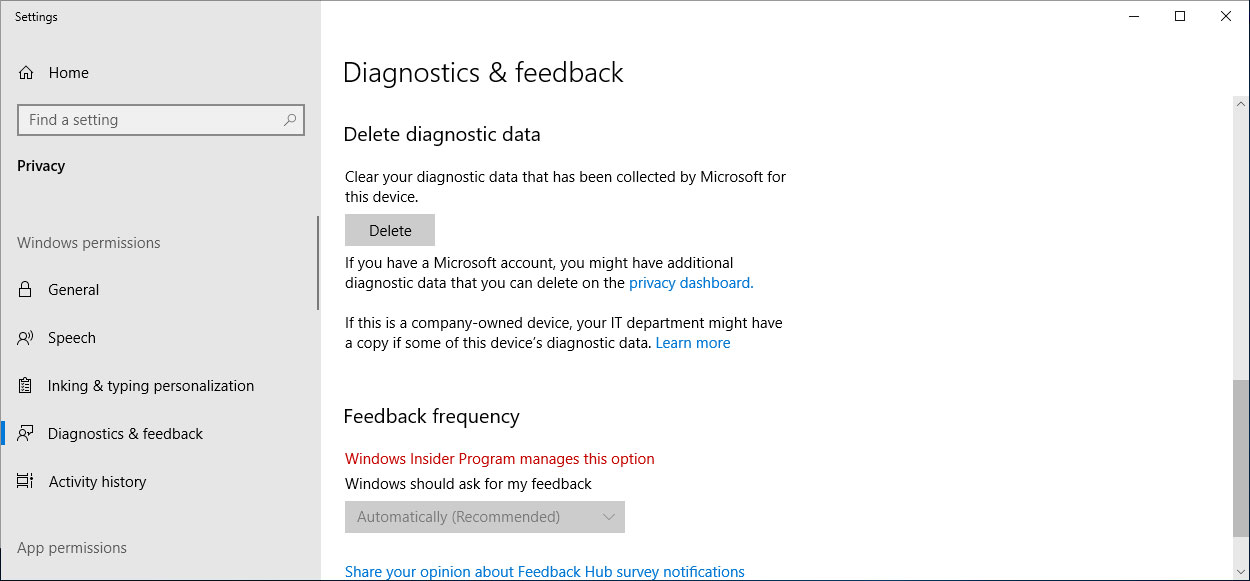 While deleting diagnostic data using the above method will clear what content was collected on this computer, you may have other data collected by Microsoft using other means. You can see all data collected by Microsoft by going to their Privacy Dashboard.