Malwarebytes has released a new version of their flagship product, Malwarebytes 3.4.4, that includes an enhanced detection and cleaning engines, an updated user interface, more useful notifications, and the fixing of the damn stacked notifications bug. If you are already using Malwarebytes, the next time you perform an update, it will alert you that a new version is ready to download.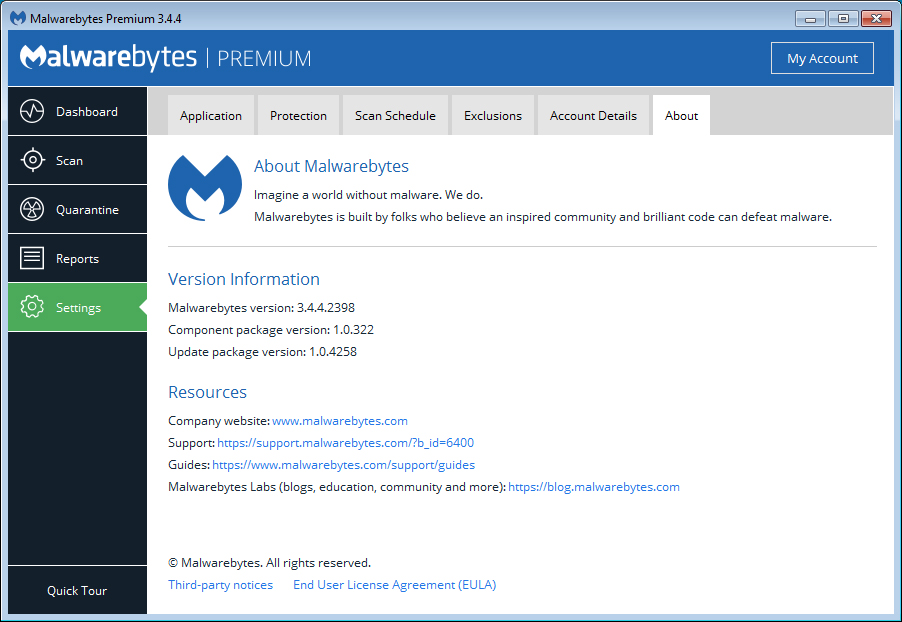 What has changed under the hood
The changes that are really important are under the hood as part of the scanning engine. This includes better detection and cleaning of hijacked shortcuts, including browser shortcuts, and scheduled tasks that launch malware or web pages. Both of these methods have become more common for adware, hijackers, and miners to utilize as a way to launch their payloads.
Another change is an improved detection and cleaning of systems that are heavily infected with malware. If a system becomes bogged down with adware, trojans, PUPs, and miners, the performance of Malwarebytes will suffer greatly. This change supposedly increases the performance of scans on these types of systems. I have not been able to test this myself, though, so we will need to see if this update makes much of a difference.
User interface changes
The more noticeable changes are in the user interface. With this release, we have some UI bug fixes, changes in how notifications are displayed, a new detection reports screen, and a notifications center.
Stacking notifications fixed
One of the items that I am very happy to see resolved is the notification stacking issue. In the past this would cause notifications for the same thing to stack over time. So if you were away from your computer for an extended period of time, you would be greeted with multiple notifications for the same issue that you would need to close independently.
New website blocked notification
Another change is a new design for the website blocked notification alerts. The older alerts were uglier and contained little information as to why the site was blocked. This new alert displays a cleaner looking alert that now contains the reason why the site was blocked.
| | |
| --- | --- |
| Old Notification | New Notification |
New detection reports interface
The reports for detected items have also been given a facelift. In the past all the details for the detected item were put in one screen of the report. With version 3.4.4, the first page of the report now contains basic information and then you can click on the Advanced tab to see more detailed information.
You can click on the images below to see what the reports look like in greater detail.
| | |
| --- | --- |
| New Report Screen | Separate advanced details page |
Notifications Center
As notifications in Malwarebytes are set to disappear by default after a short period of time, it is not uncommon to miss a notification. With this version, Malwarebytes introduced a new Notifications Center than can be used to see the latest notifications displayed by Malwarebytes.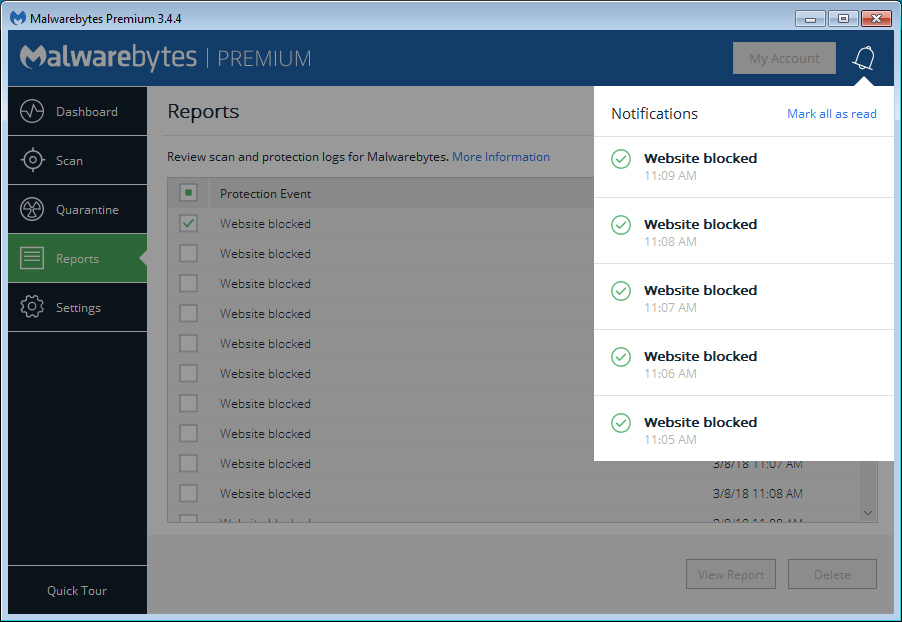 For a complete list of changes in Malwarebytes 3.4.4, you can view the changelog below.
Performance/protective capability
•   Improved remediation for shortcuts and tasks
•   Added better handling for heavily infected systems to streamline detection & remediation
•   Continued improvements to overall protection, detection and remediation 

Usability
•   Added Notification Center for easy access to most recent real-time block notifications (NOTE: you will see this in dashboard header, but currently it won't display for first time until after a real-time block event has occurred)
•   Added category to website blocked notification to show the reason why site was blocked
•   Improved report design for better usability
•   Added device name to My Account screen in preparation to sync with My Account portal
•   Updated the API used to interact with Windows Action/Security Center
•   Changed the 'Recover if missed by' setting for Scheduled Scans to be enabled by default for new scans 
•   Numerous other user interface and copy improvements  

Stability/issues fixed
•   Fixed issue where files did not save properly with anti-ransomware enabled
•   Fixed issue where notifications could stack so you might see multiple versions of same message
•   Fixed issue where Beta opt in setting would not honor Restore Defaults
•   Updated the 7-Zip library to the latest version, v.18.01
•   Improved upgrade process from earlier versions of Malwarebytes
•   Continued improvements to driver operation and management 
•   Fixed several crashes, including a blue screen related to Web Protection
•   Addressed other miscellaneous defects