Today a new Locky Ransomware variant was discovered by @dvk01uk that switches from the .ZEPTO extension to the .ODIN extension for encrypted files. It is important to note that if you are infected with this ransomware, you are not infected with the Odin Ransomware. You are instead infected by Locky, which is using the .ODIN extension. There is a difference.
Like previous variants, this sample is being spread through WS, JS, etc email attachments attached to SPAM emails. If a recipient double-clicks on one of these script files, it will download an encrypted DLL installer, decrypt it, and execute it using the legitimate Windows program called Rundll32.exe.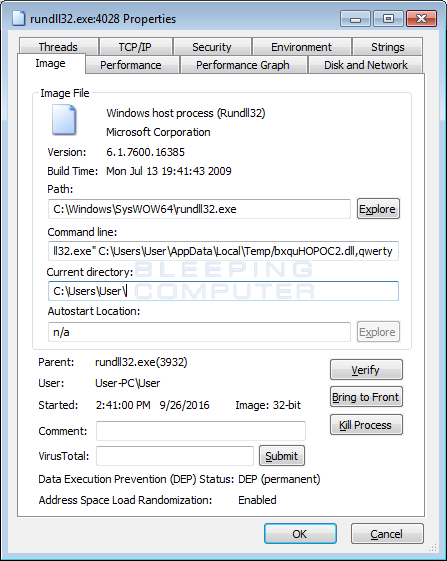 The command that is executed to launch the DLL is:
rundll32.exe %Temp%\[name_of_dll],qwerty
Once executed, Locky will encrypt a victim's files, rename them, and then append the .ODIN extension. For example, test.jpg may be renamed as 5FBZ55IG-S575-7GEF-2C7B-5B22862C2225.odin.
With this release, the names of the ransom note have changed as well. The ransom notes that are created by the current version are _HOWDO_text.html, _HOWDO_text.bmp, and _[2_digit_number]_HOWDO_text.html.
Last, but not least, the extensions targeted for encryption by this variant are:
.yuv, .ycbcra, .xis, .wpd, .tex, .sxg, .stx, .srw, .srf, .sqlitedb, .sqlite3, .sqlite, .sdf, .sda, .s3db, .rwz, .rwl, .rdb, .rat, .raf, .qby, .qbx, .qbw, .qbr, .qba, .psafe3, .plc, .plus_muhd, .pdd, .oth, .orf, .odm, .odf, .nyf, .nxl, .nwb, .nrw, .nop, .nef, .ndd, .myd, .mrw, .moneywell, .mny, .mmw, .mfw, .mef, .mdc, .lua, .kpdx, .kdc, .kdbx, .jpe, .incpas, .iiq, .ibz, .ibank, .hbk, .gry, .grey, .gray, .fhd, .ffd, .exf, .erf, .erbsql, .eml, .dxg, .drf, .dng, .dgc, .des, .der, .ddrw, .ddoc, .dcs, .db_journal, .csl, .csh, .crw, .craw, .cib, .cdrw, .cdr6, .cdr5, .cdr4, .cdr3, .bpw, .bgt, .bdb, .bay, .bank, .backupdb, .backup, .back, .awg, .apj, .ait, .agdl, .ads, .adb, .acr, .ach, .accdt, .accdr, .accde, .vmxf, .vmsd, .vhdx, .vhd, .vbox, .stm, .rvt, .qcow, .qed, .pif, .pdb, .pab, .ost, .ogg, .nvram, .ndf, .m2ts, .log, .hpp, .hdd, .groups, .flvv, .edb, .dit, .dat, .cmt, .bin, .aiff, .xlk, .wad, .tlg, .say, .sas7bdat, .qbm, .qbb, .ptx, .pfx, .pef, .pat, .oil, .odc, .nsh, .nsg, .nsf, .nsd, .mos, .indd, .iif, .fpx, .fff, .fdb, .dtd, .design, .ddd, .dcr, .dac, .cdx, .cdf, .blend, .bkp, .adp, .act, .xlr, .xlam, .xla, .wps, .tga, .pspimage, .pct, .pcd, .fxg, .flac, .eps, .dxb, .drw, .dot, .cpi, .cls, .cdr, .arw, .aac, .thm, .srt, .save, .safe, .pwm, .pages, .obj, .mlb, .mbx, .lit, .laccdb, .kwm, .idx, .html, .flf, .dxf, .dwg, .dds, .csv, .css, .config, .cfg, .cer, .asx, .aspx, .aoi, .accdb, .7zip, .xls, .wab, .rtf, .prf, .ppt, .oab, .msg, .mapimail, .jnt, .doc, .dbx, .contact, .mid, .wma, .flv, .mkv, .mov, .avi, .asf, .mpeg, .vob, .mpg, .wmv, .fla, .swf, .wav, .qcow2, .vdi, .vmdk, .vmx, .wallet, .upk, .sav, .ltx, .litesql, .litemod, .lbf, .iwi, .forge, .das, .d3dbsp, .bsa, .bik, .asset, .apk, .gpg, .aes, .ARC, .PAQ, .tar.bz2, .tbk, .bak, .tar, .tgz, .rar, .zip, .djv, .djvu, .svg, .bmp, .png, .gif, .raw, .cgm, .jpeg, .jpg, .tif, .tiff, .NEF, .psd, .cmd, .bat, .class, .jar, .java, .asp, .brd, .sch, .dch, .dip, .vbs, .asm, .pas, .cpp, .php, .ldf, .mdf, .ibd, .MYI, .MYD, .frm, .odb, .dbf, .mdb, .sql, .SQLITEDB, .SQLITE3, .pst, .onetoc2, .asc, .lay6, .lay, .ms11 (Security copy), .sldm, .sldx, .ppsm, .ppsx, .ppam, .docb, .mml, .sxm, .otg, .odg, .uop, .potx, .potm, .pptx, .pptm, .std, .sxd, .pot, .pps, .sti, .sxi, .otp, .odp, .wks, .xltx, .xltm, .xlsx, .xlsm, .xlsb, .slk, .xlw, .xlt, .xlm, .xlc, .dif, .stc, .sxc, .ots, .ods, .hwp, .dotm, .dotx, .docm, .docx, .DOT, .max, .xml, .txt, .CSV, .uot, .RTF, .pdf, .XLS, .PPT, .stw, .sxw, .ott, .odt, .DOC, .pem, .csr, .crt, .key