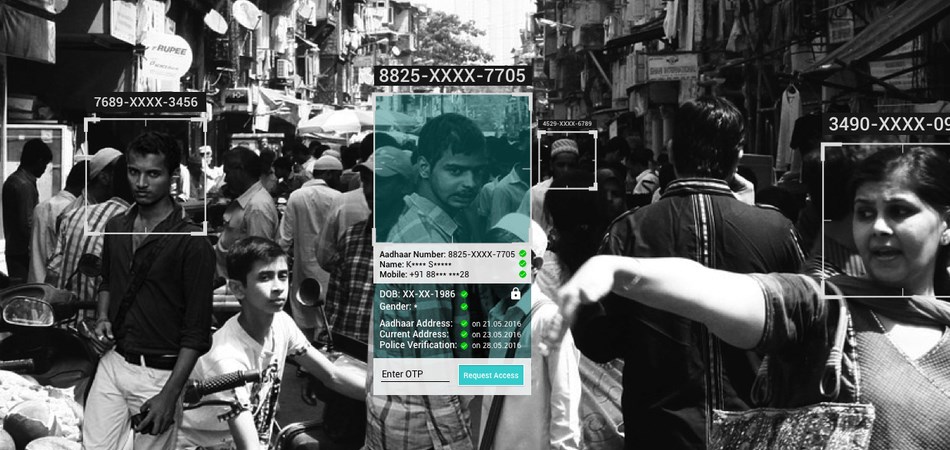 A report released on Monday by The Centre for Internet and Society reveals that over 135 million records from India's Aadhaar national ID systems have already leaked online.
The leaks didn't take place because of a flaw in the national Aadhaar system, but through government agencies that handle Aadhar data. According to the report, just four government programs are responsible for leaking a whopping number of 135 million records.
The programs mentioned in the report are India's National Social Assistance Programme (NSAP), the National Rural Employment Guarantee Scheme (NREGA), the Govt. of Andhra Pradesh's Chandranna Bima Scheme, and the Govt. of Andhra Pradesh's Daily Online Payment Reports of NREGA.
The problem of India's over-reaching Aadhaar database
The Aadhaar national database is one of the richest government-operated databases across the globe, holding more than just your basic identity details.
Set up in 2008, the Aadhaar system assigns each Indian a 12-digit ID in the form of XXXX-XXXX-XXXX, and records information such as home addresses, information on all bank accounts, mobile phone numbers, and all the biometrics details you can imagine, ranging from eye color to fingerprints, and from height to iris scans.
When it was first launched, the program was advertised as a database of Indian citizens' details which the government could use to pay subsidies and other benefits. Each user could register and assign a bank account to his Aadhaar ID, where to receive social benefits.
Eight years after the program's inception, the Indian government has pushed the adoption of the Aadhaar system in almost every facet of day-to-day life.
For example, students that want to enroll in educational classes, have to provide their Aadhaar ID. If you want to buy a new SIM card, your telecom will register that SIM card with your government-issued Aadhaar ID, even if you like it or not. Aadhaar has become so prevalent in Indian life, that the government doesn't even have to push it anymore. For example, two airports have already implemented an Aadhaar-based entry system into their premises, as an alternative to classic the classic entry method of showing a ticket or government ID.
Aadhaar data leaked through intermediaries
The prevalence of Aadhaar data is how The Centre for Internet and Society has discovered the leak. When the four government programs began operating, they began collecting personal details from participants, along with their Aadhaar ID, often pulling data from the Aadhaar database to complete profiles.
Improperly configured systems exposed the details of program participants on the Internet. While the full Aadhaar database was never exposed, details in the government program databases allow a fraudster to tie a person's leaked details (names, addresses, phone numbers) to an Aadhaar 12-digit ID.
If enough of these details leak in different places, fraudster can build comprehensive profiles on Indian citizens, even recreating the Aadhaar database themselves.
For its part, the Indian government has admitted that some of the Aadhaar database has leaked online through its ministries, said it started investigations, and is already preparing changes to Aadhaa'rs security policies.
A grim future ahead
Advertised as a Social Security system akin to the one used in the US, Aadhaar has become a behemoth database that has expanded beyond the government's control, as The Centre for Internet and Society has discovered.
Furthermore, the government has vested interests in expanding Aadhaar's reach, and not necessarily for any good reasons, according to Member of Indian Parliament, Tathagata Satpathy.
"My worry is that this data will be used by [the] government for mass surveillance, ethnic cleansing and other insidious purposes," Satpathy told Mashable India in February, following a public scandal, when a local IT firm had developed a face recognition system that relied on Aadhaar data.
"Once you have information about every citizen, the powerful will not refrain from misusing it and for retention of power," he added.
Government's failure to enact Aadhaar security and privacy policies
Right now, because of the massive leak of 135 million details, including Aadhaar IDs, Indians stand to become victims of financial fraud. In the future, as other government programs leak more data, including biometrics, the problem will pass the point where the government could do anything to fix it.
The Centre for Internet and Society would like the government body in charge of Aadhaar to exert more control over how this data is handled by third-parties. Below is the conclusion section of their report.
While the UIDAI has been involved in proactively pushing for other databases to get seeded with Aadhaar numbers, they take little responsibility in ensuring the security and privacy of such data. It is important to note that when Nandan Nilekani claims repeatedly that the Aadhaar data is secure, his focus is largely on the enrolment data collected by UIDAI, or authentication logs maintained by it. With countless databases seeded with Aadhaar numbers, we would argue that it is extremely irresponsible on the part of the UIDAI, the sole governing body for this massive project, to turn a blind eye to the lack of standards prescribed for how other bodies shall deal with such data, such cases of massive public disclosures of this data, and the myriad ways in which it may used for mischief. UIDAI may point to Section 29 (4), which makes publication of Aadhaar Numbers illegal , to state that legal machinery exists to deal with situations such as these, but its selective implementation against anyone pointing out flaws can be harmful. However, given the scale of the project, the amount of data involved, and the large expanse of both public and private parties involved, we would argue that there is no way that UIDAI, in good faith, could have determined the presence of one legal provision, on its own, as sufficient deterrent to prevent such flagrant misuse of data. Further, it is staggering that while these databases have existed in the public domain for months, while framing the Aadhaar Act Regulations in late 2016, the UIDAI did not even deem these as important matters to be addressed by way of regulations or standard
Image credit: OnGrid.in