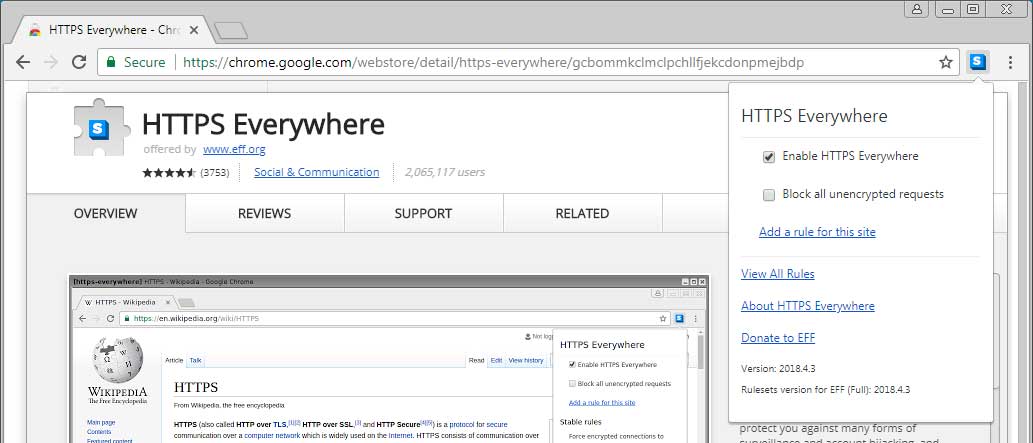 HTTPS Everywhere is a browser extension created by EFF and the TOR Project that makes web browsing more secure by automatically switching an insecure HTTP web request to a secure HTTPS request for sites that are using SSL. It does this through rules that are configured for compatible sites, which are then included in the extension.
In the past, when a new site was added to the rules, it would not be available to users until a new version of HTTPS Everywhere was released. This obviously incurs extra management overhead of pushing out a new version of the extension when rules are updated and creates gaps in time when rules become available.
On April 3rd, 2018, EFF released HTTPS Everywhere version 2018.4.3, which now supports "Continual Ruleset Updates". This feature allows new rulesets to be released without having users upgrade to a new version of the Chrome extension. At this time there are over 23 thousand rules created for this extension and you can browse the current rulesets here.
According to the EFF this new feature allow users to get rules in a timely manner and eases the workload of EFF in releasing a new version:
Ordinarily, we'll deliver this ruleset list bundled with the extension when you install or update it. But it's a lot of work to release a new version just to deliver a new list of rulesets to you! So we've modified the extension to periodically check in with EFF to see if a new list is available. That way you'll get the newest ruleset list in a timely manner, without having to wait for a new version to be released. In order to verify that these are the authentic EFF rulesets, we've signed them so that your browser can check that they're legitimate, using the Web Crypto API. We've also made it easy for developers and third parties to publish their own rulesets, signed with their own key, and build that into a custom-made edition of HTTPS Everywhere. We've called these "update channels," and the extension is capable of digesting multiple update channels at the same time.
HTTPS Everywhere will check for new ruleset updates every 48 hours by checking the https://www.https-rulesets.org/v1/ url. If new rulesets are available they will be downloaded and imported into the extension.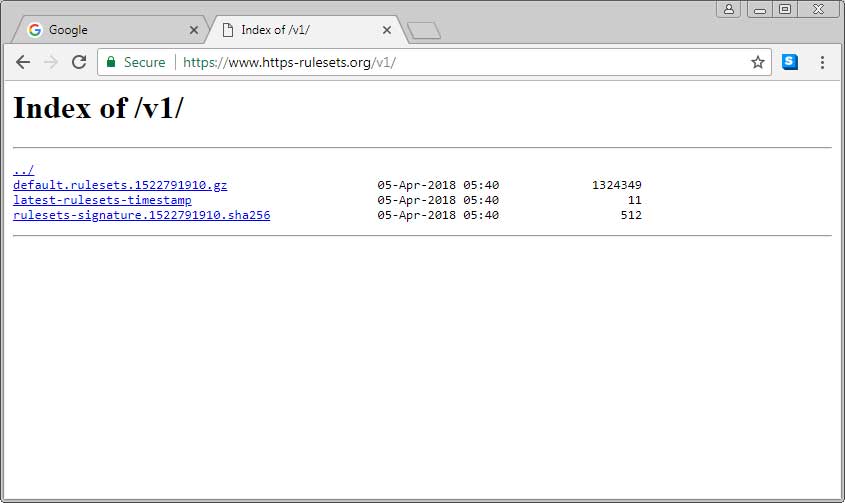 Unfortunately, at this time there is no way to manually trigger for new updates.
HTTPS Everywhere can be installed for Chrome, Firefox, Firefox for Android, and Opera.
Disable automatic rule updates
If you do not wish to automatically check for new updates, you can disable this in the extension's options screen. To access this screen, right-click on the extension's icon and select Options.
From there you can uncheck the "Auto-update rulesets" option.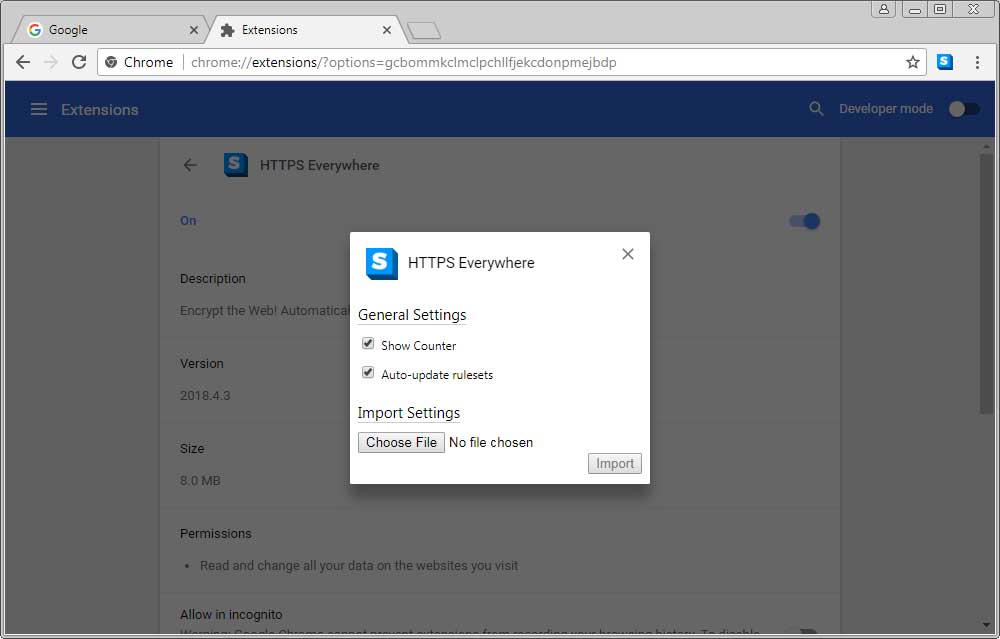 Rule for BleepingComputer added to HTTPS Everywhere
We first heard about this update when a visitor sent us the news that BleepingComputer.com was added as a rule in this version of HTTPS Everywhere.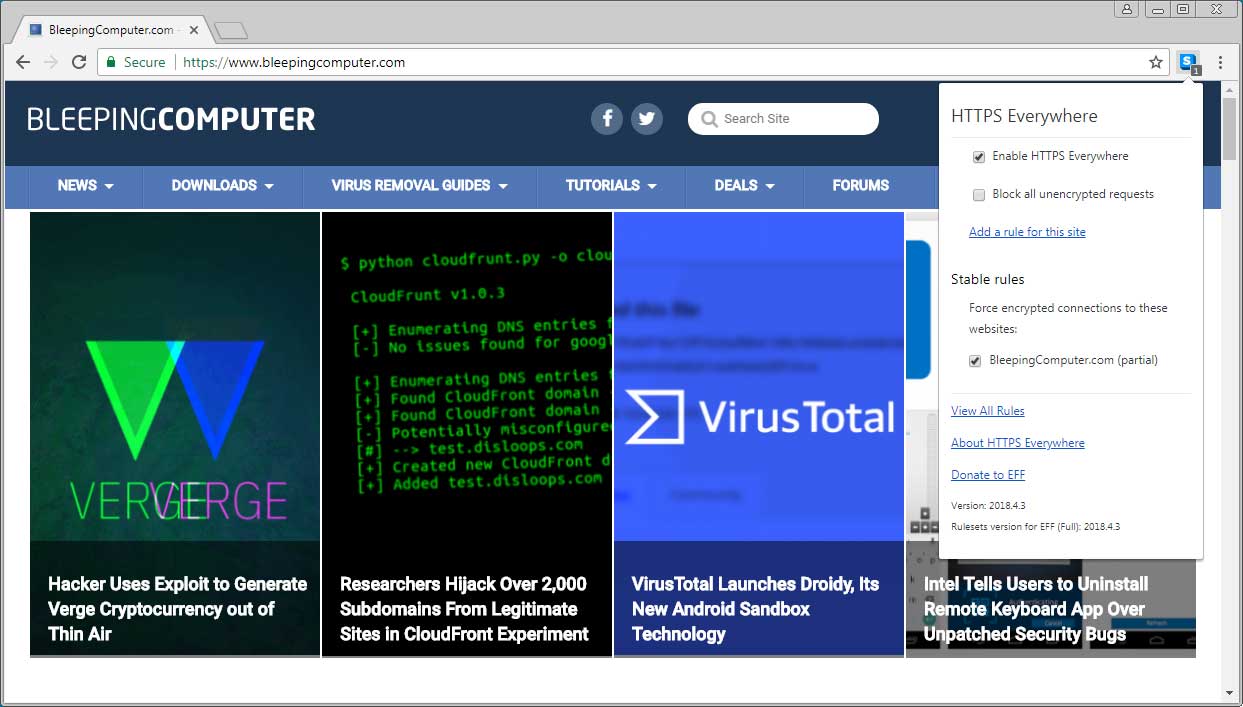 While we have already been redirecting users to our HTTPS version, for those who use this extension it potentially removes a redirect, which is always good.