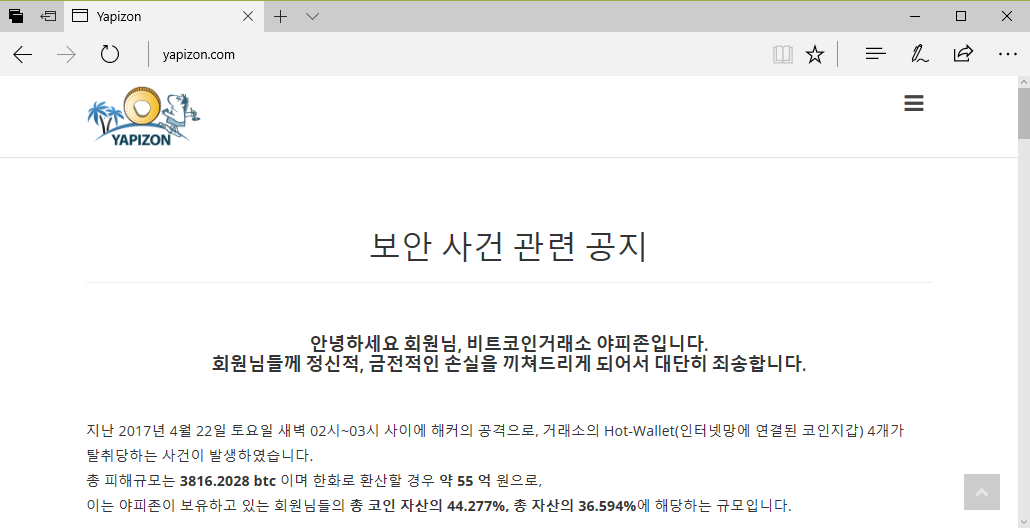 Yapizon, a South Korean Bitcoin exchange, announced last week it lost 3816.2028 Bitcoin (over $5.5 million) after an unknown hacker breached its system and stole funds from its server.
According to a statement in Korean plastered on the website's homepage [Google Translate here], the hack took place in the early hours of Saturday, April 22, between 02:00 and 03:00.
The funds were stolen from four hot wallets, which are intermediary wallets that all exchanges employ to hold Bitcoin funds to cover high-priority, instant transactions.
The bad news is that these four hot wallets stored nearly 36.594% of Yapizon's entire Bitcoin funds.
The exchange plans to handle the hack similarly to Bitfinex, the world's largest Bitcoin exchange, who in August 2016, lost 119,756 Bitcoin, which was worth a whopping $67.47 million at the time of the hack.
In a very controversial decision, Bitfinex decided to spread the losses to all user accounts, while also issuing Bitfinex tokens to compensate for their losses.
As Bitfinex recovered from the hack, the exchange bought back tokens, and users recouped their losses. Bitfinex successfully closed the token buy-back process on April 3.
Yapizon is now taking the same approach and has already spread the losses to all accounts by deducting 36.594% from each user's wallet and issuing so-called "Fei" tokens for the lost funds.
The exchange has also made it clear this wasn't the work of "an insider," and said it reported the incident to the Cyber ​​Investigation Division of the Seoul Metropolitan Police.