Mozilla engineers are planning an ad filtering system for Firefox that would block certain types of intrusive ads with the switch of a button.
The ad filtering system is expected to land in Q3 2018 and was announced in a wiki page containing Mozilla's plans for Firefox for the current year.
Firefox to filter deceptive ads, inpage popups, autoplay videos
"At Mozilla we work in the open," Peter Dolanjski, Product Manager of Firefox, told Bleeping Computer in an email. "The Firefox Roadmap is a vision of what we are planning for the year, and for some of the items listed we are still in the early stages."
"We are researching and, in some cases, developing various methods of blocking invasive forms of advertising," Dolanjski says. "This includes: autoplaying videos with sound (public discussion here), in-content pop-ups (add-on to report examples here) and a variety of other deceptive practices (listed here)."
"While these methods are based on ad and content types, our final approach will be announced at a later date. We expect to integrate this functionality directly into Firefox."
In the Firefox Roadmap wiki page, the wording of this new feature hints at an option that may be added to the Firefox settings panel.
"Firefox will offer users a simple ad filtering option," the wiki page reads. "We're in the early stages still, researching types of advertisements that should be blocked by default."
Firefox already blocking some ads
Currently, Firefox already blocks ads known to track users, but this feature is only available if users enable "Tracking Protection." In current Firefox versions, Tracking Protection is active by default in private browsing windows only.
Mozilla added an option in Firefox 57 that would allow users to have Tracking Protection enabled at all times. Nonetheless, this feature breaks some functionality on several sites.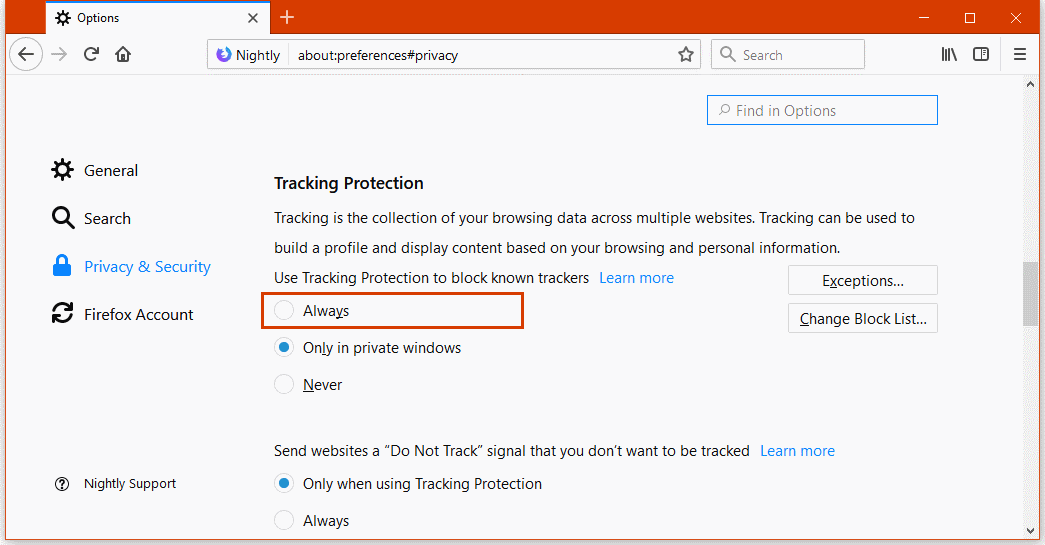 Expectations are that the new ad filtering option will just block the ads without affecting regular Internet browsing, similar to how normal ad-blocking extensions currently works.
Chrome and Opera already blocking ads
Mozilla shied away from using the term "ad-blocker" to describe this feature, as its intent appears to be to block only misbehaving ads that destroy a user's online experience.
This is the same approach that Google took earlier this year when it deployed an ad-blocking component in Chrome that blocks ads that do not respect the Better Ads Standard.
Opera, too, comes with a built-in ad-blocking component, but Opera's utility works more similarly to a true ad blocker, allowing users to block all ads by using a default blocklist of known advertisers or importing their own.