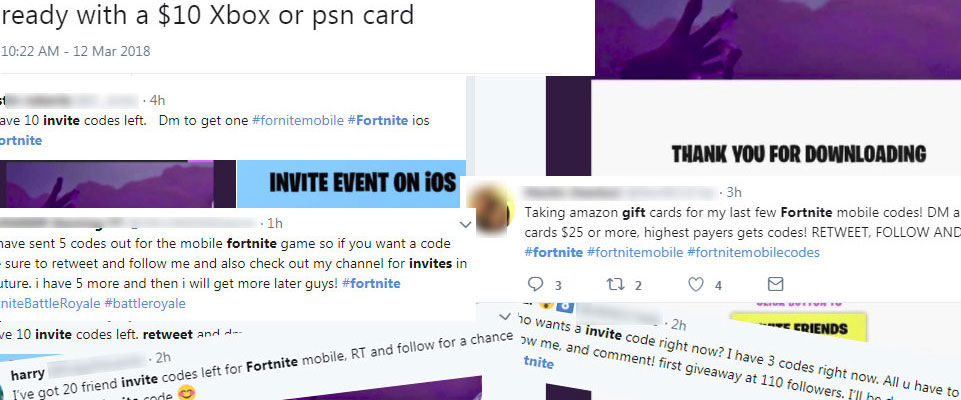 Whenever something newsworthy comes out there will always be people who try to take advantage of it. A perfect example of this is the Fortnite iOS mobile invite that launched today, where people are impatiently waiting for the invite codes to be released, while others try to trick them into purchasing fake ones.
When the Fortnite mobile iOS signups launched this morning, I quickly saw an uptick in Twitter & Facebook posts where people were claiming to have already received invites and would give or sell them for a follow, retweet, paypal payments, or PSN and Amazon gift certificates. Some people were going as far as saying that they had 50 extra invites for sale.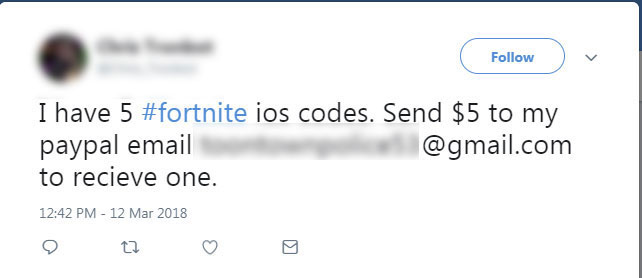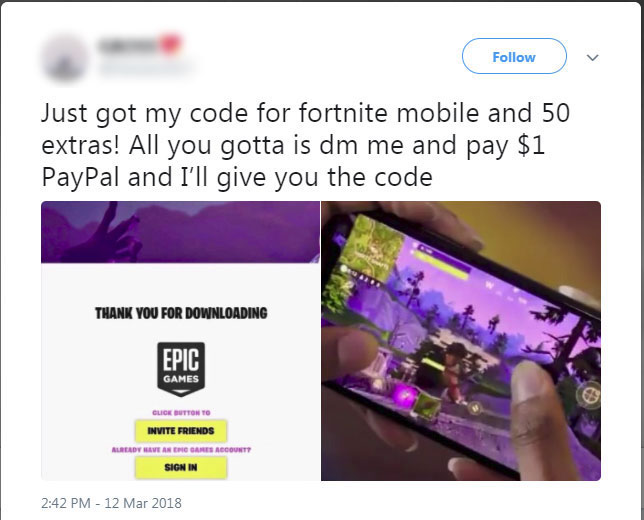 I had already reached out to Epic games for comment and not heard back, but it wasn't until my kids came home from school and told me you could buy invites online that I knew this was a problem. While, I quickly assured them that this was not the case, I decided to dig around for confirmation that invites were not being sent today.
I joined Fortnite's official Discord server and was told by numerous people that invites were not being sent out today, but did not hear back from an official source.
I was also able to find a comment by a mod on the official Fortnite subreddit that states that only signups were occuring today and that the servers were not even live as of yet. Once again, while it's an official subreddit, I was not 100% sure if the moderator is a employee of Epic or just a fan helping out.

Finally, I saw an article on Forbes that stated that Epic told them invites would not be sent out until the end of the week. This was news I could trust because it came directly from Epic.
The problem was that a simple pinned topic in their forum or a comment in their press release about when invites are being sent out would have been enough. Unfortunately, nothing was posted on their web sites other than the invites would be sent "soon". This could mean today, tomorrow, or a year from now and only creates fertile ground for scammers to plant their seeds.
This leads to a very important point. As there will always be scammers trying to take advantage of people, it is important for companies to provide as much detail as they can. Especially with launches like this that are related to a geared towards children who just want to get their hands on a new version of their favorite game.
Update 3/12/18 5:58 PM:
Nick Chester, a PR Manager for Epic Games, told BleepingComputer that:
"Invites have not been sent out. Anyone offering invites or "codes" right now should not be trusted. Players should only trust official communications from Epic Games, and should be sure that they are visiting websites that are from the fortnite.com or epicgames.com domain. Players who are invited will have their accounts enabled to participate. "
Therefore, be careful out there and do not purchase any invites from anyone claims to have them as invites have NOT been sent out yet.