A modified version of the open-source ransomware project called desuCrypt is being used as the base code for a new ransomware family being actively distributed. This family currently has two variants being distributed, with one appending the .insane extension and the other appending .DEUSCRYPT.
The good news is that a decryptor has been released for the Insane version and the Deuscrypt variant is currently being analyzed for weaknesses as well.
Update 1/22/18 2:43PM EST: Michael's decryptor has now been updated to support the Deuscrypt variant as well.
How desuCrypt encrypts a computer
When desuCrypt is executed, it will display a console windows that displays the current status of the encryption process. This window will stay open until the ransomware has finished encrypting the computer.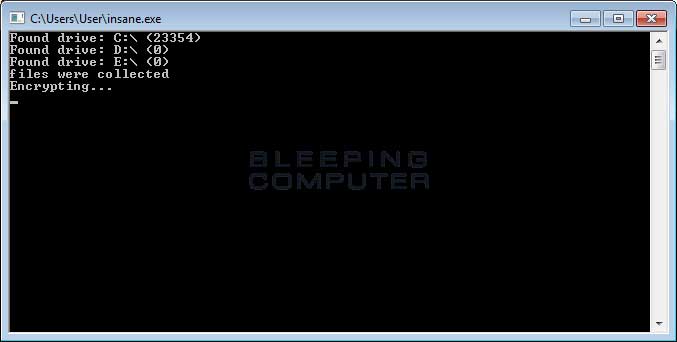 According to Michael Gillespie, the creator of ID-Ransomware, at least the Insane variant of desuCrypt is encrypting files using RC4 encryption. This RC4 key is further encrypted using an embedded RSA-2048 key and then embedded at the end of each encrypted file.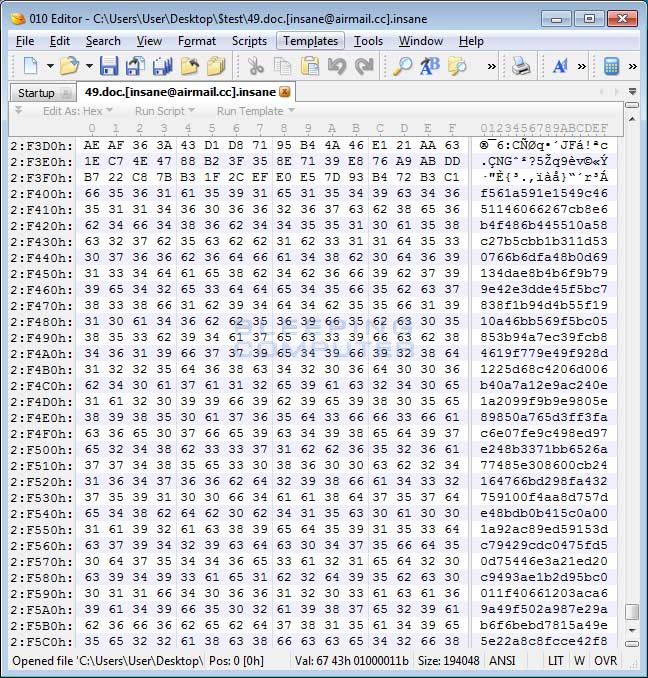 Depending on the variant, when encrypting a file the ransomware will append either the .[rememberggg@tutanota.com].DEUSCRYPT or the .[insane@airmail.cc].insane extension to the encrypted file's name. For example, a file encrypted by the insane variant would be renamed as 4.png.[insane@airmail.cc].insane.
| | |
| --- | --- |
| Insane Encrypted Folder | DeusCrypt Encrypted Folder |
Once all of the files have been encrypted, it will drop ransom notes on the desktop. The ransom note is named How_decrypt_files.txt for the Insane variant and note.txt for the DeusCrypt variant. Both ransom notes tell the victim to contact the listed email addresses for payment instructions.
| | |
| --- | --- |
| Insane Ransom Note | DeusCrypt Ransom Note |
It is not known at this time how much the ransom payment is and if they actually provide the decryptor if a victim pays. We do not advise that anyone pay the ransom for this ransomware until it can be determined if they both can be decrypted for free.
Decrypting the Insane & Deuscrypt variant
Michael Gillespie has been able to create a decryptor for the both variants of desuCrypt The decryptor for the ransomware can be downloaded from the following link.
In order to use the decryptor, a victim will need to have the same file in their encrypted and non-encrypted form and the file must be larger than 10MB. These files will then be used to brute force the decryption key. Once the decryption key is recovered, the decryptor can be used to recover the rest of the files for free.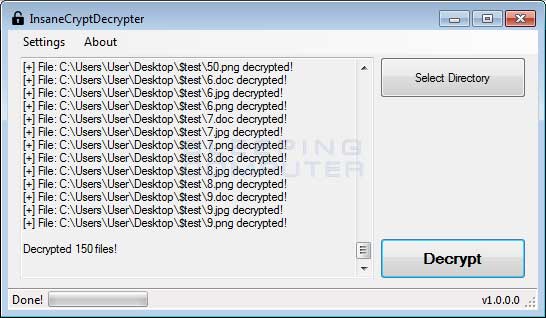 If you need any help using the decryptor, you can ask in the desuCrypt Ransomware Support & Help topic.
How to protect yourself from desuCrypt
In order to protect yourself from ransomware, it is important that you use good computing habits and security software. First and foremost, you should always have a reliable and tested backup of your data that can be restored in the case of an emergency, such as a ransomware attack.
You should also have security software that incorporates behavioral detections to combat ransomware and not just signature detections or heuristics. For example, Emsisoft Anti-Malware and Malwarebytes Anti-Malware both contain behavioral detection that can prevent many, if not most, ransomware infections from encrypting a computer.
Last, but not least, make sure you practice the following security habits, which in many cases are the most important steps of all:
Backup, Backup, Backup!
Do not open attachments if you do not know who sent them.
Do not open attachments until you confirm that the person actually sent you them,
Scan attachments with tools like VirusTotal.
Make sure all Windows updates are installed as soon as they come out! Also make sure you update all programs, especially Java, Flash, and Adobe Reader. Older programs contain security vulnerabilities that are commonly exploited by malware distributors. Therefore it is important to keep them updated.
Make sure you use have some sort of security software installed that uses behavioral detections or white list technology. White listing can be a pain to train, but if your willing to stock with it, could have the biggest payoffs.
Use hard passwords and never reuse the same password at multiple sites.
For a complete guide on ransomware protection, you visit our How to Protect and Harden a Computer against Ransomware article.
IOCs
Hashes:
Deuscrypt Variant:   e27fc6bb3b7cc8cd88976130baa065879e4bd5f2f64a5af2d3a12447064bfa19
Insane Variant:      e8a2963e1e36e31f1091394a55eba63b637e2f0884c7d96bad24da6362ebb43d
Associated Files:
Insane variant: How_decrypt_files.txt
Deuscrypt variant: note.txt
Associated Emails:
Insane: insane@airmail.cc
Deuscrypt: rememberggg@tutanota.com
DeusCrypt Ransom Note Text:
All your files have been encrypted due to a security problem with your PC. If you want to restore them, write us to the e-mail rememberggg@tutanota.com.You have to pay for decryption in Bitcoins. The price depends on how fast you write to us. After payment we will send you the decryption tool that will decrypt all your files.
[id]
Insane Ransom Note Text:
Hello!
If you want restore your files write on email - insane@airmail.cc