Google engineers have added two neat features to the Chrome browser that will alert users of extensions that hijack proxy settings or the new tab page.
The changes — spotted in Google Chrome Canary builds (v62.x) — are in the form of popups that appear to the right side of the screen, near the Chrome dropdown menu.
Warnings will help fight onslaught of malicious extensions
The first of these warnings is for extensions that take over the user's proxy settings, effectively hijacking the user's Internet connection.
Malicious extension devs use proxy hijacking to redirect malicious traffic through their servers, where they inject or replace legitimate ads with their own.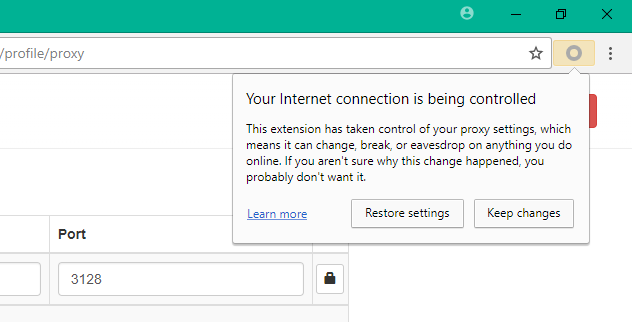 The second warning popup is for extensions that change the user's home tab. Usually, malicious extensions hijack a browser's new tab to insert their own custom web page or redirect users to a search engine.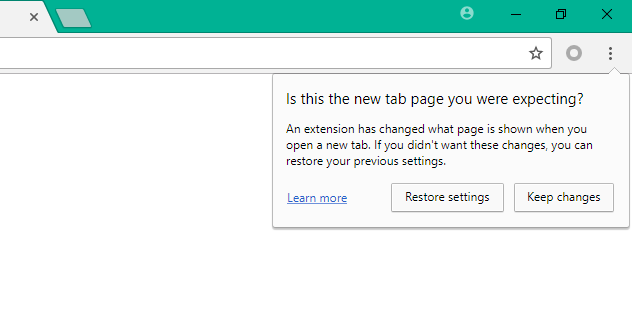 The popup messages that Google added include buttons that allow users to quickly reverse the actions of the malicious extensions.
These buttons are extremely important, as not all users have the technical knowledge to revert proxy changes, Chrome's default tab, or even uninstall an extension on their own.
Chrome Web Store under assault by malicious extension devs
The addition of these popups are part of Google's plan to fight malicious Chrome extensions that have been starting to plague the Web Store [1, 2, 3, 4].
Bleeping Computer obtained a copy of an email Google sent to Chrome extension developers in July. The email informs extension developers that starting with August 1, extensions that programmatically change the startup page, homepage, search provider setting, or any other setting, must do it only via the Settings Overrides API.
Google added the Settings Overrides API in Chrome for Windows in 2014, and ported it for Mac earlier this year.