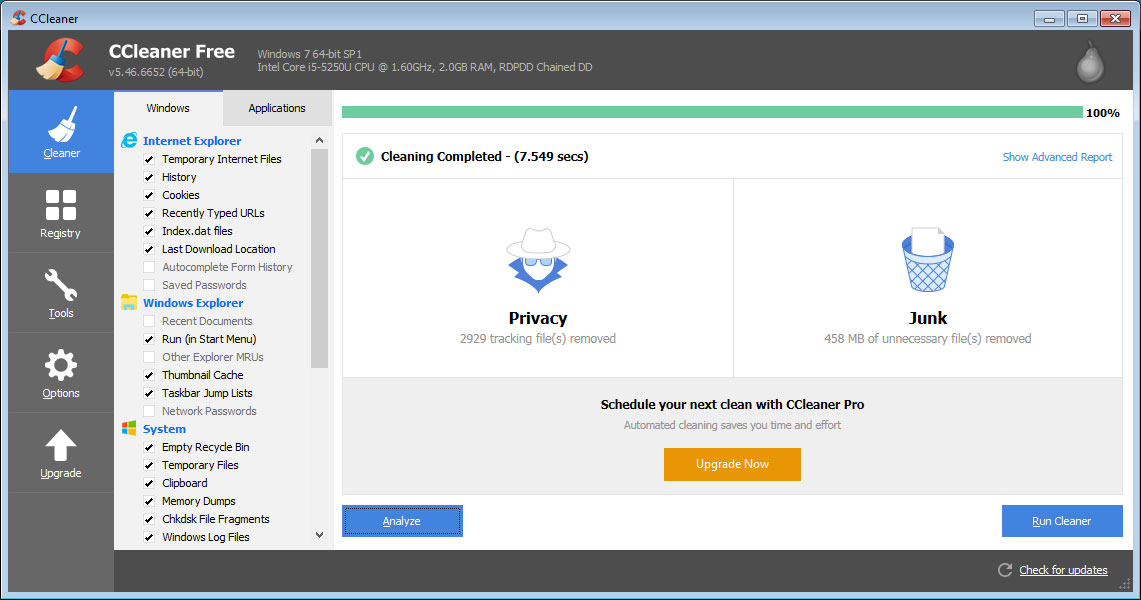 CCleaner 5.46 was released yesterday and aims to fix all of the problems that led to the fiasco with the previous release of CCleaner 5.45. With this release, Piriform has added settings that allow you to actually disable their background monitoring process and to disable the sending of anonymous usage statistics.
In the previous CCleaner 5.45 version, users were rightfully upset because they found they were unable to permanently disable the program's Active Monitoring feature. Once they disabled the feature, it would automatically start again on the next reboot. This version also removed the ability to disable the sending anonymous usage data to Piriform, which is not acceptable in today's increasing demands for more privacy.
To make matters worse, when you minimized CCleaner there was no obvious way to terminate the program. This required users to terminate the process in Task Manager in order to shut down the program.
Due to all of these complaints, Piriform decided to pull the 5.45 version until they could be fixed in the the 5.46 version, which was released yesterday.
As part of its release, Piriform included a link to a web page that outlines what data it collects and how it collected. The full change log for CCleaner 5.46 can be found below.
v5.46.6652 (30 Aug 2018)

Privacy Settings 
- Added a separate control for the reporting of anonymous usage data 
- Added a link to a Data Factsheet (https://www.ccleaner.com/about/data-factsheet), which explains the data reported from CCleaner, why it's reported, and what it's used for 

Smart Cleaning 
- Renamed the 'Monitoring' feature to 'Smart Cleaning', to better describe its function (intelligent cleaning alerts) 
- Reworded checkboxes for clarity 
- If Smart Cleaning is disabled, CCleaner's background process will close and the feature will not run on startup 

General 
- Restored previous System Tray and minimize behavior 
- Fixed various stability issues
CCleaner 5.46 gives you control of your data
With the release of CCleaner 5.46, users can now decide how their data, anonymous or not, is being sent back to Piriform.
For users who wish to disable the sending of anonymous usage data you can go into Options -> Privacy and then uncheck the "Help improve CCleaner by sending anonymous usage data" as shown below. Once this setting is unchceked, CCleaner will no longer send usage data back to Piriform.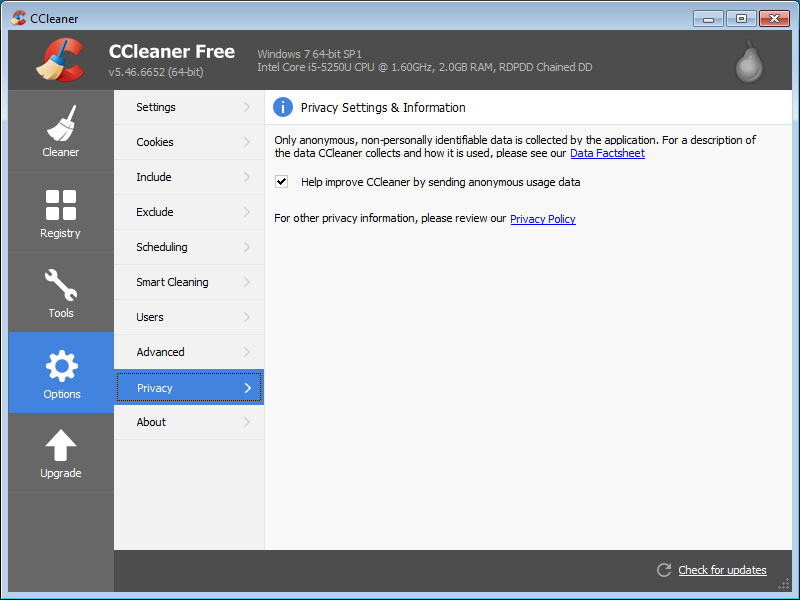 Active Monitoring is now known as Smart Cleaning
The much criticized Active Monitoring feature has also received an overhaul and is now called Smart Cleaning. With this release, you can now disable the Smart Cleaning feature again by going into Options -> Smart Cleaning as shown below.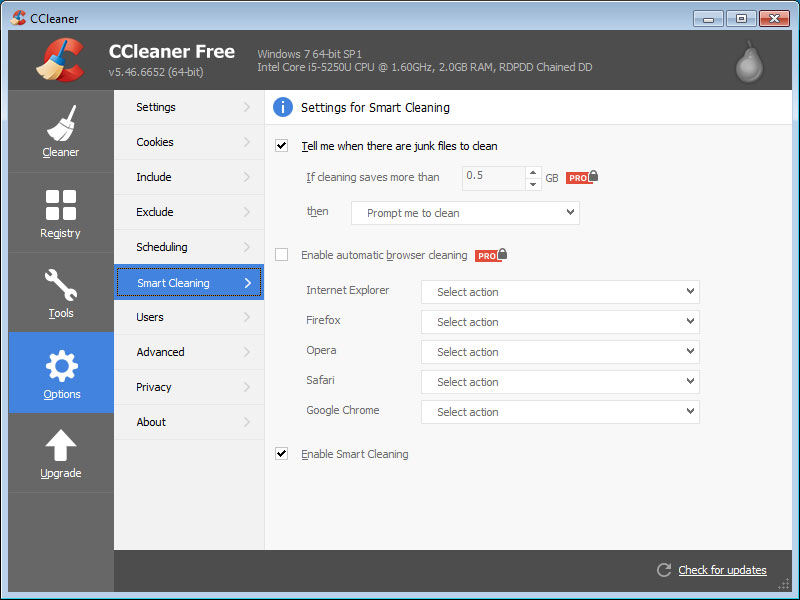 As CCleaner always runs in the background, there will always be a CCleaner64.exe processes running in Task manager. If Smart Cleaning is enabled, though, there will be two CCleaner64.exe with one of them being used by the Smart Cleaning monitoring service.
You can see an example of this in the task manager image below.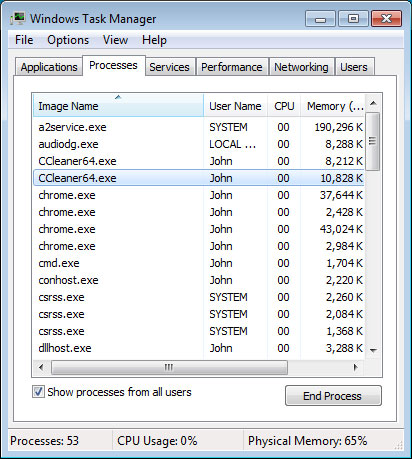 To disable Smart Cleaning, you first need to uncheck "Tell me when there are junk files to clean", which will then allow you to uncheck "Enable Smart Cleaning". Once you uncheck this option, you will see a prompt asking you to confirm you wish to disable the Smart Cleaning feature.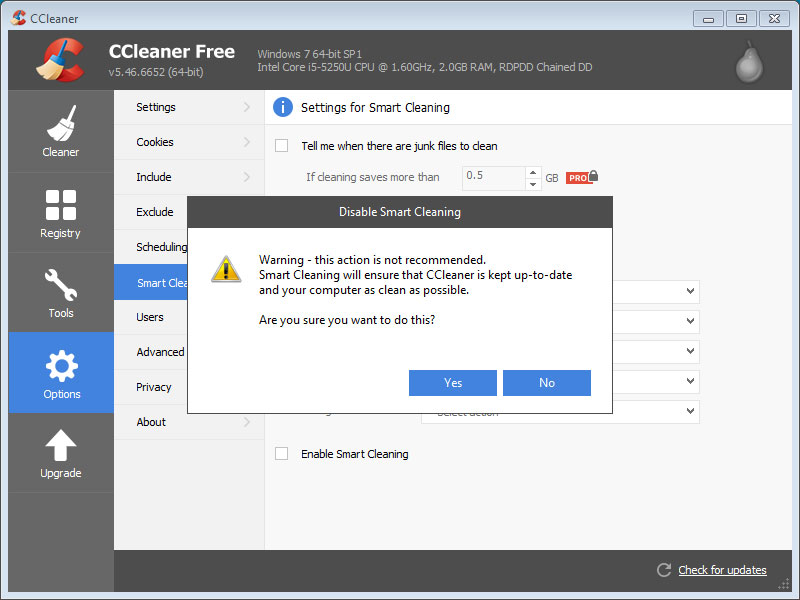 When you click Yes, Smart Cleaning will be disabled and the second CCleaner64.exe process will be terminated.
CCleaner still pushing bundled software
This release, like previous ones, is still displaying offers for bundled software when you install CCleaner. So far when testing this build, I have seen offers for Google Chrome and Avast.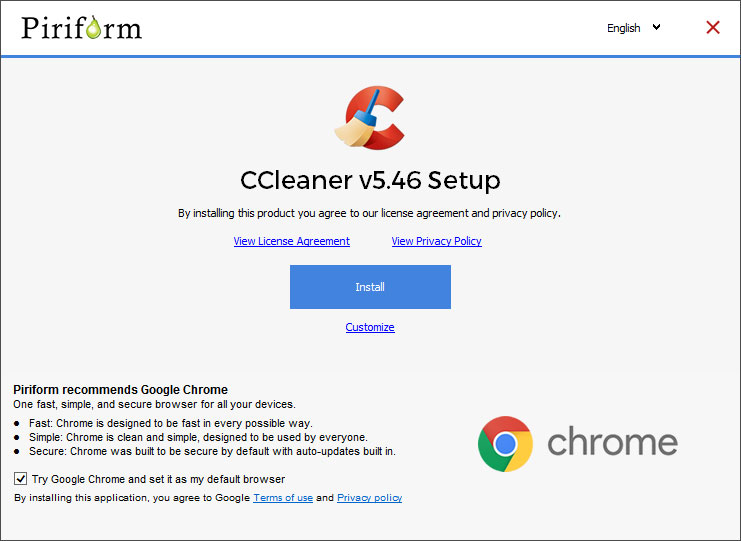 If you notice the offer, you can easily disable it from the home screen. Unfortunately, not everyone sees these offers and installs them by accident.
To be safe, Piriform offers a slim version, which does not contain offers. This version can be downloaded from here.

H/T: Techdows.com