This week users of Avast's antivirus product have reported Internet problems after performing an upgrade of a product. If users also have Malwarebytes installed, reports are coming in that Avast is causing conflicts with that program as well.
Unfortunately, at this time in order to get both programs working properly together, you will need to disable a protection module from one of the programs in order to avoid the conflicts.
Avast 18.6.2349 causing connectivity problems
After upgrading to Avast 18.6.2349, numerous users on the Avast Forums have started to complain about not being able to browse web sites. When users attempted to diagnose the issue they found that this is not a total loss of connectivity as they could ping IP addresses, but could were able to not access web sites via a browser.

When disabling the Avast WebShield component, which protects users from browsing to malicious sites or scripts, users reported that they were once again able to browse the web as normal.
In one support forum post, a Avast employee named Filip Braun stated that this problem could be caused by a failed update that left old Avast drivers behind.
Hello,

We have identified the issue as a problem during program update, that left some old Avast stuff there, that should have been updated.

To fix the problem please perform a repair: https://support.avast.com/en-eu/article/Repair-Antivirus
Or uninstall and newly re-install your Avast Antivirus.

Permanent fix for the update issue is coming in future version.

Thank you,
Filip
Avast forum regulars are suggesting that users perform a clean install of Avast to see if that resolves the issue.
Avast causing conflicts in Malwarebytes
To make matters worse, Malwarebytes users who have Avast installed are also reporting numerous problems this week as well after upgrading Avast. Some of the issues being reported include being unable to open the program's dashboard, errors using Malwarebyte's support tool, Malwarebytes crashing, or the inability to keep real time protection enabled.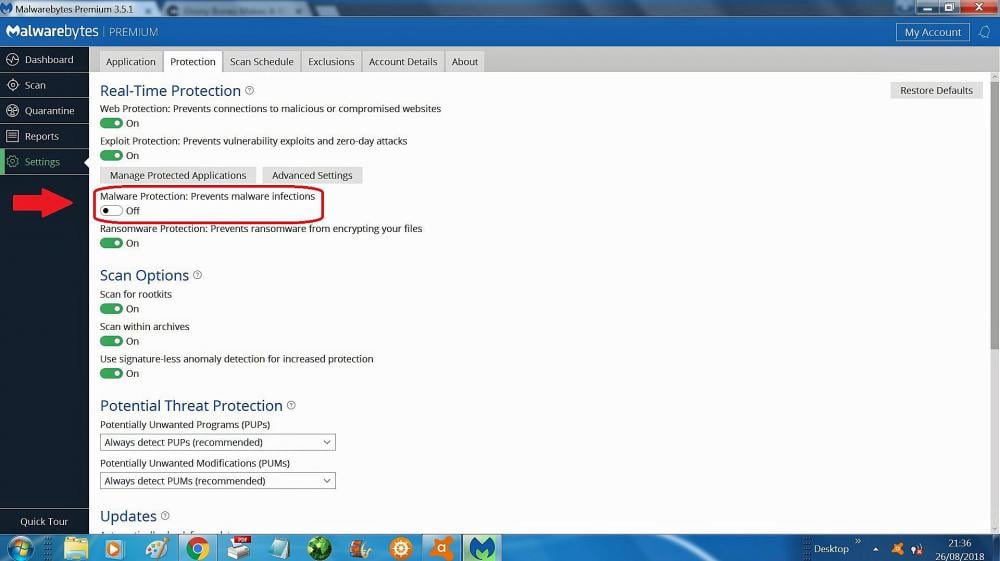 Some users have reported that they can get Malwarebytes working again by disabling the program's Web Protection component, which protects users from malicious sites. Others have reported that they can Malwarebyte's Web Protection component again if they disable Avast's similar "Real Site Protection" feature.
According to a post by a Avast developer on the Malwarebytes forum, this issue is supposedly a conflict between the two program's web protection modules. The developer further indicates that Malwarebytes is not performing UDP filtering using a MS recommended solution.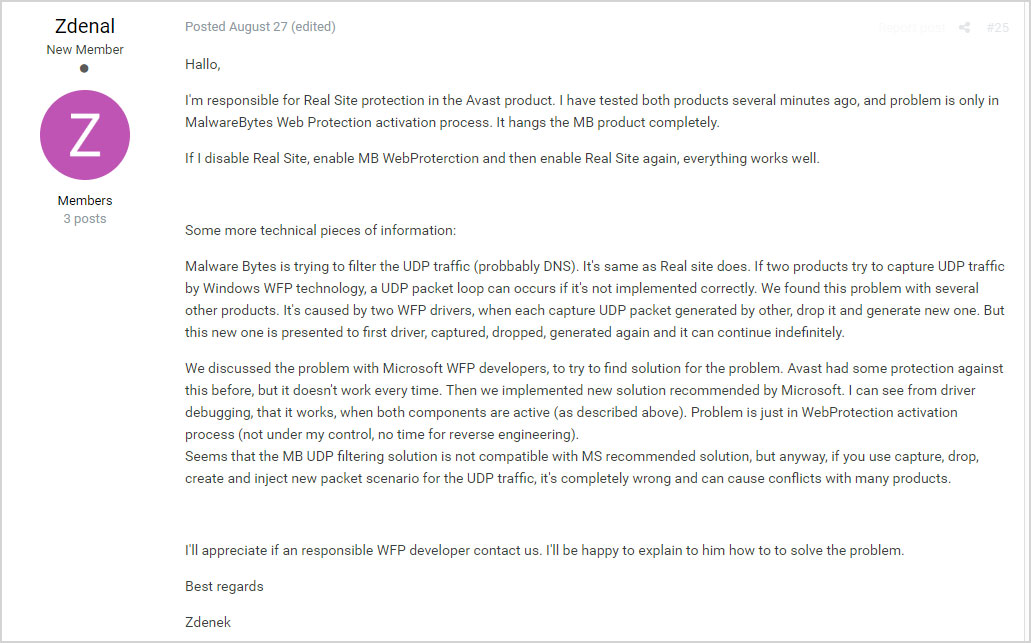 While this could be one cause of conflict, there is obviously something else going on as users on the Avast forums have indicated that they are having problems after the 18.6.2349 even when they do not have Malwarebytes installed.
For now, according to Malwarebytes support engineer Devin Collins, if you are a MBAM user and wish to continue using their Web Protection module, you need to disable Avast's "Real Site Protection". Collins further stated that Malwarebytes is working with Avast/AVG to resolve these issues.

Bleeping Computer has contacted both Malwarebytes and Avast for comment, but had not heard back at the time of this publication.
Update 9/3/18: Below is the statement BleepingComputer received from Malwarebyes concerning this topic:
"Upon first discovering the conflict between Malwarebytes and Avast, Malwarebytes reached out to a product manager at Avast, who put us in contact with one of their Real Site feature developers. This developer initially indicated that there was a problem with Malwarebytes Web Protection driver implementation. After cooperation and receiving detailed analysis from our lead driver developer, Avast determined there was a flaw in their driver implementation. They have indicated they have a fix and plan to release an update, but they did not provide any timing. In the meantime any Malwarebytes users experiencing these issues are advised to disable Avast's Real Site feature."

Update 9/5/18: Below is the statement BleepingComputer received from Avast:
"Both Malwarebytes and Avast inspect user datagram protocol (UDP) packages for security risks. This has created a problem for users who have paid versions of both Malwarebytes and Avast installed on their computers resulting in their internet not working. To resolve this problem, one of the products has to either disable itself, or implement a countermeasure. Avast has quickly created a mechanism to prevent this issue, allowing Avast and Malwarebytes products to coexist and run smoothly. In cooperation with Malwarebytes, we have discovered an additional problem that still needs to be addressed. We have prepared a fix, which Malwarebytes has verified, and will be released to our users this week in an automatic update. This update will improve the interoperability, not only with Malwarebytes, but with similar security products, as well, that inspect UDP packets in a similar way."
H/T: Techdows.com