The angry userbase of pr0gramm.com, a German image board similar to Imgur, has donated over €103,000 ($126,000) to local cancer research organizations as a way to protest against an article published by Brian Krebs, an IT security journalist.
The article that drew their ire is an in-depth piece that revealed the identity of the person who founded Coinhive, a web service that allows website owners to mine Monero in users' browsers, a tool that has become widely popular among malware authors and scam sites.
The story, published on Monday, came under heavy criticism from the pr0gramm community, but also other Internet users, because in addition to the identity of the Coinhive founder, it also revealed the personal information of several other pr0gramm admins and mods, some of who denied having any involvement with Coinhive.
Pr0gramm community finds unique way to protest
Many users viewed this act as unfair, while some of the pr0gramm admins considered shutting down the site. In the end, instead of more aggressive retaliatory actions, the community chose to protest against Krebs by putting together a social campaign to donate to cancer research.
Pr0gramm users took this route because, in German, the word "krebs" means cancer, so users decided to fight "krebs."
Users encouraged each other to donate to DKMS (German Cancer Aid), so much so, that the organization's website crashed under the heavy traffic.
When this happened, users started donating to other cancer research labs, in Germany, Switzerland, and Austria.
According to a German media outlet, the German Cancer Aid center announced it received over 4,100 donations by Wednesday evening, totaling over €103,000 ($126,000). Another organization, the German Cancer Research Center, reported only 74 donations, but this too, was a spike compared to the usual donations stream.
Programm.com users have now rallied under the #KrebsIsCancer hashtag on social media, and pr0gramm's homepage is currently plastered with countless of screenshots showing users' donations to various cancer research organizations, with some donating as little as €5, while others contributed sums greater than €100.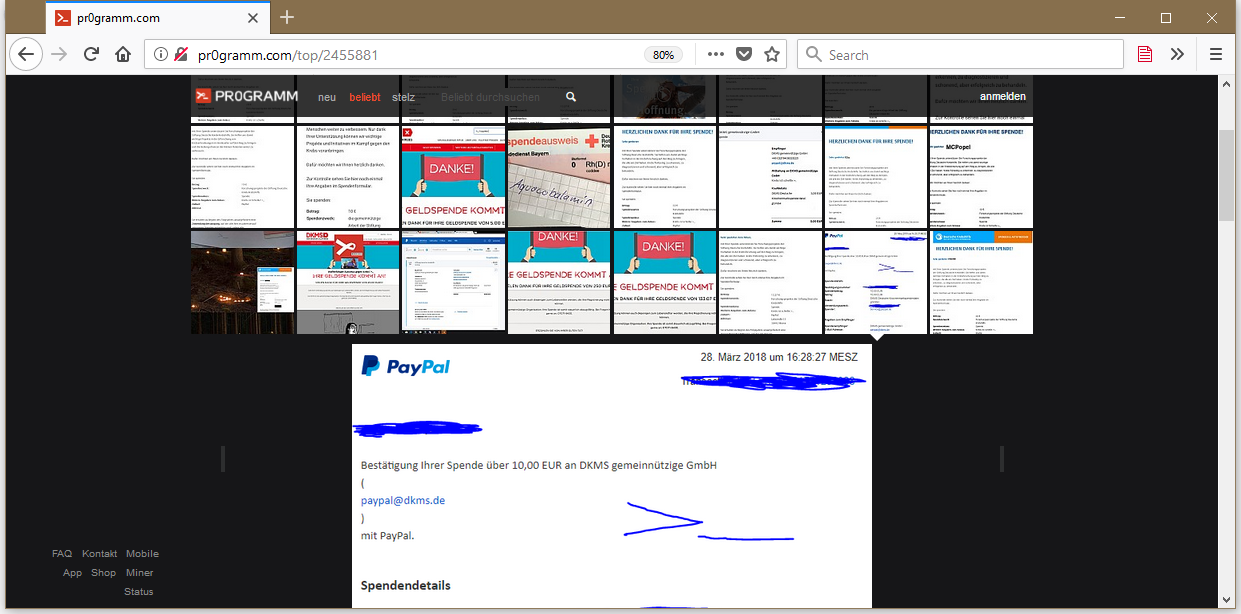 No DDoS attack this time
But regardless of who's right and wrong in the Krebs-pr0gramm argument, it's always nice to see people protesting in a non-violent and non-damaging manner.
Especially for the KrebsOnSecurity.com website and its owner, who have been the subject of various retaliatory actions from criminals in the past.
The site has faced some of the biggest DDoS attacks in history under the Mirai botnet, while the site owner has been doxxed, swatted, has had his PayPal funds transferred to a dead ISIS terrorist's account, has been sent drugs to his home, and has received more death threats than he can remember. We won't even mention the number of mentions Krebs gets in malware source code, where his name is often included as part of some weird cybercrime inside joke.
Users who donated get a badge
In a pr0gramm post published earlier today, Gamb, one of the pr0gram admins, promised that all users who donated in the KrebsIsCancer rally will receive a special badge for showing their support in defending the site and its leadership.
As for DKMS, the organization is more than ecstatic about what's happening, albeit it did not comment on the source of the donations.
"We [..] can hardly believe our eyes!," DKMS said today in a tweet. "We are very happy about the very large amount of money donations that are currently coming in."
An earlier version of this article incorrectly stated that Gamb was Coinhive's founder.