There is now an Android app that can search and detect gas pump skimmers based on their Bluetooth fingerprint.
The app — Skimmer Scanner — was put together by Nate Seidle, CEO of SparkFun, a Colorado-based electronics firm. Seidle uploaded the app on the official Google Play Store and open-sourced its code on GitHub for public review.
App exploits common gas pump skimmer design characteristic
Because most gas pump skimmers are based on well-known designs and off-the-shelve electronics equipment, the majority work the same.
Most gas pump skimmers broadcast their presence using the HC-05 identifier and use the default password of "1234." Further, the most common version of the software that runs on these devices answers with the letter "M" every time a user sends a query of "P".
Seidle created the Skimmer Scanner app to scan for these default configurations and alert users of possible skimmers installed at their local gas pump.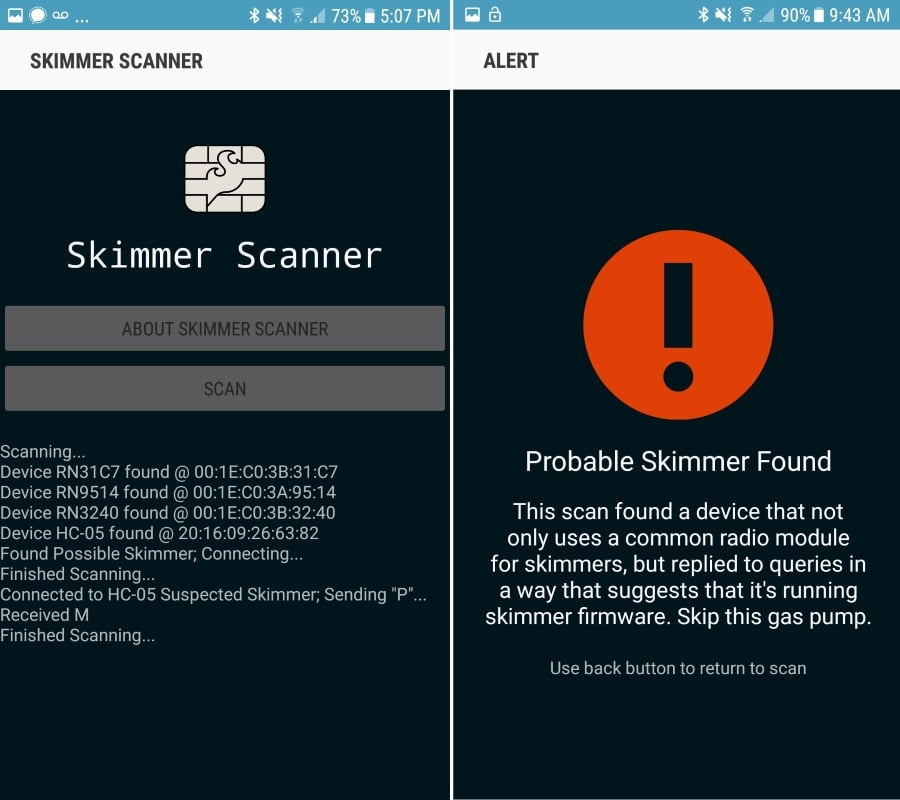 Obviously, the app will not detect gas pump skimmers that use different settings.
If users are fearful to install Seidle's app or they use an Apple or Microsoft phone, they can use their device's built-in Bluetooth scanner to search for Bluetooth devices named HC-05 when they're at their local gas station. A phone's normal Bluetooth range is somewhere between 5 and 15 feet (1.5 and 4.5 meters).
Users should inform authorities if they find a gas pump skimmer
If users find a gas pump skimmer the best course of action is to inform authorities. Users should not destroy the skimmer as it could contain clues about previous victims or the device's author.
Gas pump skimmers work like any other payment card skimmer and record the user's card details when he swipes the card to pay for gas.
The data is stored on the device until the crook comes by again to download it or retrieve the skimmer.
Gas pump skimmers are easy to mass-produce, require little technical skills to assemble, and a crook could install one in under 30 seconds. Because of this, they are one of the most common threats across North America.
Besides creating the Skimmer Scanner app, Seidle also put together an in-depth technical guide on how gas pump skimmers work under the hood.