Authorities in Atlanta, Georgia, have filed official charges against Ronald L. Wheeler, III, a 24-year-old Illinois man known mainly for his online persona of Trappy, or Trappy_AB (Reddit username), the official spokesperson for the AlphaBay Dark Web market, taken down over the summer.
According to court documents obtained by Bleeping Computer, authorities have charged Trappy with conspiracy to commit access device fraud.
Trappy is the highest-ranked AlphaBay member that US authorities have managed to arrest. US officials also tracked down AlphaBay's top administrator, a man named Alexandre Cazes, a 25-year-old Canadian national living in Thailand with his wife.
Thai press reported that after his arrest, police officers found Cazes with a towel around his neck in his cell on July 12, in what appears to be a suicide, albeit an investigation is underway to determine the precise cause of death.
Cazes was arrested in July when a joint international operation shut down the AlphaBay Dark Web marketplace. Authorities tracked down the portal after a series of monumental operational security mistakes.
Trappy was AlphaBay's official spokesperson
According to the FBI, Wheeler started working for AlphaBay on or about May 25, 2015, when Cazes hired Trappy as AlphaBay's public relations specialist. He received a monthly salary paid in Bitcoin.
According to a long list of messages that Trappy posted on AlphaBay's forums and Reddit, Wheeler would reach out to users that had complaints, provided status updates on downtimes and new market features, and helped users with instructions on how to access the site.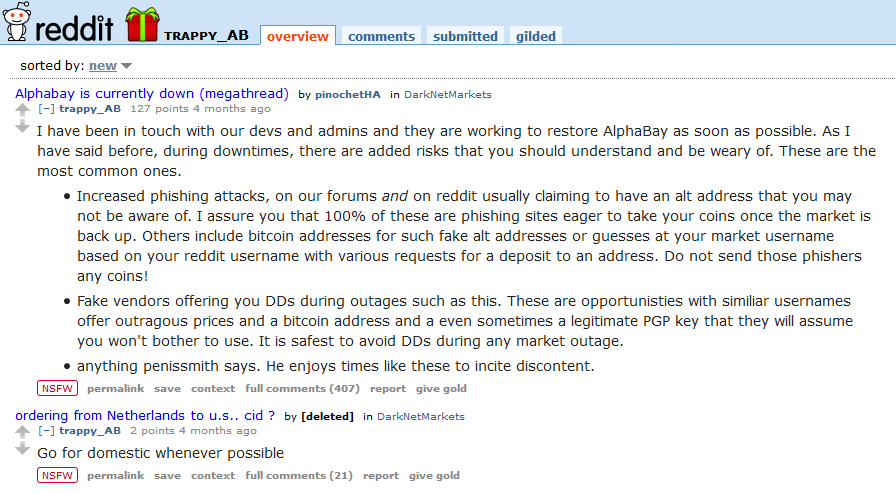 Following his arrest earlier this year, authorities have also ordered the suspect to forfeit the profits he made while working for AlphaBay. This includes $27,562 in US currency, and 13.975 in Bitcoin —nearly $115,000 at today's price.
Trappy was arraigned in court in mid-November and the judge released the suspect on bond, with the condition to surrender his password and subject himself to drug tests.
"This defendant was the mouthpiece for AlphaBay on the internet, encouraging others to access the Dark Web and purchase illegal drugs and contraband," said US Attorney Byung J. Pak. "Like other defendants, Wheeler eventually learned that the Dark Web is not impenetrable; your actions will catch up to you, just like they did in this case."
AlphaBay was by far the largest market for illegal products
At the time it was taken down, AlphaBay housed:
4,488 sales listings for stolen personally identifying information;
28,800 sales listings for stolen online account information;
6,008 sales listings for stolen credit card information;
3,586 sales listings for computer hacking tools,
such as botnets and exploit kits
;
257,533 sales listings for illegal drugs, including cocaine, heroin, and a variety of opioids.
Besides AlphaBay, Dutch authorities also shut down the Hansa Market, and Russian authorities took down RAMP, two of the top four most popular Dark Web portals for selling illegal products.