Microsoft released Windows 10 Insider Preview Build 17063 for PC today and it is filled to the brim with new features and improvements. Not only do we have the new Timeline and Sets features, but they have also added Windows Defender Application Guard (WDAG) to Professional, added Windows Subsystem for Linux (WSL) improvements, new developer tools, and much more
Below we will go through some of the major additions to Windows 10 in this new release. For the complete list of all the new features and changes, and there a lot, you can read this Microsoft blog post.
Windows Timeline
Windows Timeline is a new feature that modifies the Windows 10 Task View so that you can see a historical view of the activities, sites, documents, and files that you have interacted with in the past day or on a certain day. From this page you can then select a particular activity and resume from where you left off.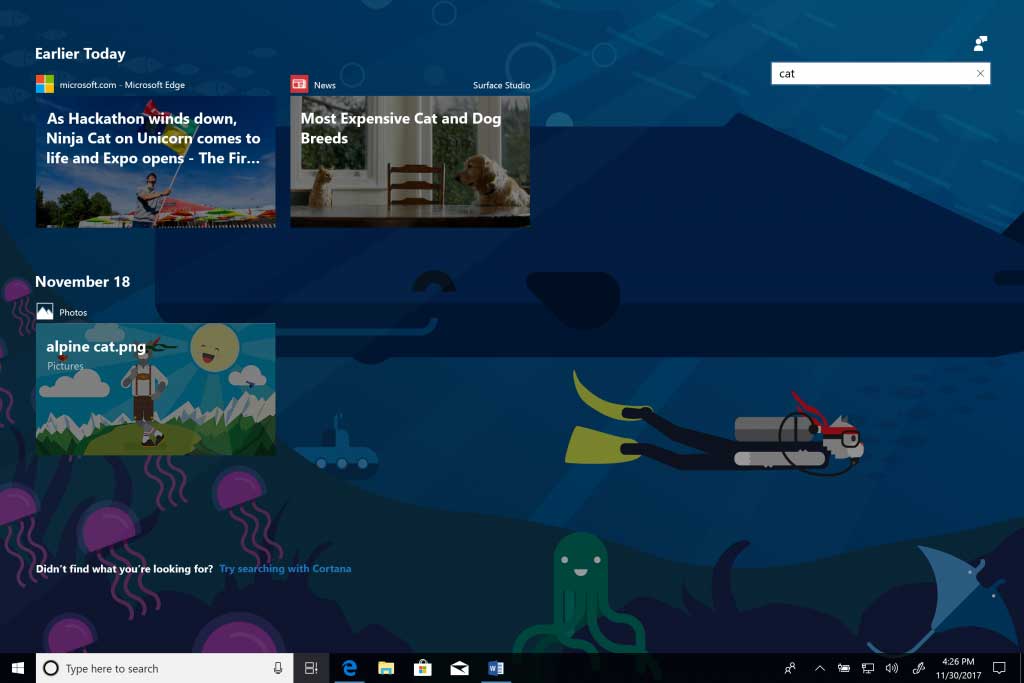 For this preview release, you will only be able to resume web browsing activities performed from Microsoft Edge or files you opened in apps like Microsoft office. As time goes on, Microsoft hopes developers will add support for Timeline into their applications.
Sets
Sets is another new feature that allows everything related to your current task to be opened within the same Window as tabs. This allows you organize and have access to all the information, applications, and resources that you need to perform a particular task.
A video demonstrating Sets can be found below.
Windows Subsystem for Linux (WSL) Improvements
There have been some really exciting features added to the Windows Subsystem for Linux (WSL) that makes it even easier to use Linux applications in Windows.
The first addition is the ability for tasks to run in the background using WSL. This means that you can continue running daemons such as SSHD or tmux sessions even after closing the last WSL console window. It is important to note, though, that once you log off any background tasks will be terminated. More information can be found at this blog.
You now run both elevated and non-elevated WSL instances at the same time. Previously WSL had to run under the same elevation status. Now you can mix and match them.
WSL is also now supported when connecting via remove connections like OpenSSH, VPN, Enter-PSSession, and/or other similar Windows remote access tools.
Finally, there is a new tool called Wslpath that can be used to convert Linux paths to Windows-friendly paths. The command line for Wslpath can be seen below:
-a    force result to absolute path format
-u    translate from a Windows path to a WSL path (default)
-w    translate from a WSL path to a Windows path
-m    translate from a WSL path to a Windows path, with '/' instead of '\\'
Windows Defender Application Guard (WDAG) Comes to Professional
Windows Defender Application Guard (WDAG) was previously only available for Windows 10 Enterprise users. Microsoft has decided to add this feature to Windows 10 Professional as well, so more people will be protected while browsing the web using Edge.
WDAG is used to protect the browser from exploit kits and other security threats by using Hyper-V virtualization technology.
New Developer Tools
Microsoft continues to port popular tools from Linux over to Windows with this release. Now the two popular Linux utilities called curl and tar are available directly from the Windows 10 command line. If you are a developer, then you most likely know that many libraries and development tools are archived online as tar files.
With these tools now being available as standard command line tools, it makes it easier for developers to download files, extract them, and begin using them.
Finally, build 17063 now brings native support for Unix sockets directly to Windows. More information on how Unix sockets are being implemented over the Winsock API can be found here.