The problem should now be fixed. For the reason, you can read the updated summary at the bottom. - Lawrence Abrams 12/5/17 07:38 AM EST
If you try to search for new Windows updates on Windows 7, you are most likely getting a 80248015 error. This error is being reported in our forums, the Microsoft forums, and other sites so it appears to be a problem affecting all Windows 7 users.
Unfortunately, at this point we are all only guessing about what is causing the issue, but according to information gathered by Ghacks, this error may be caused by a file used by Windows Update that may have been mistakenly set to expire on December 3rd 2017. As the file is expired, when a user runs Windows Update it will fail automatically with one of the following errors:
Windows could not search for new updates. An error occurred while checking for new updates for your computer. Error(s) found: Code 80248015. Windows Update encountered an unknown error.
Windows update cannot currently check for updates, because the service is not running. You may need to restart your computer.
You can see an example of this error in a Windows Update test I performed on my Windows 7 PC below.
If you dig down deeper, you will find errors in your Windows Event Logs with similar information, but not much more details.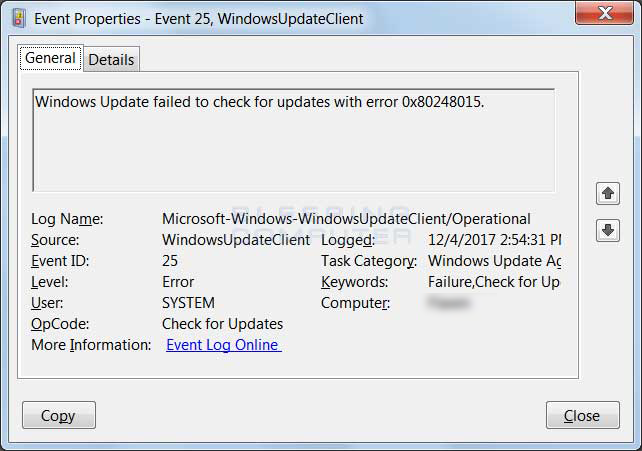 Unfortunately, rebooting your computer or using the Windows Update Troubleshooter does not fix this problem.
According to a user named ArgHereBeDragons in a thread on the Microsoft Answers Forums, this error appears to be caused by the file C:\Windows\SoftwareDistribution\AuthCabs\authcab.cab. This CAB file contains an XML file called authorization.xml that has an expiration of 12/3/2017 at 11:59:25 PST. If a user tries to update windows after this time, then Windows Update fails because this file is expired.
Unfortunately, it is not possible to edit the XML file and push forward the expiration date as these files are digitally signed by Microsoft and any changes to the file will cause the file to not be used by Windows Update.
To fix this, you can try setting your clock back to December 2nd 2017 and running Windows Update again. For me, it allowed Windows Update to run and download and install updates.
Update 12/4/17: Some people have reported that using the fix from Born City described below causes Windows to go into an hourglass loop or display a white screen. If the clock change works for you, it may be safer fix for now.
Another fix that may work was discovered by technology site Born City that may fix this issue if you uncheck the option labeled "Give me updates for Microsoft products and check for new optional Microsoft software when I update Windows." in the Windows Update Change Settings screen.
This is just a band-aid, though, and ultimately we need to wait for Microsoft to release a hot fix that Windows 7 users can download to update the authcab.cab file.
The problem should now be resolved for anyone who was having issues running Windows update on Windows 7. It appears that the issue was not caused by an expiration of a local file, but actually an expiration of a file located on Microsoft's update servers. Like the local authcab.cab file, this remote file also had an expiration set to the 12/3/17 date and so was causing Windows Update to fail.
Over the night, Microsoft updated this file and changed it's expiration to 7/1/25, as seen below, which fixed the Windows Update issue. If anyone is still having problems using Windows Update and receiving the 80248015 error, please let us know and we will see what we can find out.
For those who are still having issues, you can try these steps:
Reboot your computer

Change your date back to March 12, 2017 and try checking for new updates. This has resolved the issue for some people.

If you are no longer seeing the settings for "Give me updates for Microsoft products and check for new optional Microsoft software when I update Windows.", Günter Born has updated his article with instructions on how installing Microsoft Silverlight may restore those settings.