Microsoft has released a new Insider build in the "19H1" branch of Windows 10. The "19H1" branch is the next big update coming after Redstone 5 and is projected to be finalized in the spring of 2019 according to Microsoft's typical release schedule.
Today's release of Windows 10 Preview Build 18219 is only available to Insiders in the Skip Ahead Ring whose availability was officially closed as of yesterday. This means that unless you had previously selected the Skip Ahead build, you will not be able to get builds form the 19H1 branch until they reopen it.
Windows 10 Preview Build 18219 comes with minor improvements associated with Narrator and the rest are mostly bug fixes.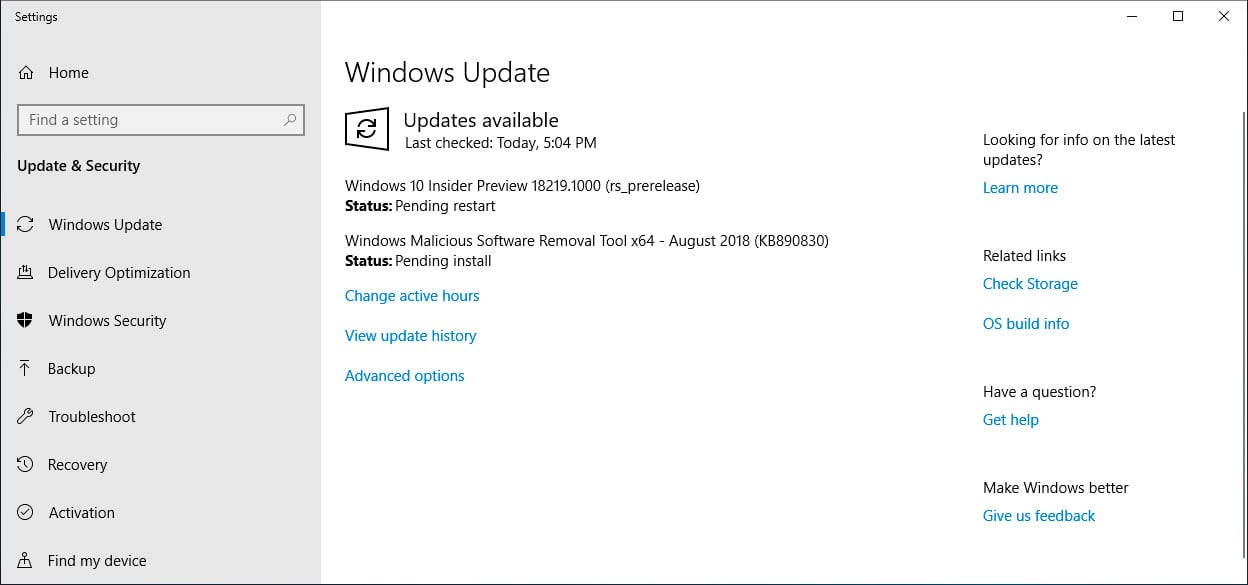 Known issue with Windows Subsystem for Linux (WSL)
Of particular interest is a known issue with the Windows Subsystem for Linux (WSL) feature that allows you to run different Linux distributions within Windows 10. These bugs may cause hangs when using WSL, which can be fixed by rebooting Windows 10.
It is not known if these hangs only affected the WSL or if Windows itself freezes. If you are a regular user of WSL, Microsoft suggests that Insiders skip this branch in order to avoid these issues.
Narrator Improvements
Microsoft has updated the narrator to include an improved version of the Scan Mode feature, which allows you to navigate apps, email, and web sites using the keyboard's arrow keys and other keyboard shortcuts.
The full list of Narrator changes and improvements can be found below.
Reliability: We have made improvements in Narrator reliability.
Scan Mode: Reading and navigating while in Scan Mode has been improved. Selecting text in Scan Mode has also been improved. Selecting forward in Edge has some known issues that we are actively investigating.
QuickStart: The link in settings to relaunch the QuickStart should now reliably be working and will launch from the very first Welcome page. The QuickStart should also more reliably take focus when Narrator is launched, which means Narrator should start reading it automatically.
Providing Feedback: The keystroke to provide feedback has changed. The new keystroke is Narrator + Alt + F. This will work both in the Standard and Legacy layouts.
Note: The Legacy layout also allows you to use Narrator + E to send us feedback.
Move Next, Move Previous, and Change View: When changing Narrator's view to either characters, words, lines or paragraphs the Read Current Item command will read the text of that specific view type more reliably.
Keyboard command changes: The keystroke to Move to beginning of text has changed to Narrator + B (was Narrator + Control + B), Move to end of text has changed to Narrator + E (was Narrator + Control + E).
Braille: Improved usage of Braille commanding when using the Narrator key from the braille display.
A complete list of the changes, improvements, fixes, and known issues for build 18219 can be found here.