Today Microsoft released Windows 10 Insider Preview Build 17666 (Redstone 5) to insiders in the fast and skip ahead rings. This is a big build with a ton new features, such as Sets improvements, a new Clipboard experience, a finished Dark Theme for File Explorer, Linux & Mac line ending support in Notepad, Notepad Search with Bing, Search Previews, and custom Tile Folder names.
We have briefly outlined each new feature below, but to see the entire release notes, you can read the this blog post.
Sets Improvements
With this release, Microsoft is once against focusing on Sets. As part of this update, Sets now have an acrylic title bar and the borders have been changed to gray.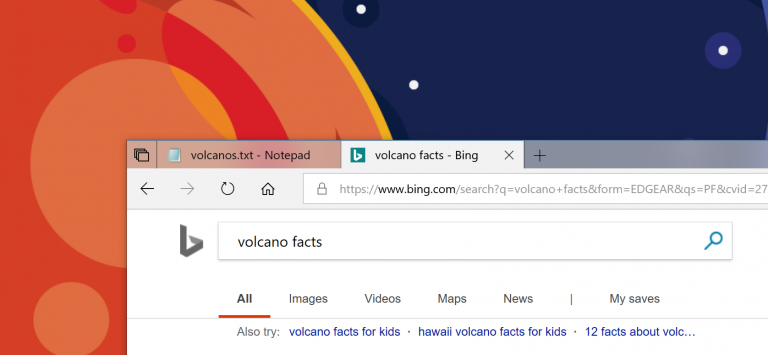 Other improvements include:
Recent Microsoft Edge tabs now show in Alt + Tab:
Multitasking Settings now lets you choose whether new windows are opened in a tab or not.
You can now mute tabs that are in a Set.
Tabs will now restore with better performance.
New Shared Clipboard Experience
Microsoft has released the latest version of their Cloud Clipboard, which allows you to share clips between other Windows 10 computers that you are logged into. Only Clipboard contents less than 100KB can be shared using this "Roamed Text" feature.
This new version of Clipboard also includes a Clipboard Viewer that allows you to see your Clipboard History and paste from it. To access this new Clipboard interface, you can press the Windows+V keyboard combination.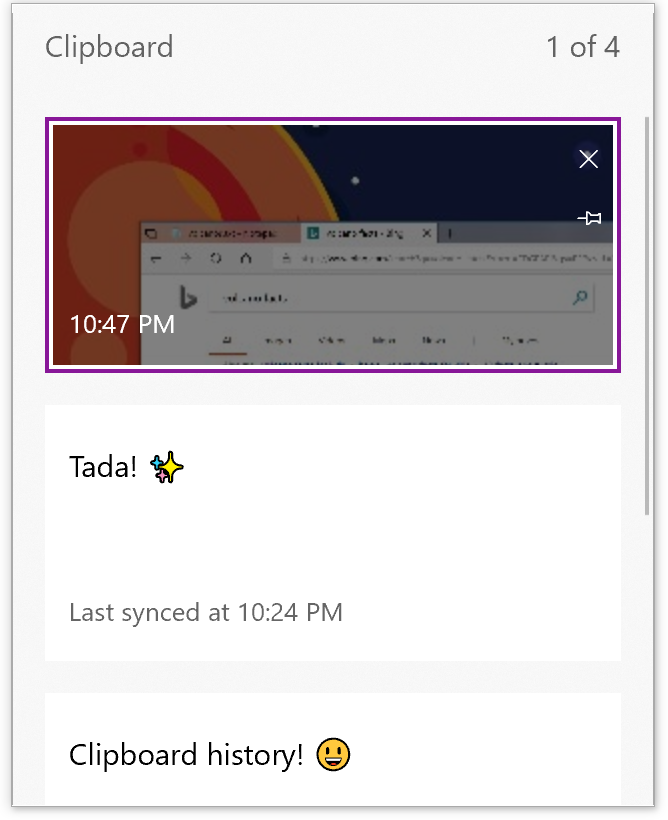 Dark Theme for File Explorer
In this build Microsoft has released an updated Dark Theme for File Explorer that is almost 100% done. Though there are a few spots where the shading is off, it is definitely in a usable state for those who have been waiting for it. You can read more about how to enable it in our Microsoft Now Has a Usable Dark Theme for File Explorer in Windows 10 article.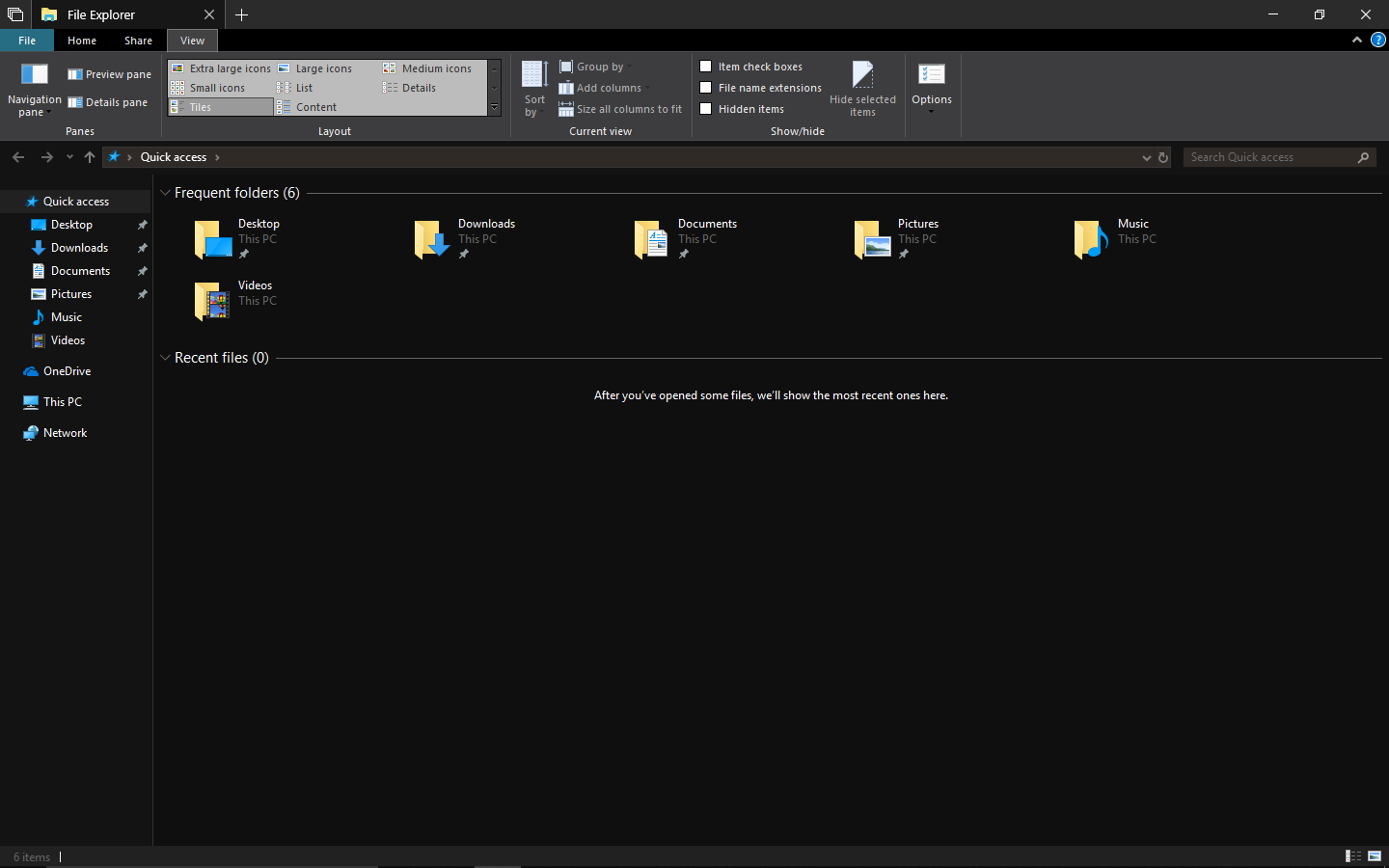 Unix and Mac Line Ending Support in Notepad
Microsoft has finally updated Notepad to support End of Line characters used by Linux, Unix, and Mac. This allows you to open files created in Linux or on a Mac in Notepad and have them render properly, rather than being displayed on a garbled single-line mess.
More information about this can be found in our "Line Feeds for Everyone! Notepad Now Supports Unix & Mac EOL Characters" article.
Notepad Search with Bing
Microsoft added a "interesting" feature to Notepad where a user can highlight text and search for it on Bing. This feels more like a push to get people to use Bing rather than providing a useful feature for everyone.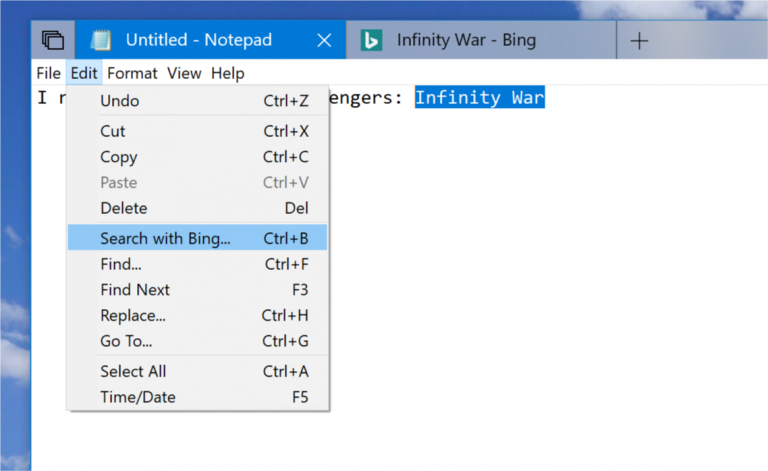 Search Previews have been expanded
Search previews in Cortana and Start have been expanded to include apps, documents, and more.

Custom Tile Folder Names
You can now add a custom name to Tile Folders in the Start Menu. You can do this by expanding the Tile Folder, where you will see an option to give it a name.
Common Questions Sourced from Bing displayed in Settings
Microsoft is playing with displaying contextual questions found in Bing related to the Settings a user is currently viewing. For example, if you are in the Recovery settings, Windows will display questions from Bing related to Windows Recovery and System Restore.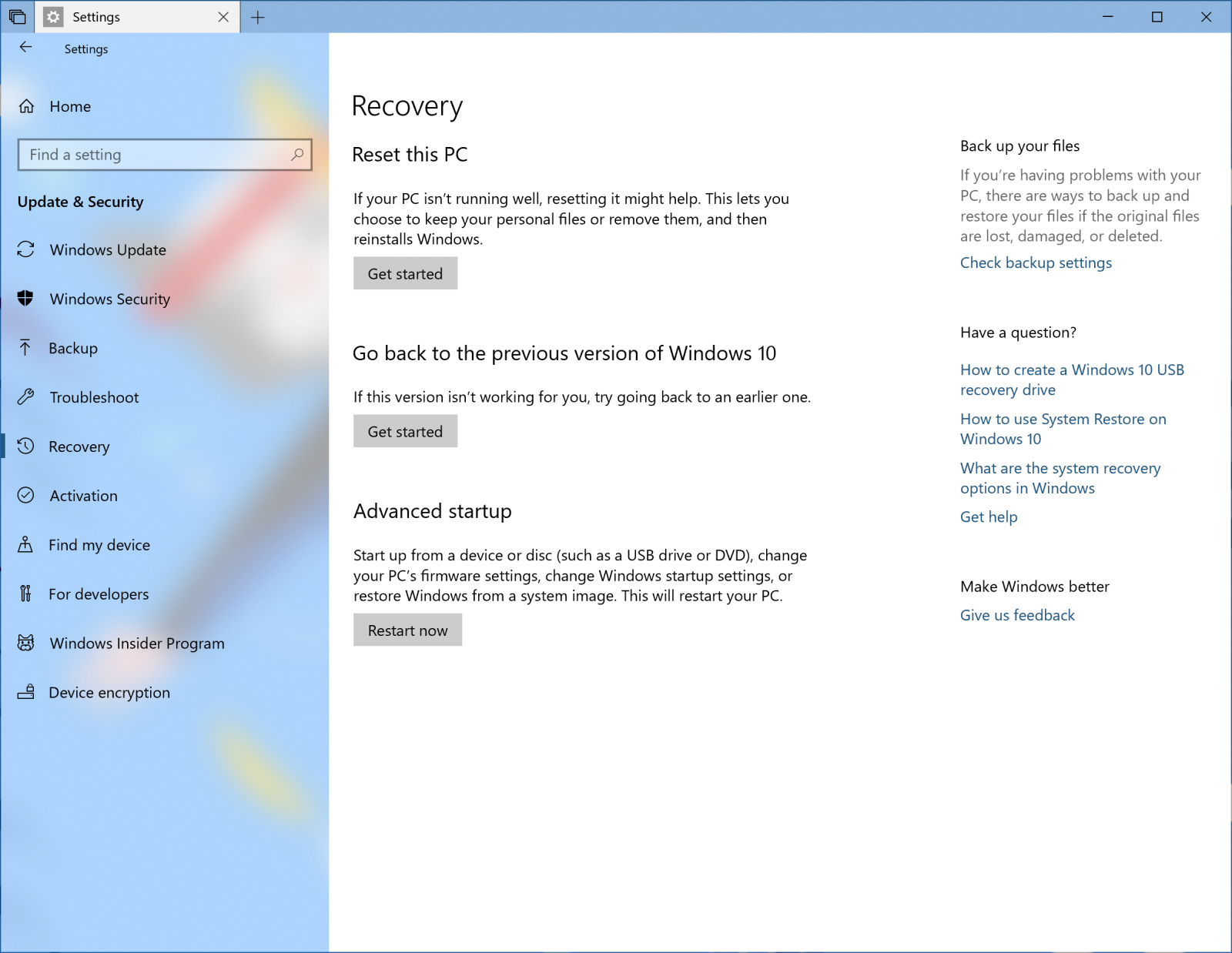 Below are the latest fixes and changes in build 17666:
General changes, improvements, and fixes for PC
We fixed an issue with dll from the previous flight that could result in explorer.exe crashing every few minutes.
We fixed an issue resulting in VPN potentially not working after updating to the previous build.
We fixed an issue from the previous build where apps may appear to be missing in secondary accounts after receiving app updates from the PC's primary account.
We fixed an issue from the previous flight resulting in a bugcheck with the error IRQ_NOT_LESS_OR_EQUAL in tcpip.sys.
We fixed an issue where a border would be visible when you maximized windows in the last few flights.
We've updated the design of This PC so that there's no longer space displayed for the cloud files state icon (which isn't relevant on this page).
The snipping toolbar (with WIN + Shift + S) will now follow your desired theme, light or dark.
We fixed an issue that could result in the Emoji Panel and the touch keyboard not displaying correctly if invoked immediately after restarting explorer.exe.
Known issues
If your PC appears stuck at "Preparing to install…" somewhere between the 80%-100% in Windows Update – please be patient and wait up to 30 minutes (or in some cases – longer than 30 minutes) for this stage to complete.
After completing the Windows Mixed Reality First Run experience, OOBE is black. Motion Controllers are also not recognized in exclusive apps. For Insiders who want to keep Windows Mixed Reality working – you might want to consider hitting pause on taking new Insider Preview builds until these issues are fixed. You can pause Insider Preview builds by going to Settings > Update & Security > Windows Insider Program and pressing the "Stop Insider Preview builds" button and choosing "Pause updates for a bit".
On resuming from sleep, the desktop may be momentarily visible before the Lock screen displays as expected.
When Movies & TV user denies access to its videos library (through the "Let Movies & TV access your videos library?" popup window or through Windows privacy settings), Movies & TV crashes when the user navigates to the "Personal" tab.
We're aware of an issue that causes Narrator to read extra text when invoking Alt + Tab, and we're working on a fix.
If you complete the setup for a Windows Mixed Reality headset on this build, the headset will remain black until it is unplugged and reconnected to the PC.
Known issues for Sets & Office
Sets UX for Office Win32 desktop apps is not final. The experience will be refined over time based on feedback.
The top of some Win32 desktop app windows may appear slightly underneath the tab bar when created maximized. To work around the issue, restore and re-maximize the window.
Closing one tab may sometimes minimize the entire set.
Tiling and cascading windows, including features like "View Side by Side" in Word, will not work for inactive tabs.
The Office Visual Basic Editor window will currently be tabbed but is not intended to be in the future.
Opening an Office document while the same app has an existing document open may cause an unintended switch to the last active document. This will also happen when closing a sheet in Excel while other sheets remain open.
Local files or non-Microsoft cloud files will not be automatically restored, and no error message will be provided to alert the user to that fact.