Microsoft has just released Windows 10 Insider Preview Build 17713 (Redstone 5) to the Insiders in the Fast Ring. The preview build introduces new features for Microsoft Edge, improves Notepad, and more. As compared to the previous builds, this new build doesn't come with a large number of improvements.
Microsoft also announced that Redstone 5, which are the current insider builds that we have been playing with, is being forked into its own branch called "RS5_RELEASE". This branch will be used to stabilize the current feature set, remove any existing bugs, and get it ready for release.
Users who are currently in the skip-ahead ring, will be reset to the Fast Ring. In the comings weeks, Microsoft will announce when Skip Ahead enrollment is open so that you can try to opt into it again. As there will be limited slots, those who want to be in the skip ahead builds should attempt to do so as soon as it opens.
Below is a list of the biggest changes in this build.
Microsoft Edge Improvements
You can now control whether a site can autoplay videos on a per-site basis. You can configure this setting for a particular site by going into the "Website Permission" section when browsing the site. This section can be accessed by clicking on the lock button (SSL sites) or the information button (non-ssl) to the left of the address in the address bar.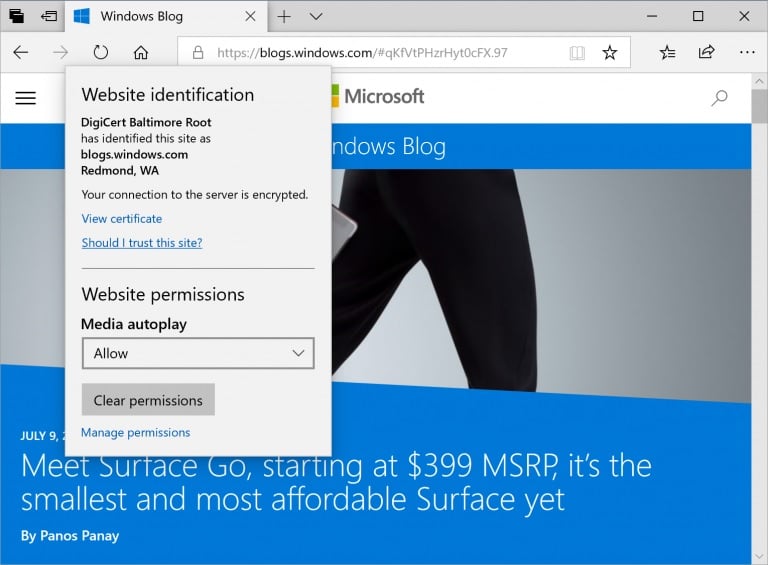 When viewing PDF files, the toolbar that will appear will now include text descriptions of what each button does to make it more clear as to what they do.

Microsoft is also integrating dictionary function directly into Edge browser and you can now look up definitions for words. You would need to select a word and the definition of the selected text would appear on your screen. At this point, you can only look up definitions for words in Reading View, Books, and PDFs.
Microsoft Edge is often described as the best PDF reader for Windows 10 rather than the best browser and it's only getting better with the latest preview build. Microsoft is adding a new option called "Add notes" to the toolbar that allow you to annotate a PDF document. Microsoft is also making the PDF tools easily accessible and you can pin the tools to the top of the document if you really need them.
Notepad Improvements
Microsoft is improving the find/replace experience in Notepad by adding a "Wrap around" setting and it will now remember previously entered values. This build also makes it easier to zoom in Notepad by using the Ctrl + Plus, Ctrl + Minus and Ctrl + MouseWheel to zoom in and out.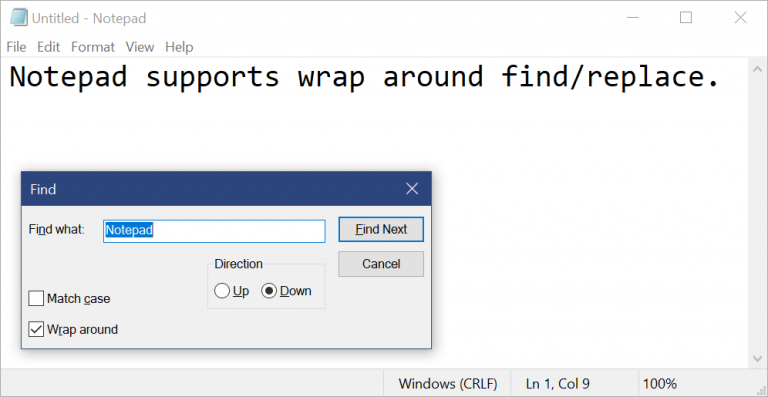 Microsoft says that the new version of Notepad will finally display line and column numbers when word-wrap is enabled.
The other changes are listed below:
Notepad will open the large files faster and you can use the keyboard shortcut Ctrl + Backspace to delete the previous word.
Arrow keys now correctly unselect text first and then move the cursor.
The line and column number would no longer reset to 1 when saving the document.
Notepad now correctly displays lines that don't fit entirely on the screen.
Windows Defender Application Guard Improvements
Microsoft is improving the interface of Windows Security and making it so you can install and configure Windows Defender Application Guard settings in Windows Security without needing to modify the Registry.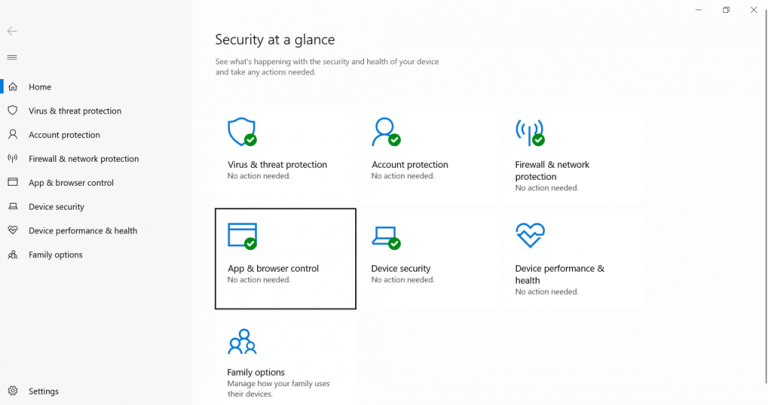 For users who are managed through enterprise policies, you can now see what policies or settings have been set for your account.
Inking Updates
Microsoft is improving the embedded handwriting feature and it is the default experience for text entry with a pen in modern apps. You would need to type anywhere inside the text area to access a area in which you can write with ease.
To see the entire release notes, you can read the blog post. Below are the latest fixes and changes in build 17713:
General changes, improvements, and fixes for PC
We fixed an issue where the state of a Narrator command such as toggling Scan Mode on and off, volume up and down, voice speed, changing verbosity and context verbosity commands may not be announced when executed.
We fixed an issue where you could see pixel thin lines in the fluent shadows depending on where the popup UI had been invoked.
We fixed an issue where some of the text on the Settings > Privacy > File System page under "Allow apps to access your Filesystem" has some unusual characters in the place of spaces.
We've made some improvements to the performance when loading the Language Settings page.
We fixed an issue where powercfg /batteryreport was missing numbers in certain languages.
We fixed an issue resulting in some apps failing to update via the Microsoft Store with error 0x8007019A if the update was paused and then resumed.
We've adjusted the design of the "Settings and more"/"…" menu in Microsoft Edge so that the text "New inPrivate window" will no longer be clipped and added tips about the keyboard shortcuts for creating a new window and new inPrivate window.
We fixed an issue where imported favorites on favorites bar in Microsoft Edge may not always load favicons.
We fixed an issue that could result in an unclosable inPrivate window if it was created by dragging an inPrivate tab out of an existing Microsoft Edge window.
We fixed an issue resulting comments with markdown on github.com not previewing correctly in Microsoft Edge.
When viewing the certificate details for a website in Microsoft Edge, the text is now selectable so you can copy it out if needed.
We fixed an issue resulting in some sites showing an unexpected small blank tooltip when hovering over text fields in Microsoft Edge in the previous flight.
We fixed an issue where Ctrl-key combos on the wide touch keyboard layout wouldn't work in website text fields when using Microsoft Edge.
We fixed an issue resulting in an open PDF in Microsoft Edge crashing in the previous flight if you right-clicked on the PDF to bring up the generic context menu.
We fixed a high hitting DWM crash in the previous flight.
Known issues
We're progressing in our work on adding dark theme in File Explorer and the Common File Dialog – you'll notice improvements in this build, although we still have a few things left to do. You may see some unexpectedly light colors in these surfaces when in dark mode and/or dark on dark text.
In certain cases on PCs with multiple monitors, all the windows may appear shifted "up" and the mouse inputting to the wrong location. The workaround is use Ctrl + Alt + Del to bring up the task screen and then hit cancel. Repeat as necessary.
When you upgrade to this build you'll find that the taskbar flyouts (network, volume, etc) no longer have an acrylic background.
We're working on improving settings for HDR videos, games and apps in a new Windows HD Color page under System > Display. Some things temporarily will not work; notably, some users will not be able to enable/disable HDR display support.
Applications that use ICC color profiles may encounter errors such as Access Denied. This includes the Color Management control panel, and color profile switching on certain Surface devices.
When you use the Ease of Access Make Text bigger setting, you might see text clipping issues, or find that text is not increasing in size everywhere.
You may find that when interacting with any "…" menu in a modern app (for example Microsoft Store) clicking the items will just dismiss the menu. While the menu is open, if you move your mouse to the opposite side of the app you should find a place where the menu items will become highlighted and you can interact with the menu. You can also use the keyboard while to menu is open to interact with it.
The icon for Delivery Optimization in Settings is broken in this build (you'll see a box).
Known issues for Developers
If you install any of the recent builds from the Fast ring and switch to the Slow ring – optional content such as enabling developer mode will fail. You will have to remain in the Fast ring to add/install/enable optional content. This is because optional content will only install on builds approved for specific rings.
Known issues for Narrator
We are aware of an issue causing Narrator speech to fade when waking from sleep mode. We are working on a fix.
When the Narrator Quickstart launches, Scan Mode may not reliably be on by default. We recommend going through the Quickstart with Scan Mode on. To verify that Scan Mode is on, press Caps Lock + Space.
When using Scan mode you may experience multiple stops for a single control. An example of this is if you have an image that is also a link. This is something we are actively working on.
If the Narrator key is set to just Insert and you attempt to send a Narrator command from a braille display then these commands will not function. As long as the Caps Lock key is a part of the Narrator key mapping then braille functionality will work as designed.
There is a known issue in automatic dialog reading where the title of the dialog is being spoken more than once.
Known Issues for Game bar
The framerate counter chart sometimes doesn't show up correctly over known games.
The CPU chart shows an incorrect percentage of usage in the top left corner.
Charts in the performance panel don't update immediately when clicking through tabs.
The user's gamerpic doesn't display correctly, even after signing in.