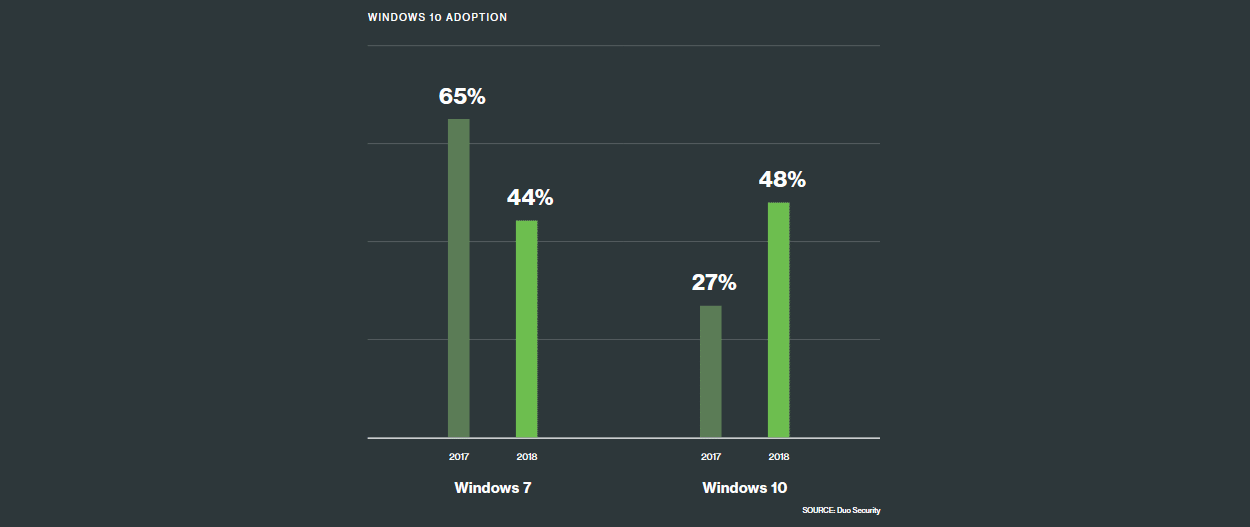 Statistics gathered from over 11 million enterprise users reveal that Windows 10 market share is growing, Windows 7 has been slowly phased out, and, unfortunately, a large number of users are still using outdated operating systems.
This statistical data was gathered by Duo Security, a cyber-security firm, and provider of secure login/access solutions, and compiled in the company's yearly Trusted Access Report.
Windows 7 usage goes down, Windows 10 goes up
According to Duo, more and more of enterprise users using its solutions are working from remote locations. But this wasn't a surprise for the company, being already known from other reports [1, 2] that the general workforce is migrating towards remote jobs.
What did surprise Duo experts was the sudden decline in Windows 7 usage from 2017 to 2018. Usage dropped from 65% of all Windows users in 2017 to only 27% in 2018 (see chart above).
Experts believe that the WannaCry ransomware incident had an effect on enterprises abandoning Windows 7, mainly because 98% of WannaCry's victims were Windows 7 users.
Windows usage goes down, macOS goes up
But Duo stats also showed that not all users switching from Windows 7 migrated to Windows 10. Duo says it recorded only a 4% rise in Windows 10 usage from last year.
Based on its data, Duo says a vast majority of users appear to have switched to another OS, as Windows lost market share, while macOS and iOS gained more followers.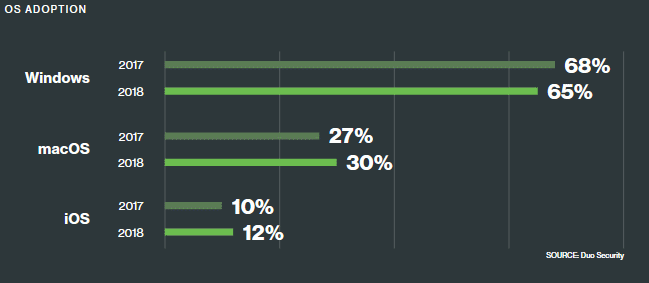 But while a 48% market share for Windows 10 among all Windows enterprise users seems a reason to celebrate at Microsoft's offices, it is not for the security community.
In the real world, this means that more than half of Windows enterprise users are running an outdated version of Windows. This is a reason for concern, as these devices are prone to hacks, exploits, and malware.
Other OS users are in a worse shape
Nonetheless, Windows is not nearly in as bad of a shape as other operating systems. For example, the same Duo statistics revealed that the percentage of iOS, macOS, ChromeOS, and Android users running older versions of their respective operating systems are bigger than Windows'.
According to Duo's numbers, 90% of all Android devices were running an out-of-date OS version, 85% of ChromeOS devices were running an out-of-date OS version, 74% of macOS users were running an out-of-date OS version, and 56% of iOS users doing the same.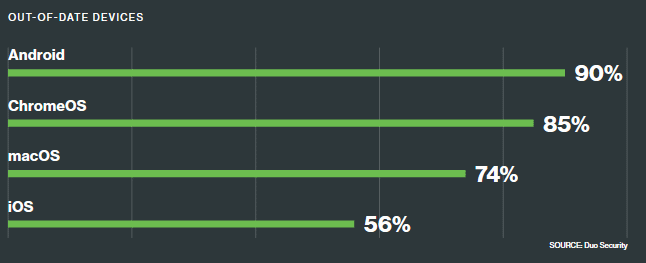 The Duo report also includes a similar statistic analyzing the percentage of browsers that were kept up to date. According to Duo, Firefox Mobile was by far the most out-of-date browser employed by its customers, with 95% of all Firefox Mobile users utilizing an out-of-date version.
The most up-to-date browser was Internet Explorer, but this statistic is tainted because IE hasn't received any major updates for years, and users had a long period of time to update to the latest version.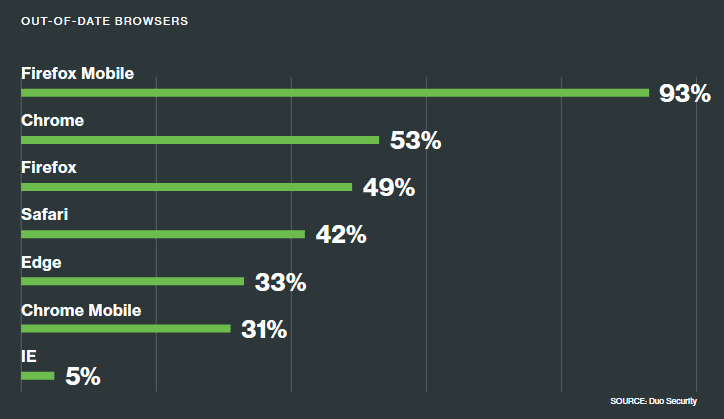 More statistics and charts are available in the 2018 Duo Trusted Access Report, which includes data from about 11 million users who completed nearly half a billion authentications per month, using 10.7 million devices to securely log into 800,000 enterprise applications and services. Below are some of the report's other main findings:
Windows 10 is most popular in the Computers & Electronics industry vertical, being found on 82% of devices
Windows 10 is least popular in the healthcare sector, being found only on 29% of devices
69% of all browsers don't have Flash Player installed anymore
52% of the browsers that came with Flash Player installed ran an out-of-date version of Flash
Only 8% of Android phones had applied the latest security patch released 26 days prior
Only 13% of Android phones were running one of the last three patches released
Phishing is still as effective as ever —12% of simulated phishing campaigns capturing credentials