Users no longer have to walk on nails and sacrifice lambs to the Microsoft deity in order to uninstall OneDrive from their PCs.
Starting with the Windows 10 Creators Update, you can now click on a button and rid yourself of OneDrive, Microsoft's in-house version of Dropbox and Google Drive.
Step 1: Press the start button, type and select: "Apps & features"
Step 2: In the Apps & features window, in the "Search this list" box type in "OneDrive"
Step 3: Select OneDrive and hit the "Uninstall" button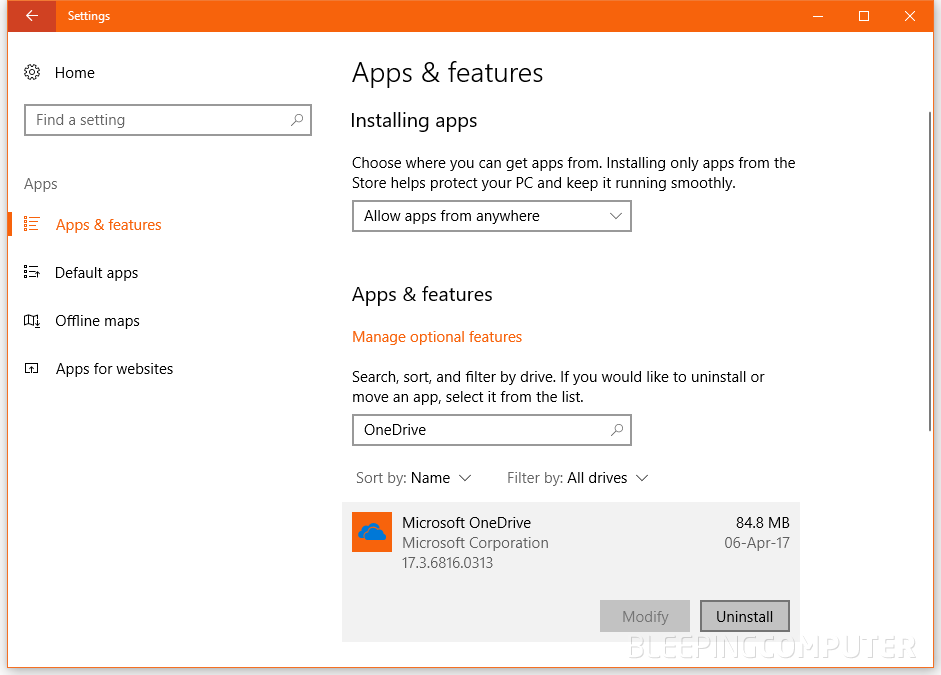 That's it! You've now got rid yourself of an app you never asked for, never wanted, but which Microsoft still shoved down your throat.
Since the launch of Windows 10 in the summer of 2015, Microsoft has made it a pain to remove OneDrive from Windows 10 computers, never providing a one-click uninstall procedure.
Users had to use all sorts of registry hacks, batch scripts, or specialized apps to uninstall OneDrive [1, 2, 3, 4, 5].
Starting with Windows 10 Creators Update, Microsoft appears to have listened to its many critics and is now providing a simple method to uninstall OneDrive.
New OneDrive uninstall feature tested last year
According to reports, Microsoft appears to have been testing this option since December 2016. Users reported seeing the uninstall button as early as OS Build 14393.576.
In tests performed by Bleeping Computer, the Uninstall button didn't appear for all machines. For example, a Windows 10 Pro version 1607 OS Build 14393.953 displayed the Uninstall button, while an identical Home edition did not.
The uninstall button does appear in all the Creators Update machines we tested and is corroborated by reports from two other publications [1, 2].
Two days ago, Microsoft also disclosed for the first time the amount and type of telemetry the company collects from users via the Full and Basic diagnostics settings.
It is great to see Microsoft becoming more transparent with its users and even listening to feedback, such as providing a way to uninstall OneDrive without too much hassle.