The next feature update for Windows 10, called the April 2018 Update, is available now and comes filled with lots of new features. Many of these features focus on enabling you to use Windows 10 in a more efficient manner so that you can get your tasks done quicker and easier.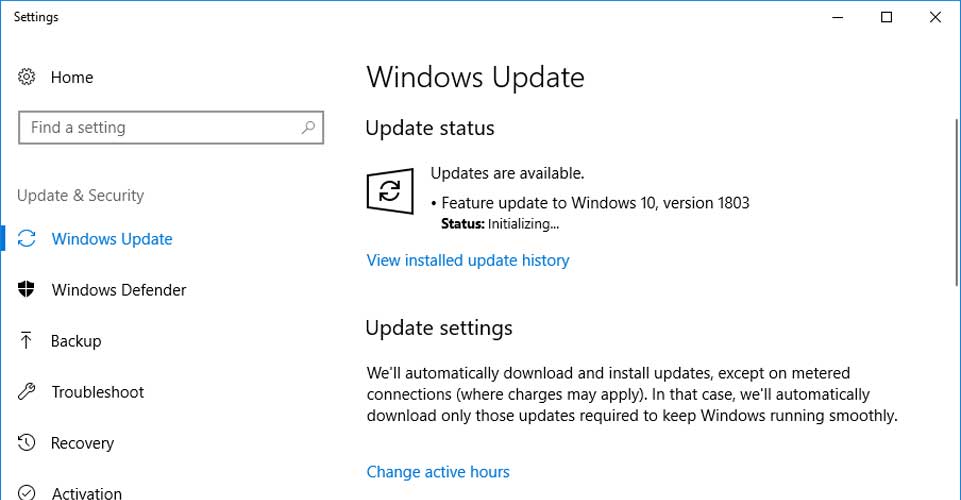 Below we have outlined some of the new features in the Windows 10 April 2018 Update, which include Timeline, Focus Assist, Dictation, Edge Improvements, automatic snapshots in Hyper-V, enhanced privacy, and much more.
Timeline
Timeline is one of the major new features released with the April 2018 Update, which converts the Task View screen (Windows+TAB) into a historical view of the activities you performed on your PC. In addition to viewing the current applications that are open, Timeline also displays a historical list of web pages you visited, documents you created, images you added to the PC, and more.
This provides a single location where you can easily search for and locate files or web sites that you accessed in the past.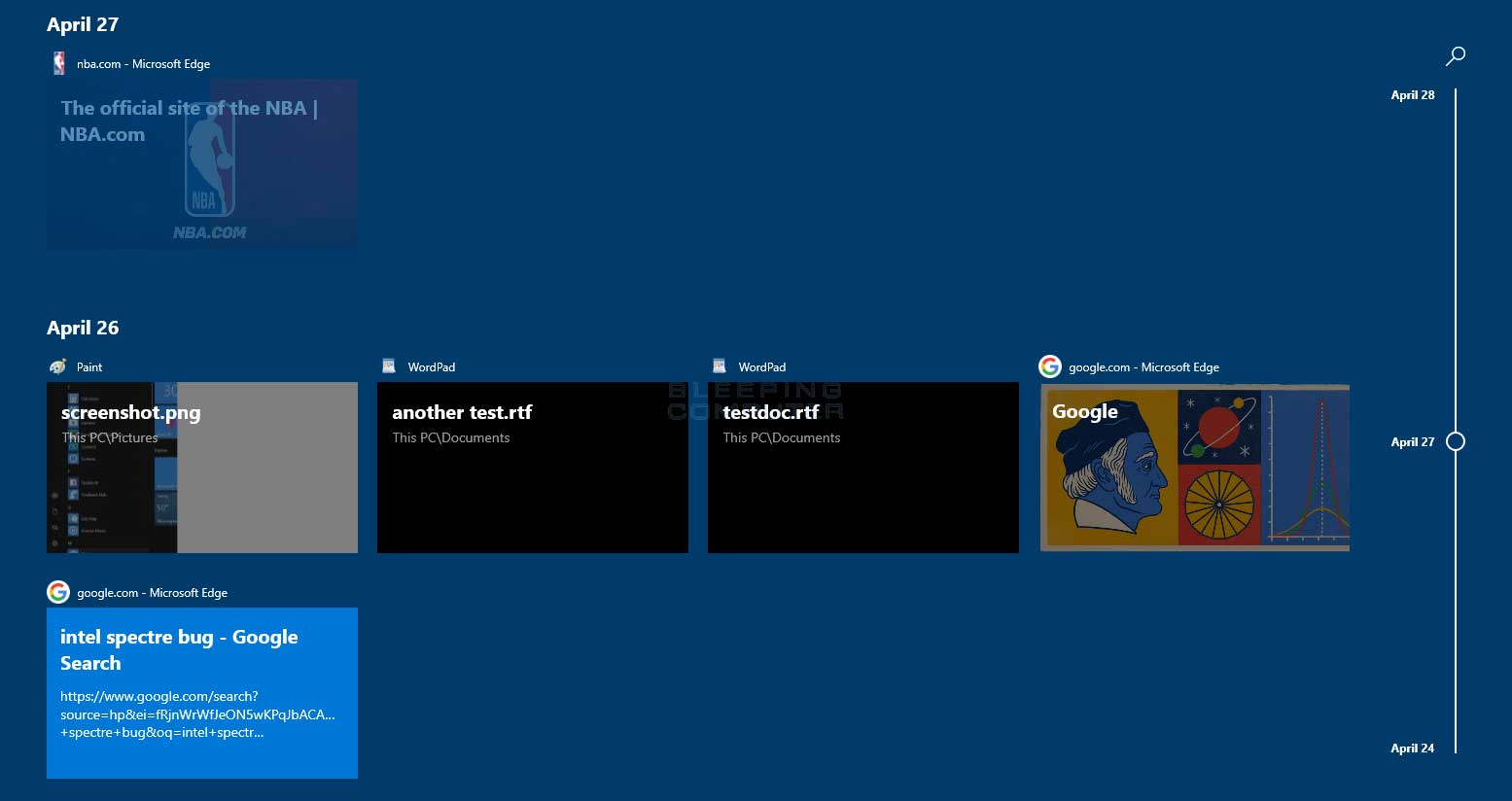 With this feature, though, comes more tracking of your activity, which many people do not want. For those who do not wish to use this feature, you can disable it's tracking in the "Activity History" settings screen.
Dictation
Dictation has been improved so that you can speak into your computer's microphone and have the speech automatically converted into text in an open Window's text box. This allows you to easily convert spoken words into written text within Word, Notepad, or any other word processing document. To open Dictation, you can use the Windows+H keyboard combination.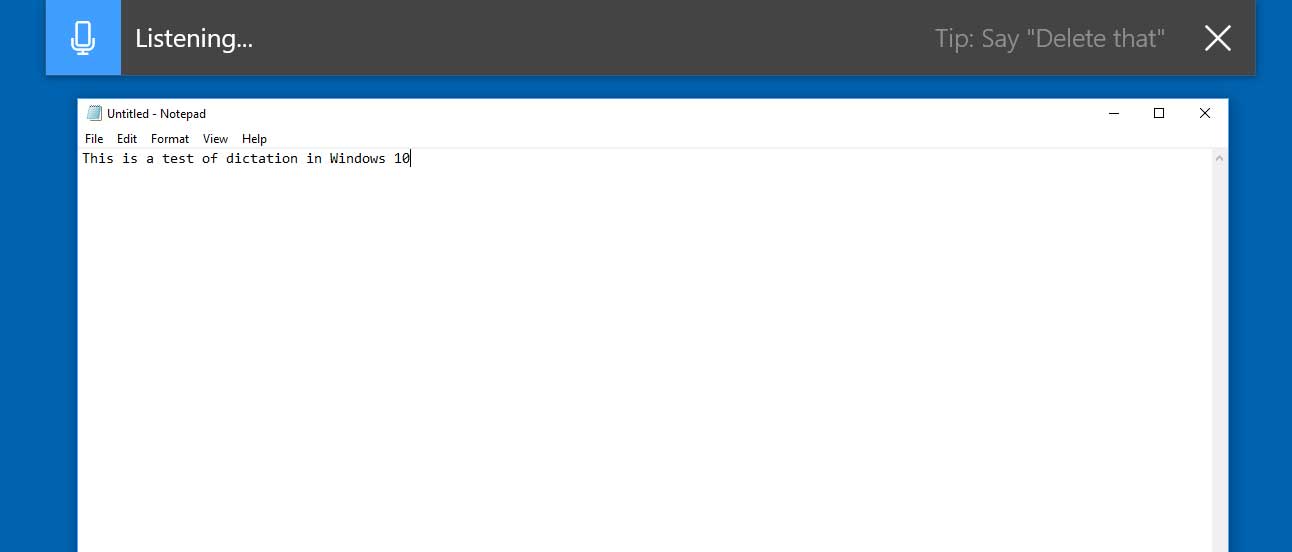 Focus Assist
Focus Assist, which was previously named Quiet Hours, is a new feature that allows you put Windows 10 into a "Do Not Disturb" mode. This mode will suppress notifications from being displayed in Windows so that you can focus on a particular task without being interrupted.
This feature can be enabled on demand from the Action Center or can be configured to turn on at certain scheduled times from the "Focus assist" settings.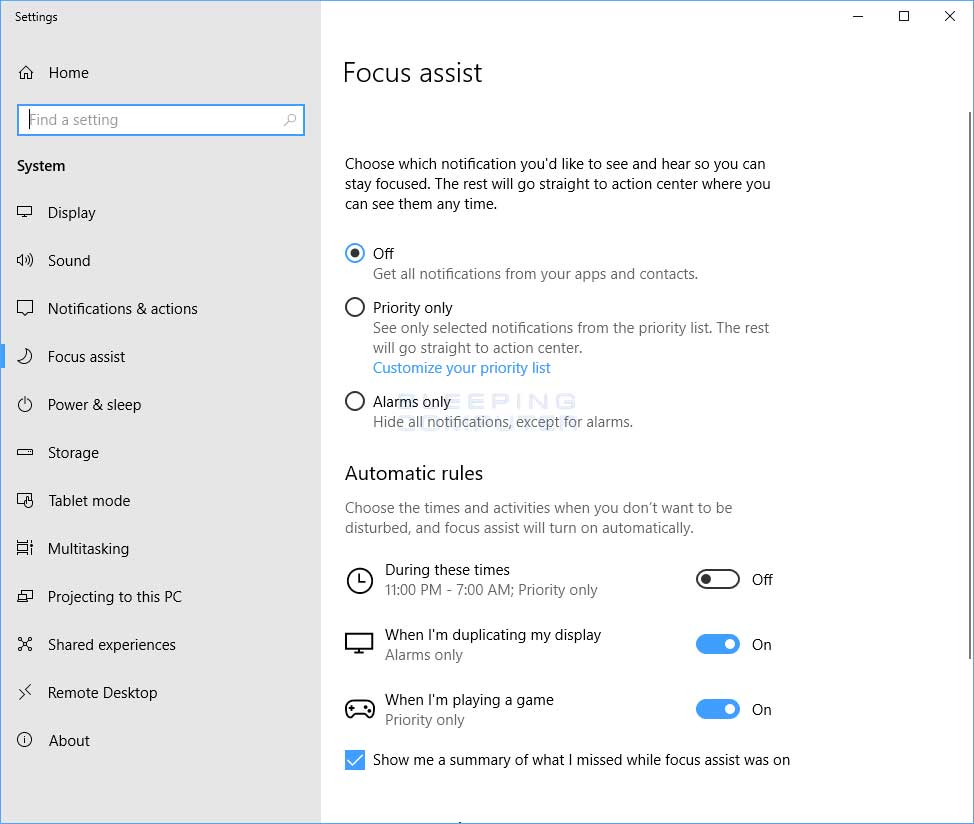 Microsoft Edge Improvements
Microsoft Edge now includes the ability to mute tabs and has an updated Hub view that shows more content and is easier to use. Edge now includes a full-screen Reading View for reading EPUBs, PDFs, and web pages.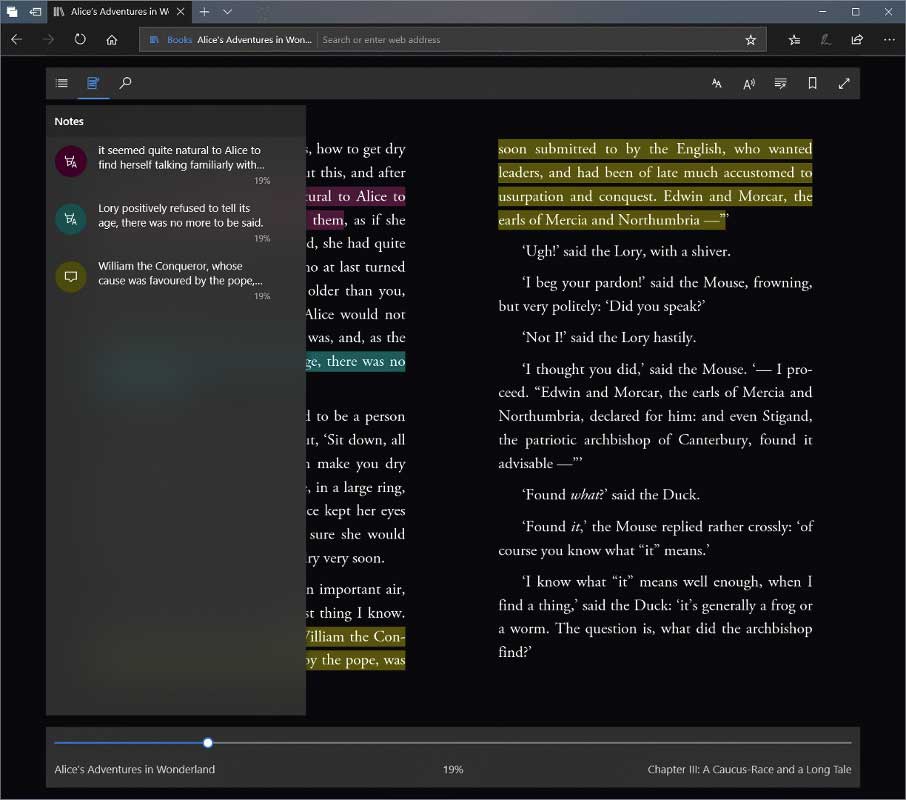 Also added to Edge is a new feature where you can save your credit card information so that it is automatically filled into web pages. Personally, I am not a fan of that type of information being stored on a computer, but others may find it useful.
Enhanced Privacy: View and Delete Diagnostic Data
Included in the April 2018 Update is the ability to delete diagnostic data uploaded by Windows to Microsoft.
To view Diagnostic Data, you will need to download and install the Diagnostic Data Viewer app from the Microsoft Store. You can then delete the data using the "Delete diagnostic data" feature in the Diagnostics & feedback settings screen.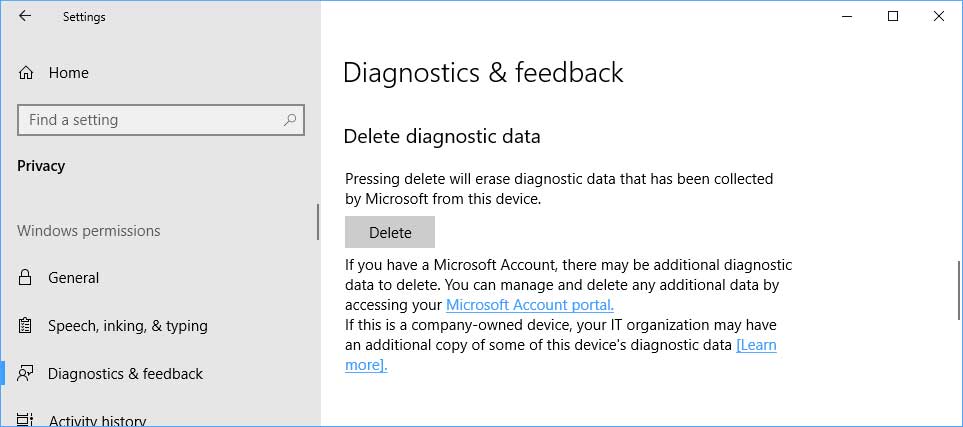 Tar & Curl are now built in Windows programs
For those command line ninjas and Linux users, you will be happy to hear that Windows 10 now comes with the Tar.exe and Curl.exe command line tools. Tar is a popular *nix archiving program and Curl is a command line tool that allows you to download files and perform other HTTP related tasks.
Both of these programs are found in the C:\Windows\System32 folder, so they will automatically be available from a command line prompt without adding them to your PATH.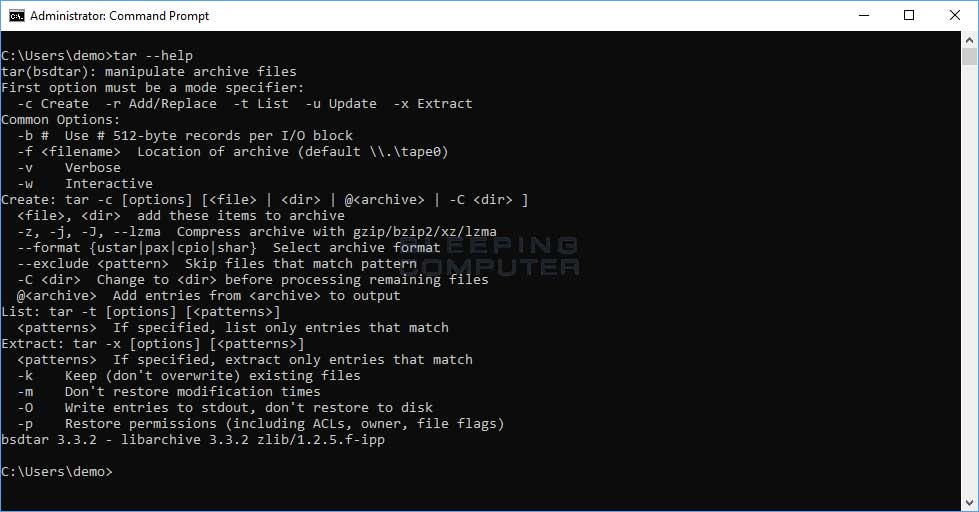 Improved XBOX Game Bar and per game graphics settings
With this release comes in an improved and redesigned XBOX Game Bar that allows you to set a light or dark them and has changes to the UI..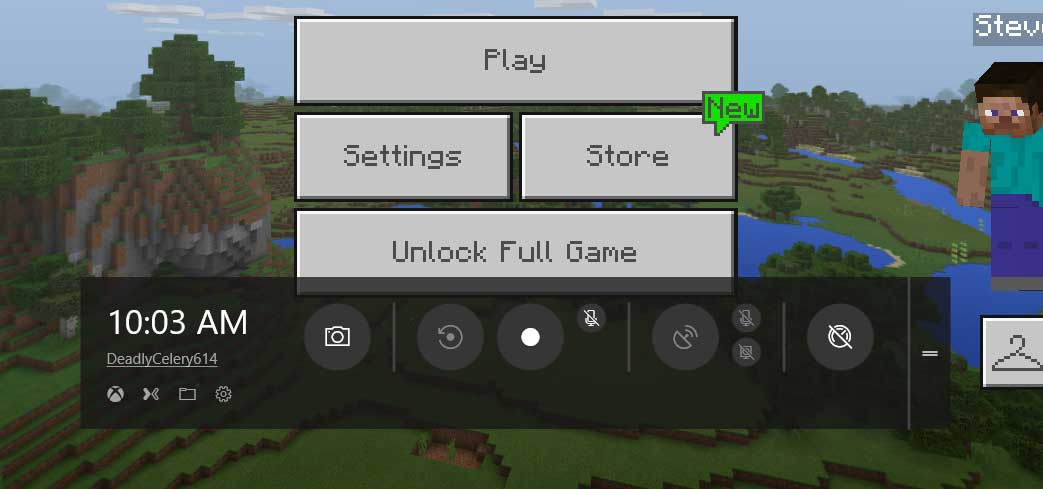 Also included is the ability to configure different graphics settings on a per application basis with support for normal desktop apps and UWP apps. This new feature can be found in the "Graphics settings" settings page.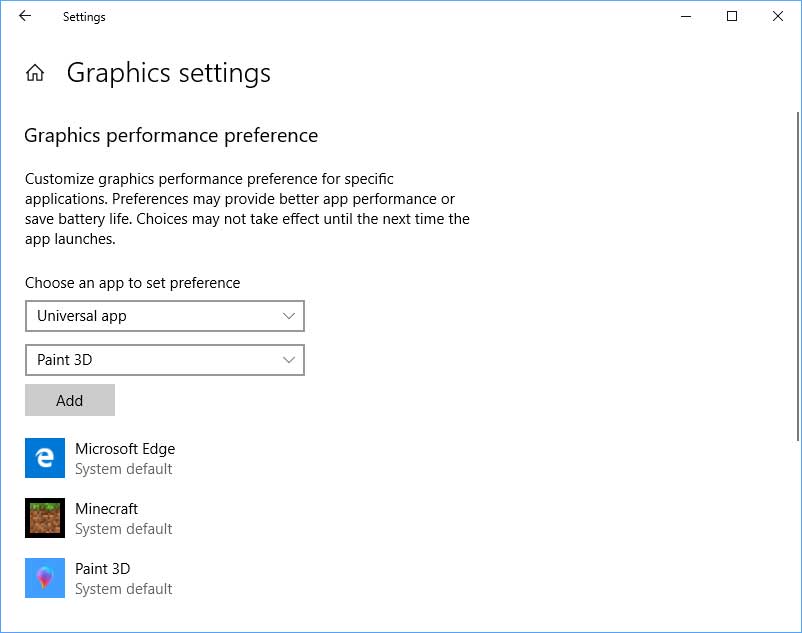 Automatic Checkpoints allow you to Revert a snapshot in Hyper-V
Hyper-v now includes an "automatic checkpoints" setting that will create a new snapshot every time you start a VM. This allows you to easily revert back to that particular session's original configuration in case something goes wrong by clicking on the Revert button.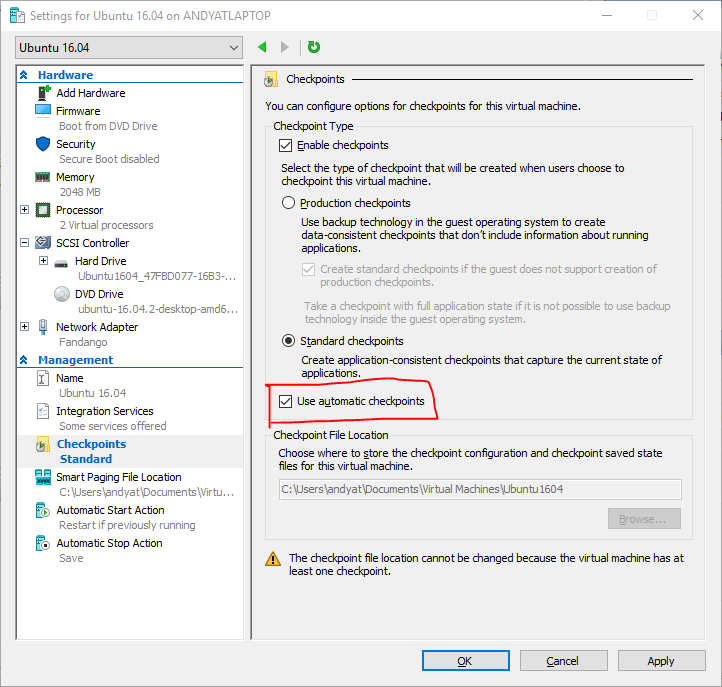 Fix blurry apps
Sometimes when you switch the screen resolution, whether its done by a game or intentionally, some apps may become blurry. With the April 2018 Update, you can now enable a setting that tells Windows to try and fix any apps it detects has become blurry due to screen resolution changes.
This setting can be found in the "Advanced scaling settings" screen and is called "Fix scaling for apps".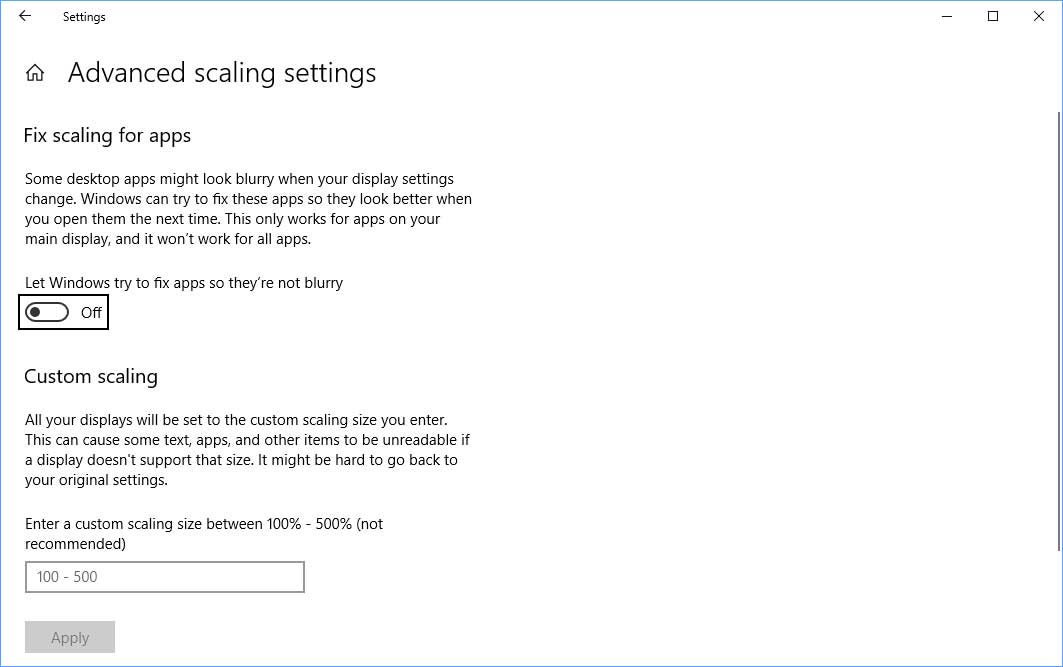 Other notable changes include:
Other new features that were added include:
Nearby Sharing allows you easily share photos, URLs, and files with other nearby Windows 10 devices. This feature is similar to iPhones Air Drop and works really well when you want to share a file between different users.
New multi-gpu settings that allow you to configure apps to use either a "Power Savings" GPU or the detected "High Performance" GPU.
The ability to download files directly to the host when using Windows Defender Application Guard.
You can now specify different volumes levels on a per-app basis and Windows 10 will remember it the next time you launch the application.
You can now create a WSL.conf file that contains configuration settings that will be used every time you launch the Windows Subsystem for Linux.
You can now launch elevated programs from the Run dialog box using Ctrl+Shift.