With the next major release of the Windows 10 operating system, scheduled for April-May 2018, Microsoft plans to let users see what telemetry data the company is collecting from each of their devices.
The company announced today initial tests for this new feature as part of its Windows Insiders program.
Microsoft to release an app for telemetry inspection
According to Marisa Rogers, the Windows Devices Group privacy officers, Microsoft plans to release an app on the Windows Store named the Windows Diagnostic Data Viewer.
This app is already available via the Windows Store for Windows Insiders only, and according to Rogers, it will let users filter through the data collected from their device. Microsoft says the app will provide information on collected data such as:
▩ Common Data, like the Operating System's name, the Version, Device ID, Device Class, Diagnostic level selection and so on.
▩ Device Connectivity and Configuration such as device properties and capabilities, preferences and settings, peripherals, and device network information.
▩ Product and Service Performance data that show device health, performance and reliability data, movie consumption functionality on the device and device file queries. It's important to note that this functionality is not intended to capture user viewing or, listening habits.
▩ Product and Service Usage data includes details about the usage of the device, operating system, applications, and services.
▩ Software Setup and Inventory such as installed applications and install history, device update information.
| | |
| --- | --- |
| | |
As the name suggests —Windows Diagnostic Data Viewer— the app won't let users delete any data. Its usefulness comes from the ability to help PC owners and system administrators determine what data is collected, and look for methods to disable some of this collection for privacy or compliance reasons.
Microsoft continues to open up
The addition of this new app is also a continuation of a policy Microsoft started last year when it said it would be more open about user privacy.
Last year, this took form in the addition of a pre-installation/pre-update Privacy Settings screen that lets users set up a global data collection policy for each Windows 10 operating system.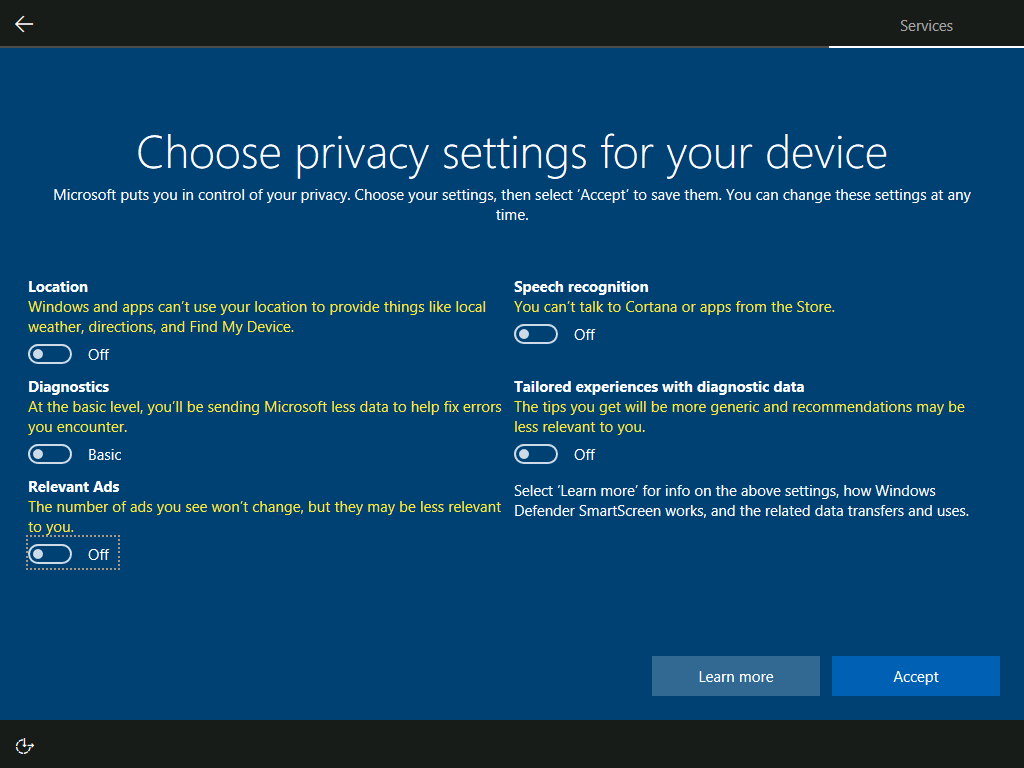 Users received the ability to choose between the Full and Basic data collection plans, and Microsoft later disclosed what it was collecting for each of these two plans, marking the first time when the company came clean about what telemetry data it was collecting.
Also last year, Microsoft added a Privacy section to the web dashboard of each Microsoft user account. This year, the company is expanding what data users can find on this page with new additions:
▩ View and manage media consumption data, as well as product and service activity on the Activity History page.
▩ Export for any of the data you see on the dashboard.
▩ Delete specific items to allow for greater individual control.
Overall, Microsoft is becoming more transparent about the data it collects, but it still won't offer a way to fully disable telemetry collection. Microsoft has always said that the data it collects is crucial to improving Windows 10 and quickly solving bug reports and that without it, Windows 10 wouldn't be the same product it is today.