Microsoft announced it was shutting down the Groove Music online streaming service and moving all paying customers to Spotify.
Microsoft launched the service back in 2012 when it acquired Zune Music and rebranded it as Xbox Music, and later to Groove Music in 2015, shortly before it launched Windows 10. The new name was taken from the new default music player included with Windows 10, named Groove.
Users could use the new music player to play local music files, but they could also use it to subscribe to Groove Music, the company's music streaming service.
Groove Music Pass is the name of the paid subscription for the Groove Music service that Microsoft offers, a-la Apple Music and Spotify, in 22 countries via desktop, mobile, and gaming console apps.
Microsoft deploying Spotify migration option next week
Yesterday, Microsoft said it was planning to shut down the service for good. Obviously, Groove Music Pass did not pan out financially as the company expected.
An update for the Groove Music app is scheduled for the next Patch Tuesday — to be deployed on October 9 — which prompts paying Groove Music Pass customers to move their music collections over to Spotify accounts.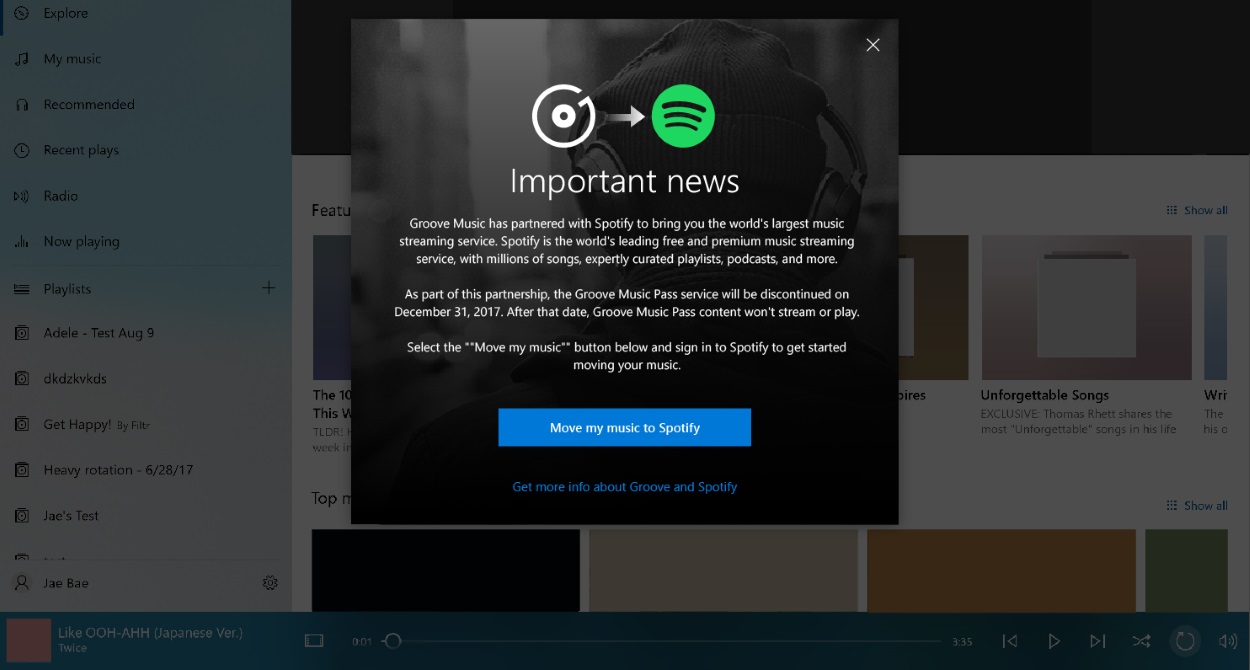 Users of Windows 10 Insider preview builds already see the update message. Users of Groove Music mobile apps will see the same message in future updates.
Microsoft not discontinuing Groove Music desktop app
Microsoft will continue to support the Groove Music app as part of Windows 10, only now it will be used to play local music files only.
After December 31, 2017, the Groove app will no longer offer the option to stream, purchase, and download music from the Groove Music Pass service, Microsoft said.
Users will be able to move their Groove Music Pass content to Spotify until January 31, 2018. After that, the migration option will no longer be possible and Microsoft will sunset the Groove Music streaming service for good.