For the past hour, users of Microsoft's Office 365 service are experiencing problems when they try to login to their existing subscription or activate a new one. This is a known issue by Microsoft who recently posted on Twitter that they are experiencing problems.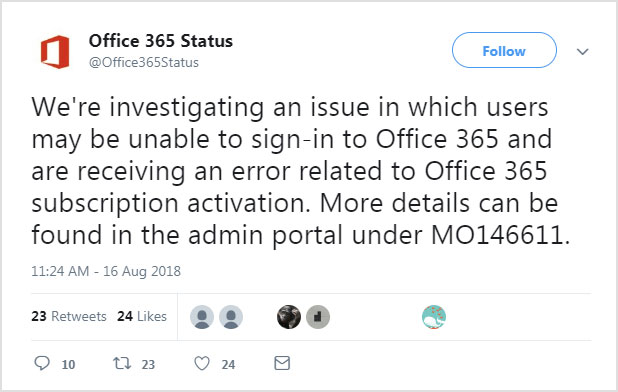 "We're investigating an issue in which users may be unable to sign-in to Office 365 and are receiving an error related to Office 365 subscription activation," Microsoft stated in their tweet. "More details can be found in the admin portal under MO146611."
The MO146611 bulletin in the Office 365 admin portal, though, does not provide much information other than "Users may be unable sign-in to Office 365 and may receive an error relating to subscription activation."

Some users have found that they can access the Office 365 services if they disable Modern authentication for their Office 365 subscription. Modern authentication allows Office 365 users to use extra security such as multi-factor authentication or third-party authentication partners when logging into Office.
Of course when there are any problem with a user's service, a joke is always good to lighten the mood.
Microsoft has issued the following statement to BleepingComputer regarding the Office 365 activation and sign-in problems.
"Our team has addressed the issue and is continuing to monitor to ensure complete resolution."- a Microsoft spokesperson

Update 8/16/18: Added Microsoft's statement.