With the release of Windows Insider Preview Build 17713, Microsoft has announced that they have forked the Redstone 5 build (RS5) to a new branch called "RS5_RELEASE". They have also stated that they have moved all Insiders who were in the Skip Ahead build back to the Fast ring in order to give more people opportunity to try Skip Ahead builds in the future.
"We are getting close to the point in the development cycle where our focus will be on stabilization for RS5." Microsoft stated in the Windows Insider Preview Build 17713 announcement."As part of the stabilization process, we have "forked" RS5 into its own branch called "RS5_RELEASE" just like we did for RS4 and RS3 before that. Insiders will see this branch change with today's build. And like we did with RS3 and RS4, we are getting ready to start releasing builds to Insiders who choose to "skip ahead" to the next release of Windows 10. These builds will come from the RS_PRERELEASE branch."
Windows sleuth WalkingCat and Tero Alhonen discovered that the Redstone 5 release may be called "Windows 10 October 2018 Update". Alhonen discovered this by using the Get-VMHostSupportedVersion PowerShell command, which "returns a list of virtual machine configuration versions that are supported on a host."
This name could be a placeholder and may change on release.
So what does this all mean?
Windows Insiders are able to install preview builds of Windows 10 as they are released in order to test new features and provide feedback to Microsoft. These builds are part of a "branch" or version that will be released by Microsoft as the next major feature update, such as the recent April 2018 Update. The current version branch that is being developed is called Redstone 5 or RS5, and will most likely be released in October. The feature update after that will most likely be called Redstone 6, which could be released in the Spring of 2019
As a Windows 10 branch becomes closer to being ready to be distributed publicly as a Windows update, Microsoft moves it to a new branch called a "Release Branch", which in this case is called "RS5_RELEASE". This is the branch that will become the next feature update and from this point forward Microsoft mostly focuses on fixing bugs and polishing features, rather than adding new features.
For new features they create a new branch, which in this case will most likely be called Redstone 6 (RS6).
While there are two branches, Release and the next one, Microsoft offers different "rings" that Insiders can belong to called "Fast" and "Skip Ahead". Insiders in the Fast ring will be given new builds from the branch that is about to be released. Those in the Skip Ahead ring, will instead start receiving new builds for the branch that comes after the one getting ready to be released.
Skip Ahead insiders reset to Fast
Microsoft has announced that all Insiders that are currently in the Skip Ahead ring will now be reset to the Fast ring. They are doing this to give more Insiders an opportunity to get into the limited Skip Ahead ring spots and try out new features as they are released.
Their announcement also stated that they have removed Skip Ahead as a ring option and will introduce it again in a few weeks when a new build is ready. You can see below that the Skip Ahead option has been removed from the current Insider preview build and it only lists the Fast and Slow rings as options now.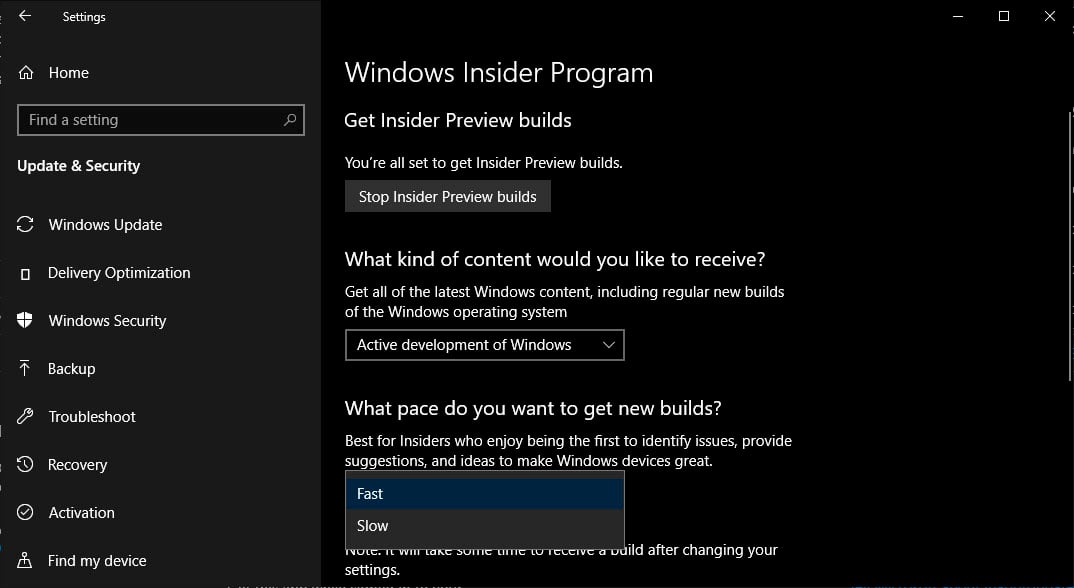 Therefore, if you were previously in Skip Ahead and want to be in it again, you should look out for Microsoft's announcement and quickly switch to that ring while spots are available.