Today, Microsoft is rolling out a new update for OneDrive desktop client on Windows 10. The new update brings OneDrive to build 18.111.0603.0006 and adds a couple of new features to the desktop app.
OneDrive is an essential part of Windows 10 now and there are many customers who find the deep integration quite useful, but you may have noticed that OneDrive can sometimes take a toll on the battery life of your machine.
This battery consumption is the main focus of today's update. To help users conserve battery life on PCs, OneDrive will now pause the synchronization of documents, pictures and files when you switch your Windows 10 device into battery saver mode. When you exist battery saver mode, OneDrive will automatically resume sync activity.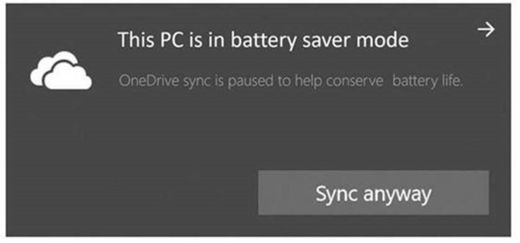 "We will also give you the option to 'Sync anyway', which will un-pause sync and will respect your selection while OneDrive is running (until you sign-out or exit OneDrive or shut down your device) even if the devices switches to/from "battery saver" mode," Microsoft's senior OneDrive PM Stephen Rose explains in a blog post.
You can find the full list of changes below:
Options for users to send feedback ("I like something", "I don't like something", "I have a suggestion"). "Send Feedback" is replacing "Report a Problem."

Whenever the device goes on battery saver mode, OneDrive sync client now automatically pauses sync, but the user can overwrite that behavior, if they want.

Updated the look and feel of the activity center.
It is nice to see Microsoft making these improvements to OneDrive. Are you looking forward to these changes? Let us know in the comments below.