No matter how hard Microsoft tries to modernize Skype 8, many users just want Skype Classic (Skype 7) back. Skype Classic may not have a modern interface or a simplistic feel, but users are concerned that Microsoft is just sacrificing functionality over form in Skype 8.
Yesterday, Microsoft's Director of Design for Skype and Outlook, Peter Skillman, posted a blog post titled "Simplicity and familiarity—updates to the Skype user experience". This post outlines the efforts by Skillman's team of developers and UI designers to make a complicated product simpler to use without overcomplicating things.
"As Skype functionality has expanded, so too has its complexity. As with any feature rich product, maintaining simplicity while enhancing functionality is critical to usability," Skillman stated in his blog post. "This past year we explored some design changes and heard from customers that we overcomplicated some of our core scenarios. Calling became harder to execute and Highlights didn't resonate with a majority of users. We needed to take a step back and simplify!"
The blog post goes on to discuss the many changes that the Skype team has done to simplify Skype 8 by removing unused design elements and features, modifying colors, and creating a more pleasing interface. At the end they state that they have created UserVoice site where users can vote on changes.
It does not come as a surprise to find that the most voted for feature in Skype 8 on the UserVoice site is to "Make it look and work EXACTLY like classic Skype veeson 7".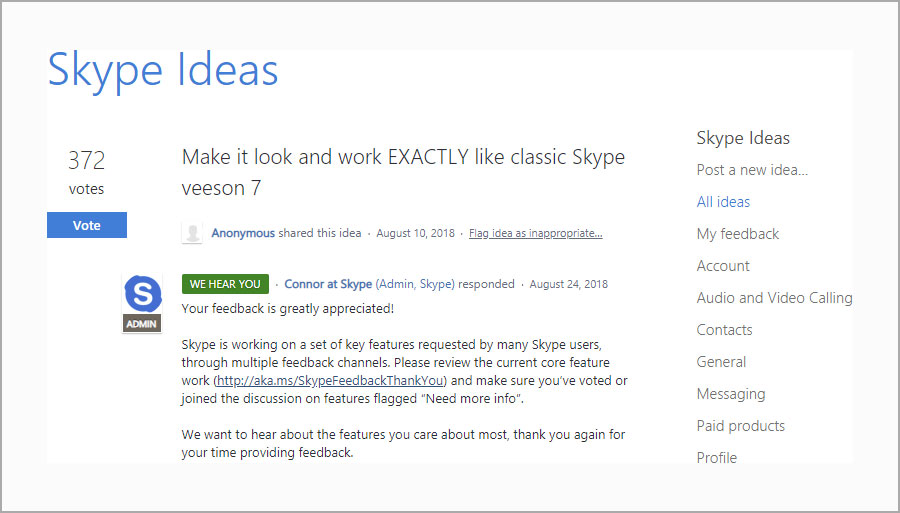 As you can imagine, many of the comments are from people who just want Skype 7 back.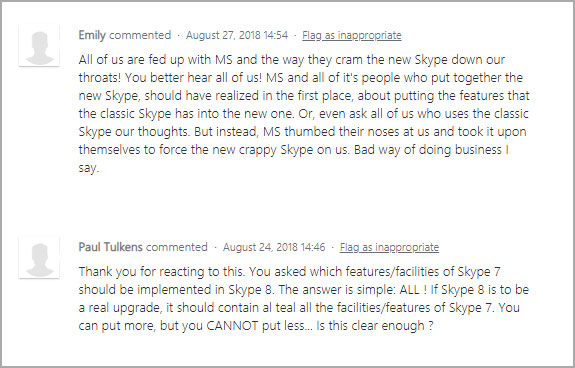 Others are willing to compromise and want a hybrid version that contains features from both versions 7 and 8.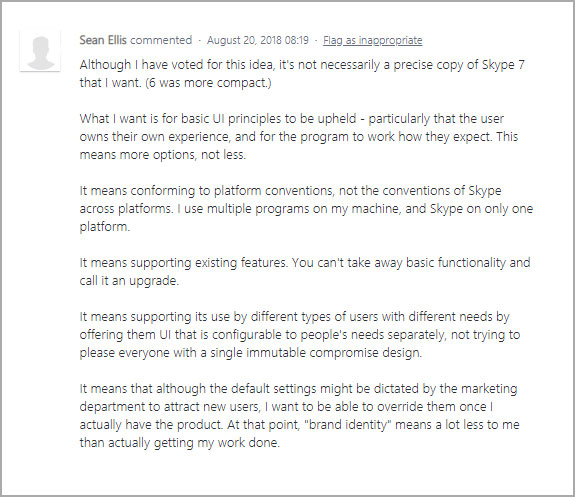 Microsoft truly appears to be listening
While I too am not fan of the current Skype 8, I do feel that Microsoft, Skillman, and his team are listening to the complaints and trying to make a product that is better for everyone. Unfortunately, they are backed into a corner where they need to deliver a more modern version of Skype, but the most vociferous users are those who want Skype 7 back.
Thankfully, according to a notice posted yesterday on the Skype Preview forum, Microsoft plans on bringing the most requested features from Skype 7 back into Skype 8.
Update on Skype 7 (Skype classic)
We've been listening to your feedback and are working to bring some of the most-requested features from Skype version 7 to version 8. To ensure customers have an uninterrupted Skype experience as we do this, Skype version 7 will continue to work for a limited time. Stay tuned for updates on the final date for version 7. In the meantime, we encourage everyone to update now to avoid any future inconvenience.


This is further confirmed in a forum post from August 22nd, where a a Skype Product Manager also states that they plan on bringing requested features to the most current version of Skype.
There were few key features we did not finish adding to new Skype (version 8+) in time for the larger product rollouts. We are committed to bring the following features to the new Skype and will provide status updates along the way.

Split window view for Skype on Windows 10, so you can see multiple chat windows at the same time
Changing the font size in a chat
Search for a message within a chat
Status improvements – how others see your online status
Privacy settings (call contact configurations) – more controls regarding who can call you
Making it easier to add a phone number as a contact
As you can see, Microsoft is listening. So keep letting your voices be heard and hopefully the resulting product will be better than any of us expected.