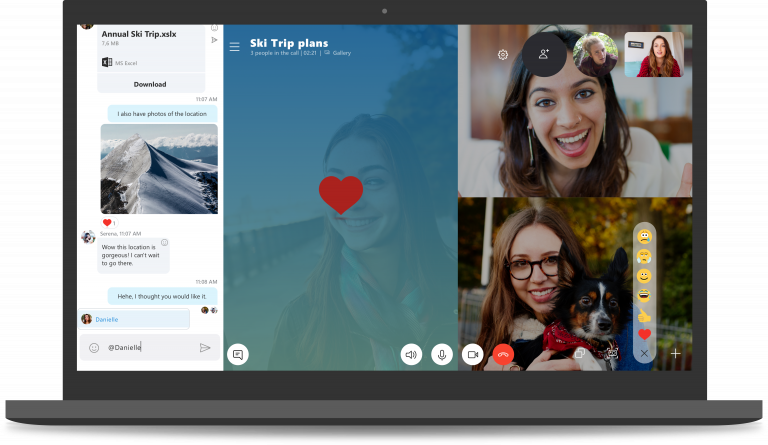 Microsoft has announced a major Skype update for Windows 10, which brings new features and refinements to the app. These new features include the ability to easily share the screen during a call, improved layout, snapshots, and more.
One of the more interesting features of this new version is an improved flexible group call screen which allows you to drag and drop people around on screen when in a group call. It makes it possible to configure your group call experience and you can decide who appears in the main call screen.
The snapshots capability allows you to capture images of various parts of a call so that you can remember them later. This allows you to easily create screenshots of people who you are video conferencing with or presentations displayed during an office call.
The layout of the program has also changed with new themes, customizable colors, and improvements to the media gallery, notifications panel, and @mentions experience.
Finally, the app comes with an improved screen-sharing feature, making it easier to share your screen with a friend or employee. This new screen sharing feature can be done using a option within the call UI.
"In addition to all the latest enhancements, with this update you can expect more frequent improvements to your Skype for Windows 10 experiences going forward," Microsoft said in a blog post.
At this point, the new Skype app is available for Insiders only and there's no ETA when these features could arrive for the general public.
For more information on the Skype Insider program and how to gain access to this preview build, you can read this faq.