Earlier this week, we reported on a new bug discovered in Windows 10 build 1809 that would no long display an overwrite confirmation prompt when using the built-in Windows 10 zip functionality.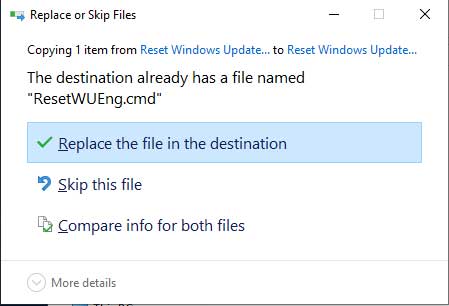 In a post to the Microsoft Answers forum, Microsoft has acknowledged the bug and has stated that it will be fixed in an early November. This fix will most likely be pushed out via a cumulative update or via Microsoft's November Patch Tuesday updates.
A Microsoft employee going by the name M. Hamer has posted the following information regarding the bug.
"There is a known issue in the Windows 10 October Update where the consent prompt "Do you want to replace these files" is missing when copying contents from a .ZIP file.
With the Windows 10 October 2018 Update, if you copy or move files from a .ZIP file (without first "extracting" the contents) in to a new destination folder that contains duplicate filenames or is write-protected, you don't get a "Do you want to replace these files" prompt. It will appear that the files were overwritten, when in fact the copy action for those files is not executed and files have not been overwritten.
This failure can occur in the following scenarios:
Copying from a compressed (.zip) folder to a regular folder.

Moving from a compressed folder to a regular folder.

Copying from a compressed folder to a protected folder.
Note: While the copy action for the duplication file names does not complete and no files are overwritten, the "move" command will also silently fail and might remove/delete the moved file."
While the copying of files from a zip file to another location that contains the same file name will silently fail without data loss, moving files is a completely different matter.
If you cut and paste or move a file to a new location with the same file name, you will not receive a overwrite confirmation prompt and the original files could be deleted.
"Important: Do not attempt to Cut and Paste items from a compressed (.zip) folder. This may result in unintentionally deleting items that may not be recoverable."
In situations where the original files have been deleted by mistake, Microsoft suggests that you can try restoring the original file from the Recycle Bin or by copying it from the %Temp% folder if it is present.
Once again, Microsoft has stated that they are working on a fix and hope to have it released in early November. For now, always extract the contents of a zip file to a folder and then copy and move the files to another location from there. That way the proper overwrite confirmation prompt will be displayed.