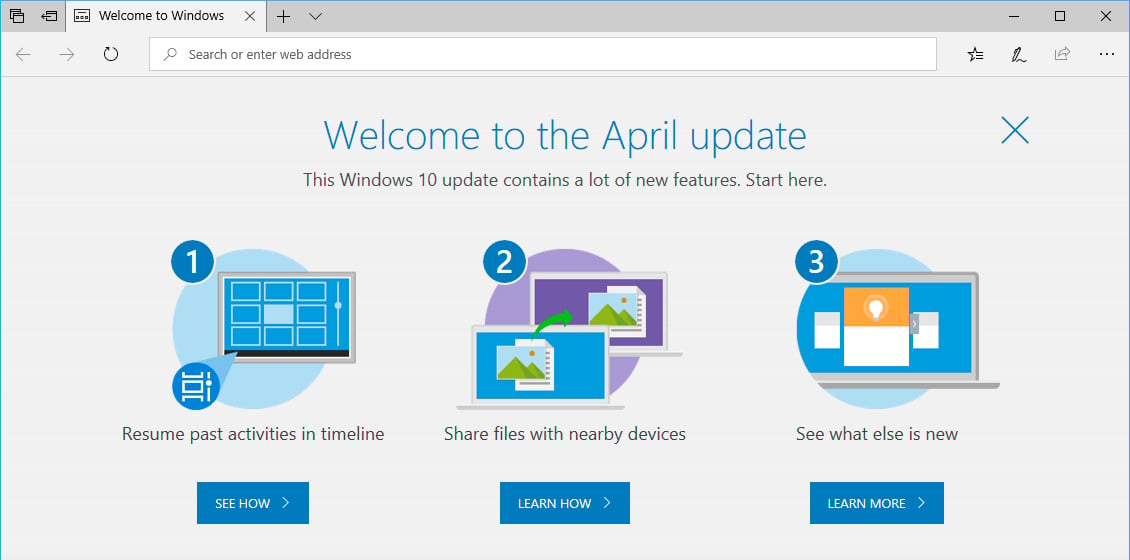 Now that the Windows 10 April 2018 Update is out, you may be wondering why you can't seem to get it installed. This is because the April 2018 update is being rolled out in stages, so some regions may get it a bit later than others.
In this article we will provide two methods that you can use to download and install the Windows 10 April 2018 Update so that you can start using all the new features such as Timeline, Nearby Share, Focus Assist, and some new Linux command line tools !
Method 1: Give Windows Update a try
While you may have tried Windows Update already, it is the easiest method to install the April 2018 update, so let's give it a try again.
For those who have not tried already, type "update" in the search field as shown by step 1 below and then click on the "Check for updates" search results as indicated by step 2 below.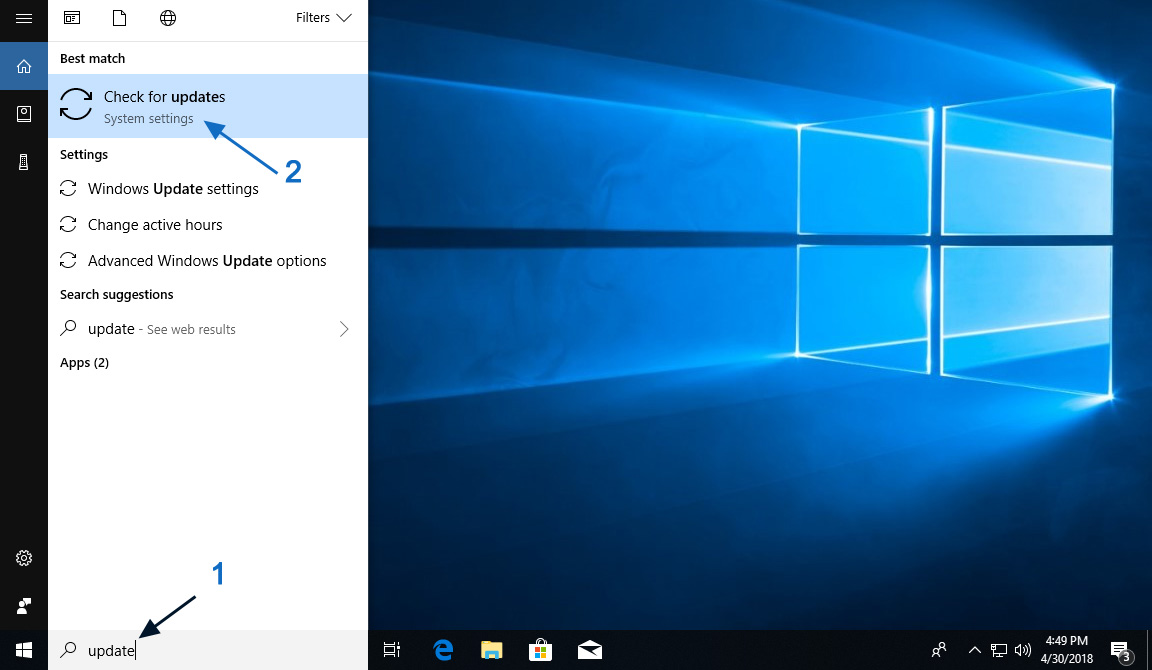 When Windows Update is opened, click on the "Check for updates" button and let Windows 10 see what updates are available. If you see an update named "Feature update to Windows 10, version 1803", this is the April 2018 Update and it will start to download and install.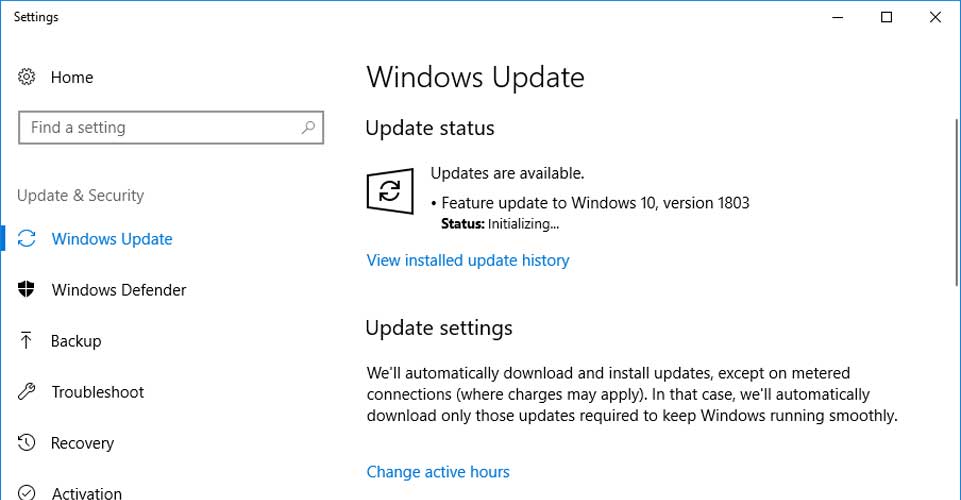 When it's done downloading and performing a preliminary install, Windows will prompt you to restart your computer. When you restart the computer, it will finish the installation and boot you back into Windows with the April 2018 Update installed.
Method 2: Use the Media Creation Tool
If Windows Update still does not show the April 2018 Update being available, the good news is that Microsoft updated the Windows 10 Media Creation Tool so that it installs the latest update. For those unfamiliar with this tool, the Media Creation Tool can be used to upgrade an existing Windows 10 install or to make a bootable USB drive or an ISO file, which can be used to create a bootable DVD, that you can use to upgrade a different computer.
To get started, download the Media Creation Tool and save it to your computer. Once it is downloaded, double-click on the downloaded MediaCreationTool1803.exe file and allow it to run.
Once started, you will be greeted with a license agreement that you must agree to before continuing.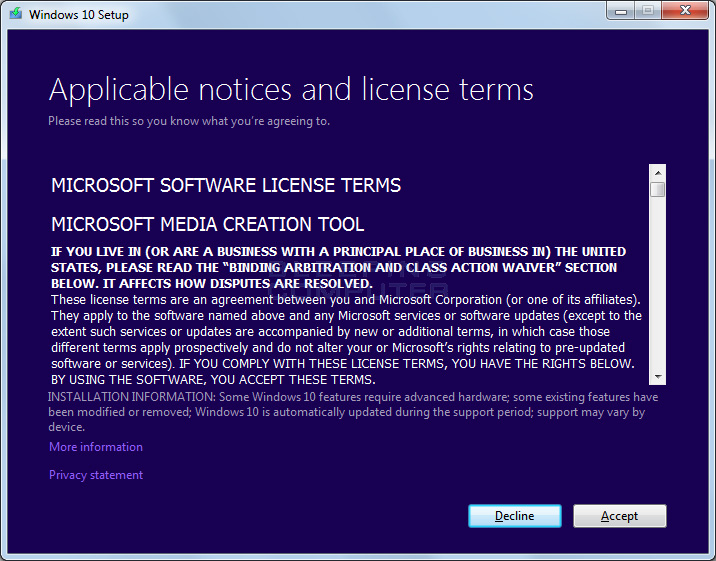 After you accept the license agreement, please be patient while the tool "gets things ready". When done you will be shown a screen asking whether you would like to "Upgrade this PC now" or "Create installation media".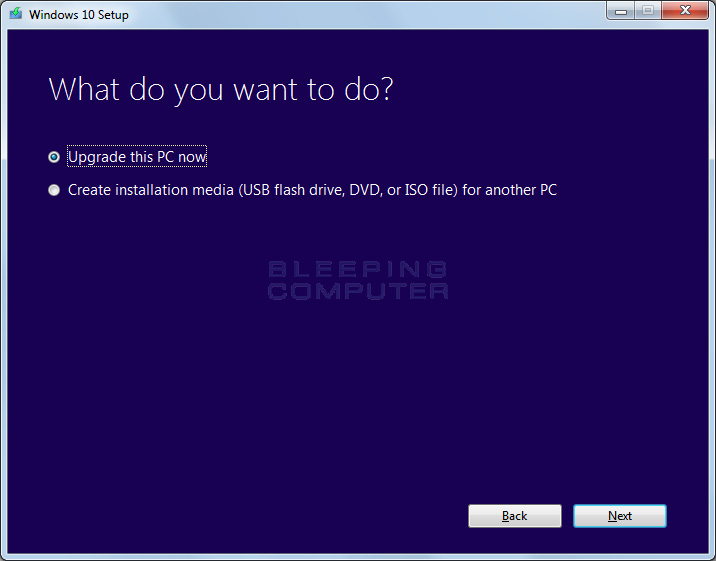 If you wish to upgrade a different PC, you should select the "Create installation media" and follow the prompts. For this guide, though, we will select the "Upgrade this PC now" in order to upgrade the PC you ran the program on.
Once you select "Upgrade this PC now", click on the Next button. The Media Creation Tool will begin to download the Windows 10 April 2018 Update (build 1803) and install it.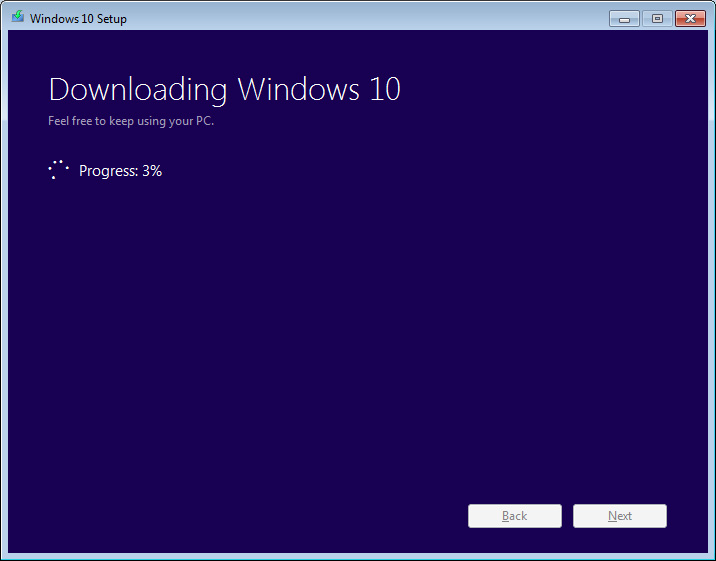 The installation process could take a while, so please be patient. Eventually you will get to a screen prompting you for information or to reboot the computer. Just keep following the prompts and when it's finished, the April 2018 Update will be installed on your computer.
You will know that the update has been installed as Edge will open with the "Welcome to the April Update" page.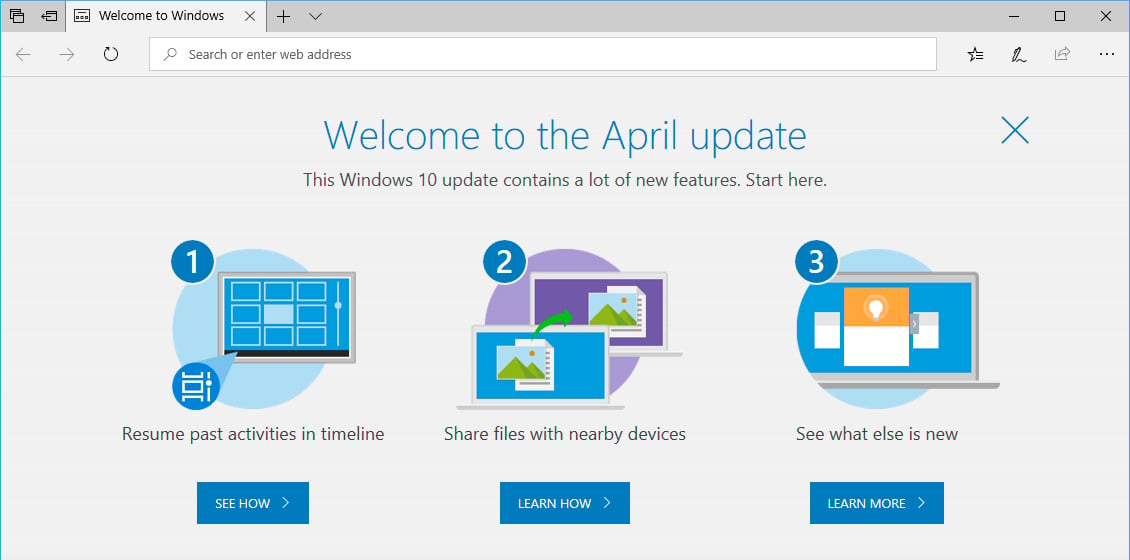 You can read through the information about the new features and then close Edge when ready.
Congrats the April 2018 Update is now installed!