Last week, Microsoft filed a patent for a new browser technology that will detect when users are visiting NSFW, questionable, or unsafe websites and switch to Private Browsing mode automatically.
Microsoft says this browser system will utilize both a local and remote list of websites for which the automatic switching will take place.
Microsoft will run a list of NSFW sites
According to the patent's text, Microsoft plans to run a central list of "questionable" websites. This is how Microsoft describes what sites will end up on this list:
Generally, unsafe subject matter may be defined in various ways, such as adult-oriented content, websites that involve personal user information (e.g., personally identifiable information, financial information, health information, educational information, and so forth), websites that involve protected enterprise data, and so forth.
In addition, users will be able to configure a local list of sites for which the switch from Normal-to-Private browsing mode also occurs, and overwrite some of the sites in Microsoft list's and force them to open in Normal browsing mode.

Further, options will allow the user to configure if the switch between these two browsing modes takes place automatically, or via a popup prompt.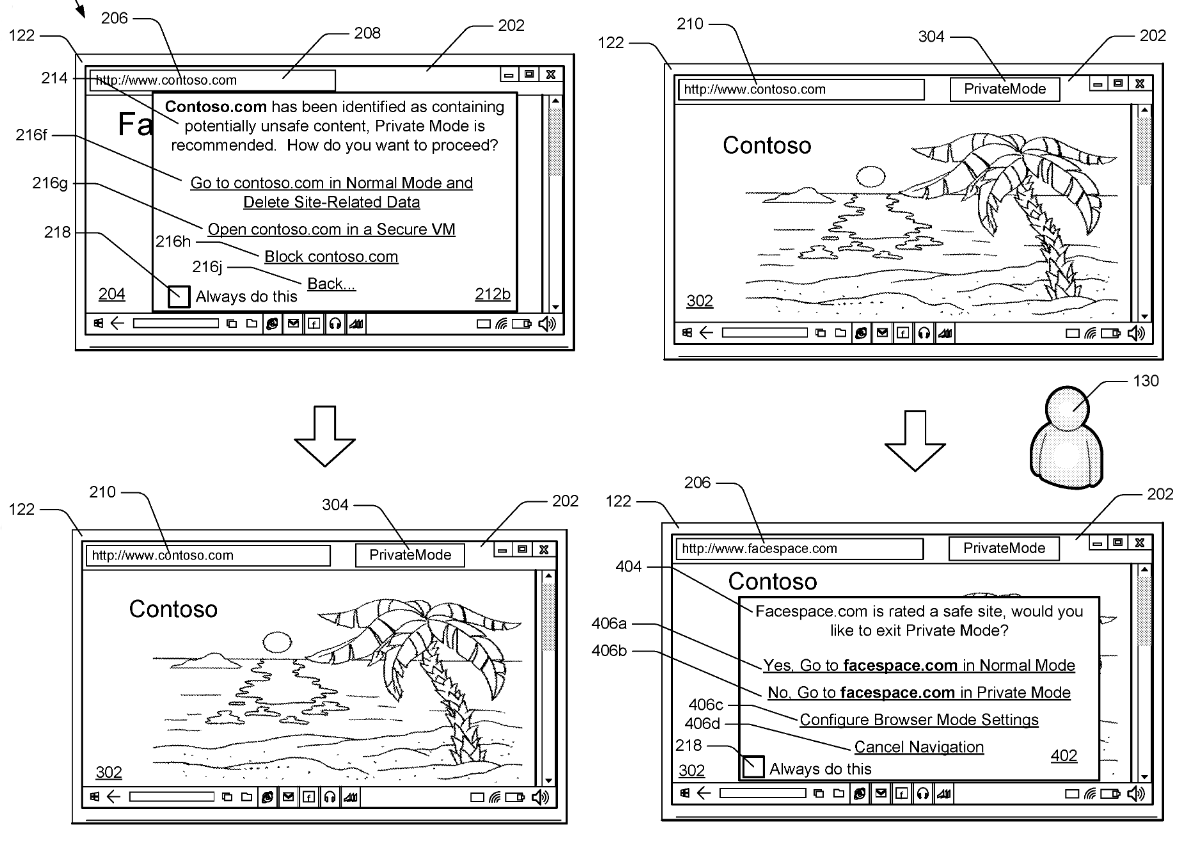 Once a user navigates to these sites, the browser will switch to Private Browsing, which is a browsing mode that saves browsing information for the current session only. When the user leaves Private Browsing mode, his previous cookies, temporary files, and browsing history will be removed for good, leaving no traces on the local computer.
All modern browsers support Private Browsing mode, but this usually involves the user manually opening a new browser window in a "Private Browsing" state.
Microsoft's patent automates the process of switching from Normal to Private browsing mode without opening new windows.
Privacy advocates will surely tee off on the fact that Microsoft not only gets to know what "questionable" sites you visit (they already knew, btw) but they'll now get to know which sites you feel ashamed of visiting.
An interesting new feature
Furthermore, an option in one of the Microsoft patent drawings also describes a way to "Delete Site Data" for a specific site, even if the site was opened in Normal Browsing mode.
The patent does not specifically mention a browser by name, but Microsoft has stopped development on Internet Explorer, so the only place this new system could end up is Microsoft Edge, a browser that Microsoft launched with the release of Windows 10 two years ago.
The patent —WO/2017/200778— is currently going through the normal approval process at the World Intellectual Property Organization (WIPO).