Project Gutenberg, a U.S.A. based site that offers free eBooks whose copyright have expired in the U.S., has blocked all access to German visitors. In a statement posted on the site, it was stated that this block was created due to a recent ruling against Project Gutenberg in a lawsuit filed in Germany.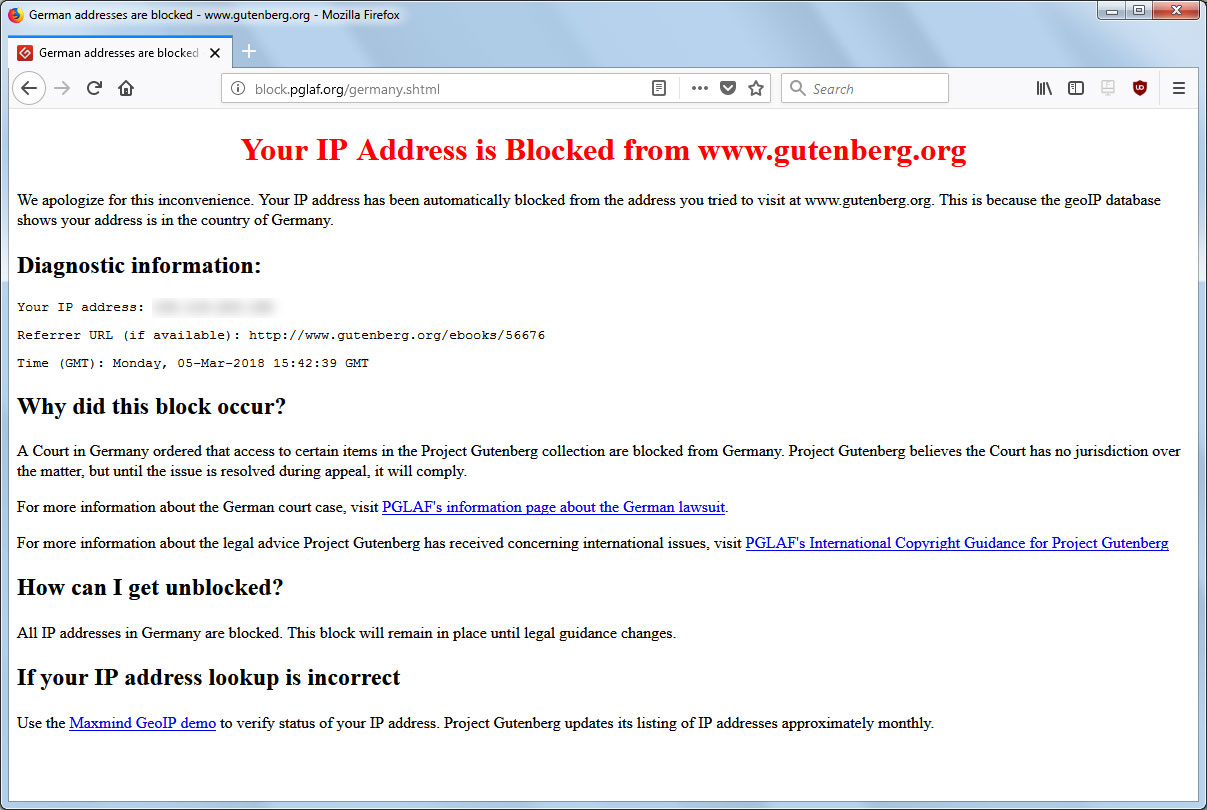 In the lawsuit filed in German courts, German copyright holders of 18 books hosted on Project Gutenberg argued that even though the site was hosted in the U.S.A, it would still fall under the jurisdiction of German courts because it was accessible in Germany and German residents could download the books. The plaintiffs went on to argue that portions of the web site were written in German and are meant to target German citizens, which would further cause this case to fall under German jurisdiction.
The defendants, on the other hand, argued that as these works are no longer copyrighted in the U.S. and as they are a non-profit U.S. organization developed for U.S. citizens, the lawsuit should shall fall under U.S. law.
On February 9th, the German courts sided with the plaintiffs and issued a ruling that stated that Project Gutenberg must block access to the 18 works, provide a list of users who have downloaded the items, and pay a portion of the plaintiff's legal costs.
Instead of just blocking access to these 18 works, Project Gutenberg has decided to block access to all of Germany. This was done to prevent them from being exposed to further potential lawsuits from other German copyright holders. As part of this block, Project Gutenberg posted a Q&A page that contains information regarding the lawsuit and why German visitors will be blocked.
Dr. Gregory Newby, the CEO of Project Gutenberg, told BleepingComputer that though there are obviously people who wish that only those 18 books were blocked, there have been other German residents who have supported their decision.
Newby has also stated that they will be appealing this ruling and appreciate the support they have received.
"PGLAF appreciates the community engagement and support that is so strongly evident, from the many people - in the US and elsewhere - who value the Project Gutenberg collection."
For those who wish to support their appeal, Project Gutenberg accepts donations on their site.
Offering translations of your site in other languages may be risky
As a web site owner, an interesting point to take away from this lawsuit is that offering your site in other languages than your primary one could cause you to fall under other country's jurisdiction. While Project Gutenberg offered other languages as a convenience to non-USA visitors, the German court's ruling clearly shows that having a German translation led them to feel that the site was targeting German citizens.
With scripts available that automatically translate a site into another language, many web site owners have used them as a convenience to their visitors. While these translations were often confusing and potentially not accurate, web site owners found them to still be useful for visitors from other countries.
With rulings like this one, web site owners may start to think differently about offering their site in other languages for fear of falling under another country's legal system.