Logitech will intentionally brick all Harmony Link universal hubs next year, on March 16, 2018. The company has emailed all Harmony Link customers with the bad news.
There is nothing wrong with Harmony Link devices.
The company says a "technology certificate license" will expire next year, which they don't intend to extend. The supposed license is a simple encryption (TLS/SSL) certificate used by Harmony Link devices.
Logitech said it decided to end support for the Harmony Link line of products once this certificate expiry date comes due.
Company peddling newer product in EOL email
In an email sent to customers, the company was hoping that users would buy one of its newer Harmony Hub universal remote that can control more devices than the aging Harmony Link.
Logitech offered a 35% discount for all Harmony Link owners when buying a newer Harmony Hub.
Dear [[Customer Name]],

This is an important update regarding your Harmony Link. On March 16, 2018, Logitech will discontinue service and support for Harmony Link. Your Harmony Link will no longer function after this date.

Although your Harmony Link is no longer under warranty, we are offering you a 35% discount on a new Harmony Hub. Harmony Hub offers app-based remote control features similar to Harmony Link, but with the added benefit of the ability to control many popular connected home devices. To receive your discounted Harmony Hub, go to logitech.com, add Harmony Hub to your cart, and use your personal one-time promotional code [[CODE]] during checkout.

Thank you for being a Logitech customer and we hope you will take advantage of this offer to upgrade to a new Harmony Hub.If you have any questions or concerns about Harmony Link, please email the Harmony customer care team.

Regards,
Logitech Harmony Team
The reaction of Harmony Link owners was just the one you'd expected, with many going online to blast the company for its decision to brick devices instead of extending a simple TLS/SSL certificate, and many vowing to never buy a Logitech product again.
Following the bad publicity that came after the company's initial announcement, on November 9, Logitech issued a new announcement, promising to provide free Harmony Hub replacements for all Harmony Link owners. In addition, Logitech said that customers who bought new Harmony Hub devices using the 35% discount will be reimbursed.
Before the November 9 additional statement, Logitech also faced criticism for censoring the expression "class action lawsuit" on its support forum. The company explained that soliciting legal action was against the forum's rules, and this was the reason it blocked the term.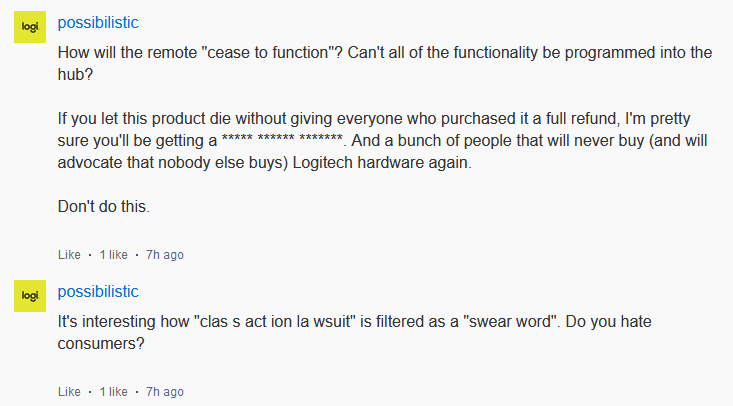 The incident shows once more why most consumers hate current "smart" devices, which can be remotely bricked by the vendor whenever it wants to move users to a newer product line.
If Logitech hadn't corrected course, this would have certainly been a case of interest for the FTC, as this could have a dangerous precedent that other hardware vendors could have followed.
UPDATE [November 9, 17:20 EST]: The article was updated with new information provided by Logitech. A reference to Logitech holding a fire sale before emailing clients about the Harmony Link end of support was removed from our original report as Logitech claimed the fire sale was for Harmony Hub devices, not Harmony Link.