Lenovo announced yesterday plans to recall tens of thousands of ThinkPad X1 Carbon 5th Generation laptops due to a loose screw that may cause the laptop's battery to catch fire.
Yes, you read that right. According to a statement Lenovo published online late yesterday, the company "has determined that a limited number of systems may have an unfastened screw [...] that can damage the battery causing overheating, potentially posing a fire hazard."
The Chinese company says that ThinkPad X1 Carbon 5th Generation laptops manufactured between December 2016 and October 2017 are affected.
ThinkPad X1 Carbon laptops have been hailed as one of the best laptops consumers can buy on the market, with an excellent feature-price ratio. These laptops are usually sold at prices ranging between $1,100 and $2,600, from both Lenovo's official site, but also via many authorized resellers.
Over 83,500 laptops affected, probably more
The US Consumer Product Safety Commission estimated the number of ThinkPad X1 Carbon laptop units sold in the US at around 78,000, with an additional 5,500 sold in Canada.
In early January, HP recalled over 50,000 laptops due to faulty batteries that also posed a fire hazard. A year prior, HP recalled another 101,000 laptop units.
The HP recalls were based on incidents caused by HP laptops catching fire and sometimes injuring owners. It should be noted that Lenovo claimed no ThinkPad X1 Carbon units caught fire due to the "loose screw" issue the company detected.
What Lenovo ThinkPad X1 Carbon laptops are affected?
Lenovo said that only ThinkPad X1 Carbon laptops with a "Machine Type" code of 20HQ, 20HR, 20K3, or 20K4 are affected. Device owners can find this code on a sticker on the back of the laptop.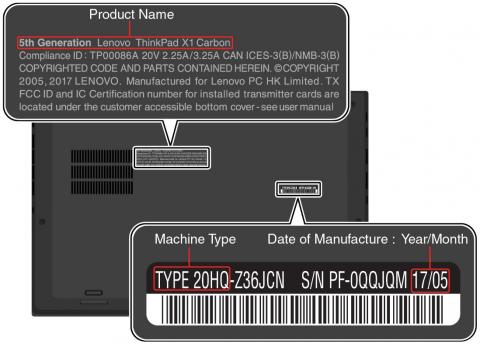 Not all laptops with the above Machine Type codes are affected, but Lenovo has put together a web page where users can enter their serial number and find out if they need to contact a Lenovo representative to have their device replaced.