A US man has filed a lawsuit against Logitech, a Swiss-based manufacturer of electronic devices, on accusations that Logitech had intentionally delayed and tried to discourage warranty claims for defective products, falsely advertised products, and even hid an End-Of-Life (EOL) announcement from customers.
The product at the heart of this lawsuit is a high-definition digital video home security systems named Logitech Alert Systems. Logitech advertised these IP-based security cameras as a way that users could keep an eye on their properties by accessing a public IP via their desktops, smartphones, and tablets.
The plaintiff claims that Logitech "aggressively marketed and sold" these products, making bold claims that in hindsight the product did not live up to.
Logitech IP cameras plagued by hardware failures, software bugs
The lawsuit alleges that Logitech's cameras had "a high-rate of failure" and the software running on the IP cameras "was rife with bugs and glitches that made the systems unreliable and inoperable."
Below are just some of the complaints that various users made on the Logitech support forums:
❖ If you cameras worked out of the box consider yourself lucky. 70% failure rate here.......wow
❖ I have purchased 4 total cameras, two of them have failed and it's been less than 1 year for both of those.
❖ Two outdoor, and one indoor camera. They all three worked fine for about a week, but now I cannot see the indoor camera and one of the outdoor cameras.
❖ My 4th camera died today, the remaining 5th camera probably won't last much longer I'm tipping. Having spent thousands of dollars on this system I'm more than slightly annoyed.
❖ Had these cameras for 6 months now. I started a thread a while ago about this problem, still seems to happen every other week which makes this product useless... This product is very unreliable. You cannot depend on this for home security.
❖ The volume of common failed 700E cameras and associated bad press to Logitech should motivate Logitech to provide some type of repair service for the failed cameras. Maybe a recall of some sorts.
❖ This system stop working after 10 days. I spend 2 hours with Customer Service. They asked to send this camera back. To days later additional 2 cameras stop working. Worst system.
❖ I called Logitech support the first time because both cameras had just decided to stop working all together.
❖ I went through two of these. One overheated and stopped working after less than two days of use.
❖ It worked great for the first week but soon after those 7 days it just stop working, nothing else to say.
❖ The item worked for about 45 days then suddenly just died. Never came back to life.
❖ I purchased 12 cameras 8 of which have failed and had to be replaced. Troublesome to replace because Logitech does is not eager to replace cameras and sends back wrong items or short items.
Plaintiffs: Logitech dodges warranty claims
The cherry on top came when users complained to the company. "Logitech refused to honor its warranties to remedy the defects while customers' warranty periods lapsed, thereby escaping its legal obligations to provide non-defective replacements or refunds," the lawsuit reads.
The lawsuit alleges that Logitech knew its product had a high rate of failure, but instead of issuing a callback, it "responded by designing and implementing a strategy to avoid its express warranty obligations," such as:
(1) requiring customers to go through repetitive, time-consuming, cumbersome, and unsuccessful troubleshooting processes;
(2) failing to replace customers' defective systems with non-defective parts, software, or systems in a timely manner while warranty periods lapsed;
(3) repeatedly telling customers Alert Systems were on back-order so that they could not be replaced during the warranty period;
(4) creating administrative hassles for customers to prove purchases and submit exchange Alert Systems for repair and/or replacement;
(5) replacing defective Alert Systems with defective Alert Systems;
(6) misleading customers that its Alert Systems' problems would be fixed with upcoming hardware and software fixes that never materialized or did not actually work;
(7) failing to implement successful software upgrades that would resolve or improve the user experience and make the Alert Systems functional for their intended purposes;
(8) failing to provide refunds.
"As a result, Logitech strategically left customers without operable security systems during the warranty period while it ran out the clock," the lawsuit reads.
Logitech delayed EOL announcement
Logitech sold the Alert Systems IP cameras between 2010 and 2014. The lawsuit alleges that after numerous issues and user complaints Logitech decided internally to discontinue the product in 2012, but didn't publicly tell customers of its decision until July 22, 2014, via a post that was later buried on its forum after newer topics.
The lawsuit claims the company wanted to sell current stocks of Alert Systems before making the announcement and allowed customers to buy a product it did not intend to support anymore.
Because the Logitech Alert Systems package was advertised as a premium product, customers had invested large sums of money.
"Alert Systems were sold at premium prices—starting at $299.99-$349.99 for a master camera, with each additional camera costing $199.99-$279.99 or more," the lawsuit reads. "And, with the annual cost for a Web and Mobile Commander subscription at $79.99, customers could invest well over $1500 in an Alert System."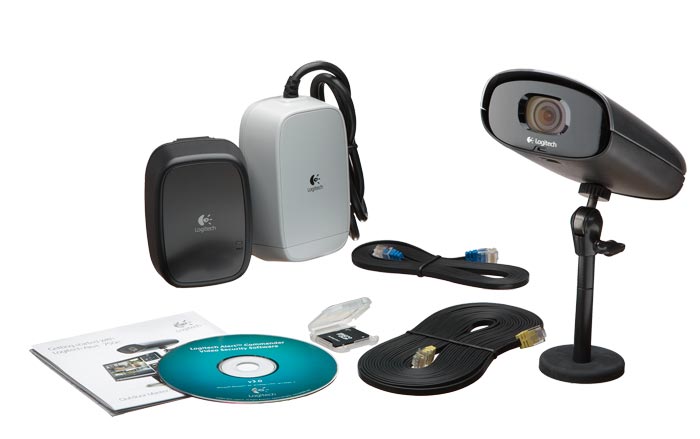 The high price for an Alert Systems package, coupled with the high rate of hardware defects, the constant software bugs, and the warranty issues, eventually led to this lawsuit.
The plaintiff, a man named James Anderson, has filed the lawsuit in the Northern District of Illinois and is seeking a class-action status so other users can join and claim any financial damages. The proposed class-action lawsuit covers all US states except California, where another class-action lawsuit has been filed by another user.
Logitech did not respond to a request for comment from Bleeping Computer in time for this article's publication.