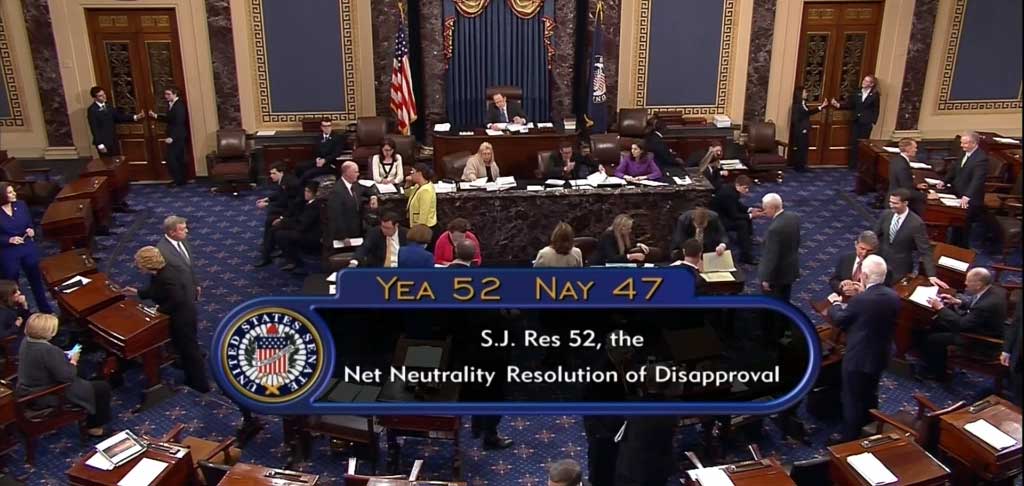 Today the U.S. Senate held a vote on reinstating Net Neutrality protections that is currently scheduled by the FCC to be repealed in June 2018. With a vote of 52 for keeping Net Neutrality and 47 against, the Senate has, for now, been able to prevent the repeal of the Net Neutrality rules.
In order to force this vote, the Democrats used the Congressional Review Act, or CRA, which enables Congress to repeal federal rules and regulations issued by government agencies using a simple majority vote rather than the normal 60 vote requirement.
With all of the Democrats voting Yes to reinstate Net Neutrality, and Senator John McCain currently battling illness, only one Republican needed to cross party lines in order to pass the vote. Senator Susan Collins had already indicated that she would be voting with the Democrats, but Senator Lisa Murkowski and Senator Joe Kennedy also voted Yes. This brought the final vote to 52 Yea for reinstating Net Neutrality versus 47 for repealing.
This is a huge moment for those who feel that Net Neutrality rules are necessary to keep the Internet a fair and level playing field. Many feel that if Net Neutrality rules are repealed, nothing would stop broadband providers from creating inequality in the speed of Internet access or could allow providers to censor sites.
The reinstatement of Net Neutrality still has a long way to go as it now needs to go before the House of Representatives. With the House currently Republican controlled, it will be a very difficult, if not insurmountable, task to pass it in the House as well.