The Russian Defense Ministry made a fool of itself today when it posted on Twitter and Facebook "irrefutable evidence" that the US aided ISIS, which turned out to be screengrabs from a well-known video game and a video published online by the Iraqi military in 2016.
"This is the irrefutable evidence that there is no struggle against terrorism as the whole global community believes," said the Ministry of Defence of the Russian Federation in an inflammatory Facebook post, which it also shared on Twitter.
"The US are actually covering the [fleeing] ISIS combat units to recover their combat capabilities, redeploy, and use them to promote the American interests in the Middle East," the Ministry added.
One image was from a combat airplane simulator game
Both social media posts contained five images showing what appeared to be satellite imagery of a convoy of trucks in a desert landscape. The Russian Defense Ministry said they were ISIS trucks fleeing the city of Abu Kamal in Syria on November 9, which the US refused to bomb.
The lame attempt of anti-US propaganda was debunked almost immediately as it was posted online.
Users were quick to notice that one of the images was taken from a video game named "AC-130 Gunship Simulator: Special Ops Squadron."
The particular game mission from where the screengrab was taken from is also available online, on YouTube, as one user "candidly" pointed out.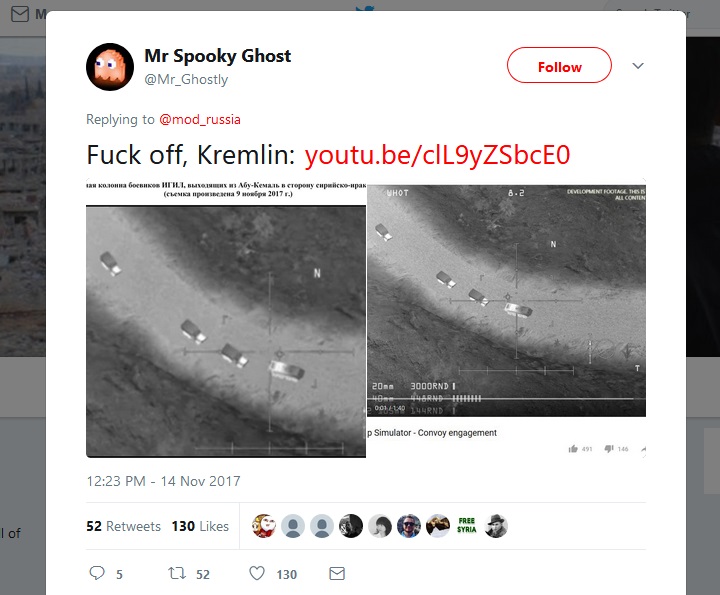 The Russian Defense Ministry did what every other troll does when caught red-handed — it deleted both posts. Fortunately, someone was quick to create archives on the Wayback Machine, for both the Facebook and Twitter posts.
Rest of the images are fake as well
With the ruse exposed, other users and national security experts were quick to point out that the rest of the photos shared by the Russian Defense Ministry were also fakes [1, 2].
The images were taken from a video published online by the Iraqi military in June 2016, showing a joint US-Iraqi mission that attacked an ISIS convoy outside Falluja.
In the meantime, the Russian Defense Ministry published new posts [1, 2] with different imagery and blamed the error on an employee.
Eliot Higgins, a researcher with Kings College London and Atlantic Council's Digital Forensic Research Lab, pointed out this was not the first time the Russian Defense Ministry's social media accounts were caught lying. The researcher pointed to three other incidents.
Error or not, this is nowhere near as embarrassing as when a Danish TV station used a screengrab from Assassin's Creed to depict war-torn Syria back in 2013.