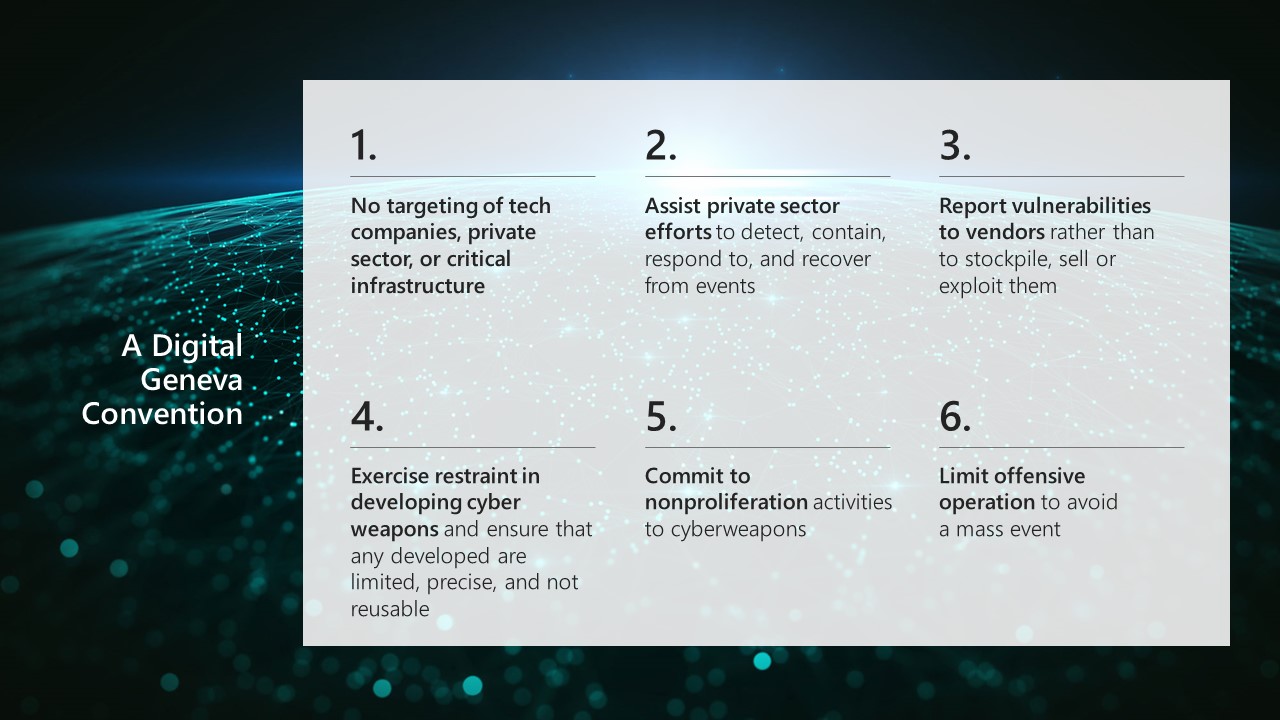 Brad Smith, Chief Legal Officer at Microsoft, has called on the world's nations to come together and sign a pact that regulates the use and proliferation of cyber-weapons, similar to the Geneva Convention signed in 1949.
Smith detailed his idea at the RSA security conference taking place in San Francisco this week, and in a lengthy post on Microsoft's blog.
His proposal is a convention signed by all of the world's nations that prohibits the deployment of cyber-weapons against tech companies, the private sector, critical infrastructure, or civilians.
The idea is borrowed from the August 1949 Geneva Convention, a series of treaties that protect civilians in war zones, prisoners of war, or soldiers that have surrendered or have lost the ability to fight.
Cyber-espionage campaigns don't always aim for government targets
Smith is now calling on the same principles and asking nations to attack only each other, and leave regular users and companies out of their sights.
His request comes after security firms have linked attacks against Sony Pictures to North Korean hackers, and after Chinese state-linked groups have hacked numerous tech companies across to globe, stole intellectual property, which then made its way into the hands of Chinese companies.
While the US signed a pact with China to stop economical cyber-espionage and limit hacking only to classic government espionage purposes, not all countries have such treaties in place, and not many have ever thought of putting one together.
Tech companies to play the role of the Red Cross
A "Digital Geneva Convention," as Smith calls his idea, would prohibit nation-state hacking in times of peace, and only to government targets.
Smith urges the tech sector and governments around the world to unite and put together a framework for detecting, monitoring, and sanctioning any rogue cyber-attacks.
In his proposal, tech companies are to act as Red Cross representatives on the cyber battlefield, helping protect civilians against nation-state cyber-attacks.
An idea, and only that
While vague on technical and implementation details, Smith puts forward the idea that regular users should not have to suffer by having his personal records exposed online just because Nation A wanted to get back at Nation B.
Taking into account the huge role "the cyber" plays today in shaping the geopolitical landscape, Smith's proposal might remain only a hopeful idea if big players like the US, Russia, China, the UK, Iran, and others don't get on board.
Taking into account that Russia has "allegedly" influenced the outcome of the US Presidential Election through a few clever hacks, we doubt it will be willing to surrender on of its main advantages and return to a geopolitical landscape where the country is plagued by economical sanctions, just for the sake of some Silicon Valley techie's utopian dream.
Right now, cyber-hacking tools are like nukes that don't kill people, and nobody's willing to put them down unless they cause more serious consequences that will reflect in the real world. Releasing tension from today's geopolitical landscape will involve more than just putting cyber-weapons to the side.