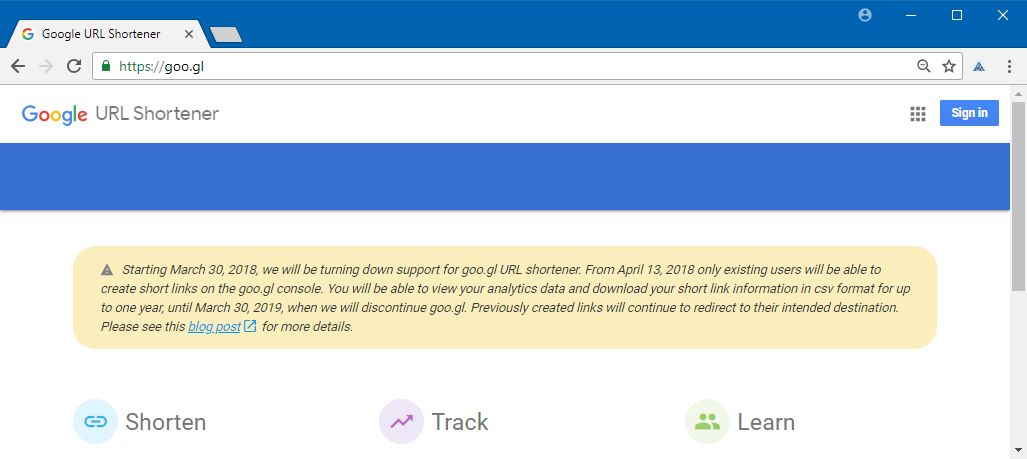 Google announced on Friday plans to shut down goo.gl, its long-time URL shortening service.
The service is still active, but starting April 18, Google says that only existing registered users will be able to shorten links via their goo.gl account console.
Registered users will be able to see URL analytics data and download short link information in CSV format until March 30, 2019, when Google plans to shut down the service for good.
Similarly, developers will be able to sign up for the goo.gl API until May 30, 2018, and continue to use the API until the same date of March 30, 2019.
goo.gl links will continue to work after cut-off date
Google said existing goo.gl short links would continue to redirect to their destination even after the cut-off date of March 30, 2019.
Google is sunsetting the service in favor of Firebase Dynamic Links (FDL).
"FDLs are smart URLs that allow you to send existing and potential users to any location within an iOS, Android or web app," Google said in an announcement yesterday.
"[The goo.gl] URL Shortener has been a great tool that we're proud to have built. As we look towards the future, we're excited about the possibilities of Firebase Dynamic Links, particularly when it comes to dynamic platform detection and links that survive the app installation process," Google added.
No auto-migration to Firebase Dynamic Links
Google said it would not auto-migrate users' existing goo.gl short links to a Firebase console. Users will have to export their short links and import them manually into a Firebase backend. Alternatively, users can move operations to other classic URL shortening services, such as Bit.ly, Ow.ly, or others.
The move will have an impact on both marketing departments and malware authors alike, both ardent users of Google's URL shortening service.