Google launched today an improved version of the Chrome OS specifically built for deployment in large-scale enterprises.
Nicknamed Chrome Enterprise, this Chrome OS version will be available for $50 per device per year and includes the following new features.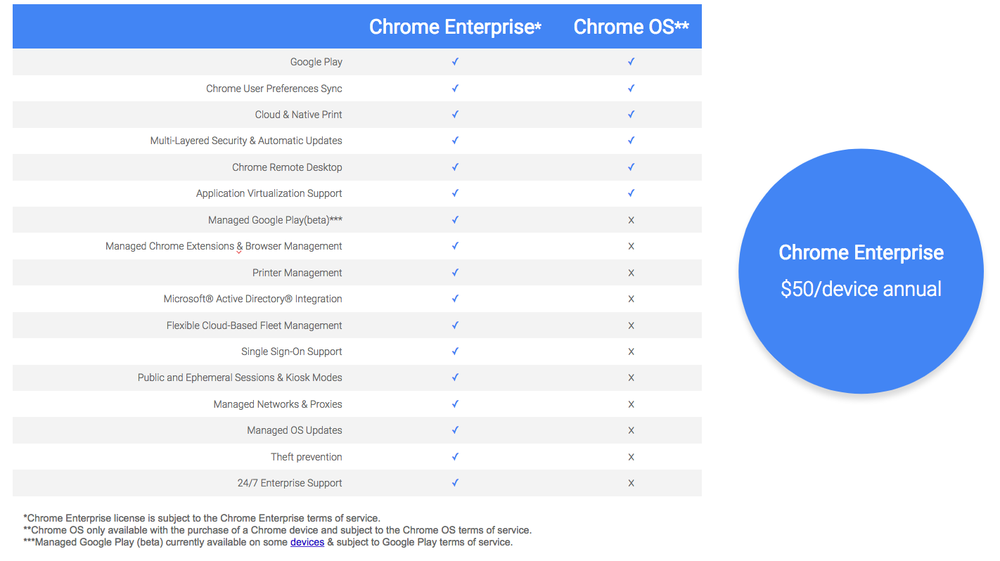 Of all, the most important feature is the support for Microsoft Active Directory. By adding AD support, Google has removed the main impediment for businesses switching to Chrome OS, which was the ability to run Chrome OS and Windows on the same managed network.
With AD support, users will be able to use their regular work credentials to log into Chrome OS devices, without the overhead of using separate credentials or sysadmins managing different networks.
Management, management, management
In addition, Chrome OS also features support for VMware Workspace One, an enterprise platform for managing apps on user devices, and locally managed Play Store installations that allow admins to control what Android apps can be installed on Chrome OS devices.
Other Chrome Enterprise features include managed network proxies, managed OS updates, printer management, managed Chrome extension and browser management.
The term "managed" — mentioned five times in the previous paragraph — is the attraction point for Google's new OS version.
The entire point of releasing Chrome Enterprise is to appeal to the enterprise sector where companies would like to deploy (the cheaper) Chromebook devices but have been previously limited by the lack of device management features and lack of interoperability with existing Windows-based networks.
With 24/7 support and other features such as SSO support and a kiosk mode, Chrome OS is now both on par and on friendly terms with Windows 10 and Linux-based solutions.
Chrome OS conquering one industry sector at a time
Chrome OS and Chromebook devices have been very successful in the education sector where many schools and universities have chosen Chromebooks as at-home school-provided laptops, but also in retail where they've been used as in-store PCs.
The low price of owning a Chromebook has made Chrome OS an appealing solution in these two verticals, and will no doubt make it as appealing in the enterprise sector.
While Microsoft has been offering Windows for home users for decades, it is from enterprise products that the company has made most of its money, of which, Google now wants a piece as well.