Starting tomorrow, February 15, Google will begin to block certain types of online ads using a new built-in ad blocking technology it announced last June.
Below are the basic things a user needs to know about Chrome's new ad blocker, along with a few screenshots showing what controls Google will make available to users.
⇒ Chrome's ad blocker utilizes a blacklist of sites with intrusive ads.
⇒ When a site loads, Chrome checks to see if the site's domain is on this blacklist.
⇒ If the site is not on the blacklist, Chrome will display all ads.
⇒ If the site is on the blacklist, Chrome will block ALL ADS on the site.
⇒ To block all adds, Chrome uses advertising domains found in the public
EasyList
filter to detect and prevent ads from getting loaded in Chrome at the network level.
⇒ A site lands on the Chrome blacklist if it does not show ads according to the Better Ads Standard. A list of unacceptable ads is available
here
.
⇒ Google has created the
Ad Experience Report
for website owners.
⇒ Website owners who registered their domains with the Google Search Console service can access the Ad Experience Report for a review of their site's ads status.
⇒ Google periodically scans all domains for how they display ads.
⇒ Once Google detects that a site uses unacceptable ads, a site is added to the Chrome blacklist, and a notification is displayed in the Ad Experience Report.
⇒ Website owners have 30 days to fix problematic ads and request a reevaluation via the Ad Experience Report.
⇒ Website owners can also request a review of their sites if they've passed the 30-day deadline and Chrome is already blocking all ads on their domains.
⇒ Google plans to roll out this new ad blocking system starting February 15.
⇒ Not all Chrome user will receive this new ad blocker right away.
⇒ An "Ads" section has been added in the Chrome settings panel at
chrome://settings/content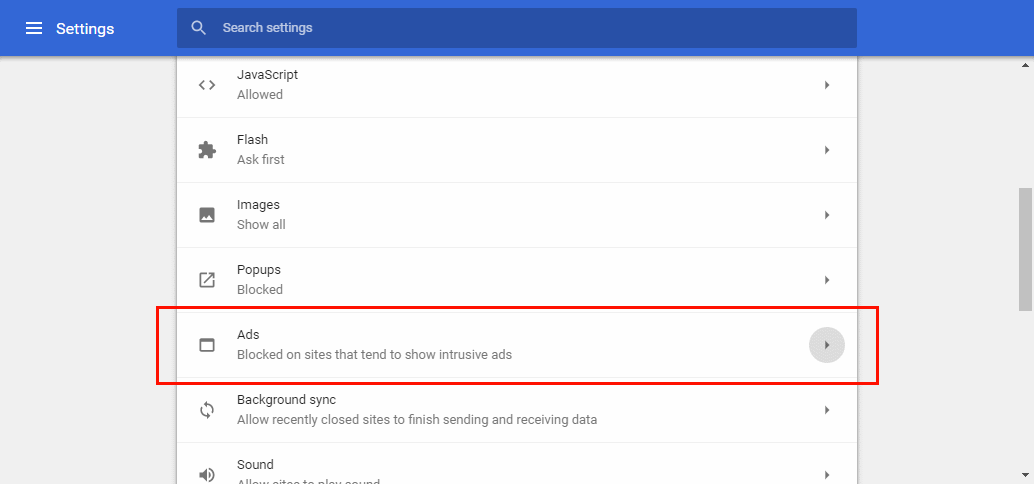 ⇒ Clicking the "Ads" option, users can enabling or disabling the ad blocker at
chrome://settings/content/ads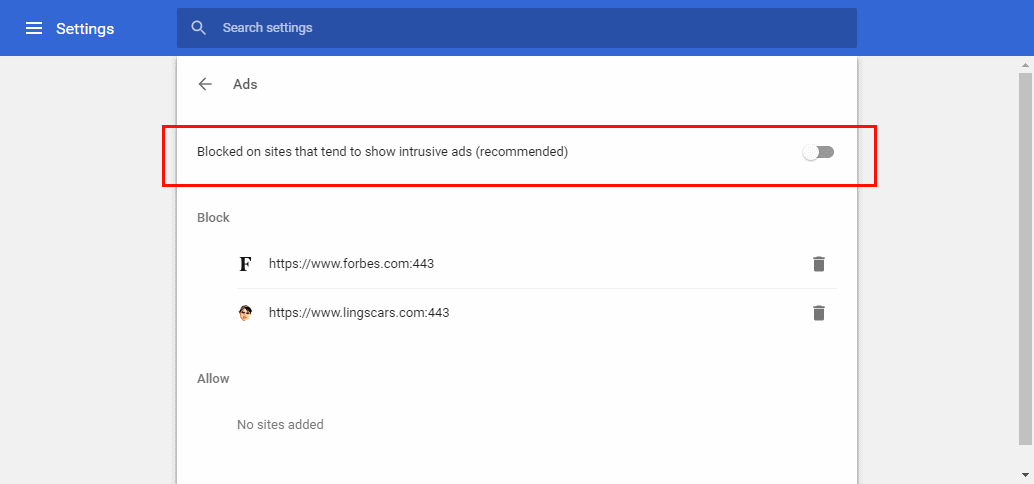 ⇒ Clicking the URL info icon, and then clicking "Site Settings" provides access to more ad-blocking-related options.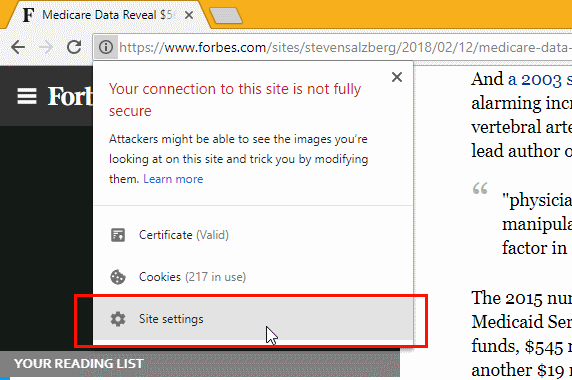 ⇒ Users can allow or block ads on a per-domain level.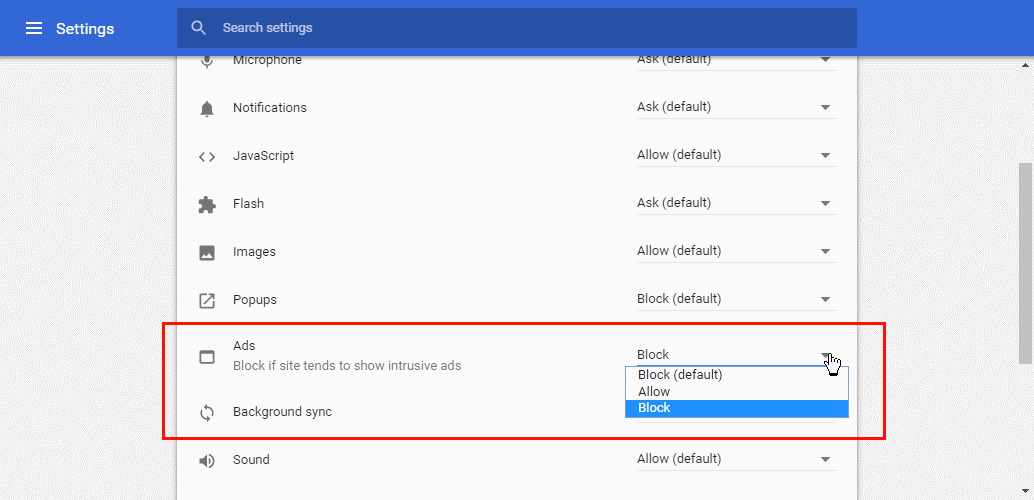 ⇒ Once the ad blocker is active, it will show a notification similar to the one used by Chrome's popup blocker, letting the user know that ads are being blocked on a domain.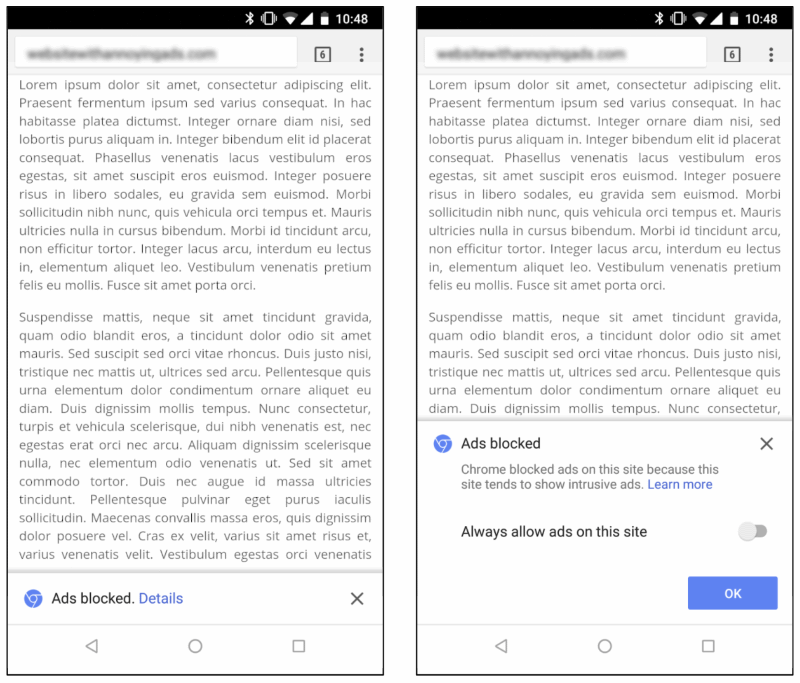 As readers can obviously see, this is not an ad blocker in the classic meaning of the word. Your reporter has already received many email pitches from companies that develop ad blockers, all slamming Google's new technology as inefficient or inferior.
The fact of the matter is that Google did not set out to build a classic ad blocker. As Google has stated many times before, its ad blocker is only meant to make the web more friendly against website owners who launch an avalanche of ads at their users for the sake of making a profit.
If users are using ad blockers because they're tired of intrusive ads, but still want to reward websites for good content, they can easily make the switch to Chrome's new ad blocker and not have to whitelist sites on a daily basis.
But if you're using ad blockers because of security reasons —to block cryptojacking scripts and ads part of malvertising campaigns— then stay with your current ad blocker. This was not what Google's ad blocker was designed to do.
Chrome's new ad blocker is a giant stick that Google is waving in front of shady website owners in the hopes most will stop their current practices.