Google has release Chrome 71 to the Stable desktop channel, which means it is now available for everyone to download. This version comes with a bunch of new features, with most of them focusing on protecting users from abusive ads, deceptive billing pages, and unwanted autoplay audio.
For Windows, Mac, and Linux desktop users, you can update to the latest version of Chrome by going to Settings -> Help -> About Google Chrome and the browser will automatically check for the new update and install it if available. Mobile versions will be released in the upcoming weeks.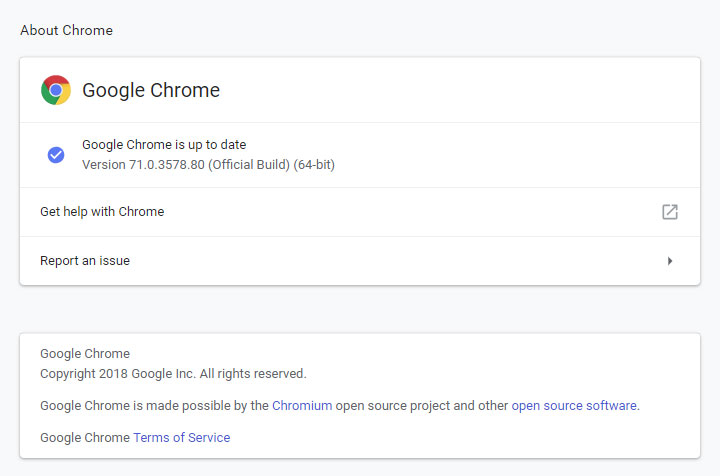 In addition to new features, this release also fixes 43 security vulnerabilities in Chrome.
Below we have outlined some of the new features in Chrome 71.
Chrome will block all ads on abusive sites
Chrome 71 will now block all advertisements on sites that display abusive or misleading advertisements. Abusive ads include promoting malware, have hidden click areas, fake mouse pointers, non-interactive redirects, phishing, fake messages and alerts, or misleading behavior.
If Google detects that a site is performing abusive ad behavior, they will be alerted in the Abusive Experiences Report in their Google Search Console. This report contains periodic evaluations of a site's advertisements and will alert a site owner if anything has been detected.

User's can control what sites are blocked by going to Settings -> Advanced -> Content -> Ads.
Deceptive billing page warnings
Chrome will now display warning interstitials for web pages that are known to perform deceptive billing. Deceptive billing sites are ones that tell users to enter their mobile information in order to access content, such as a game, but also charge the user a mobile subscription without their knowledge.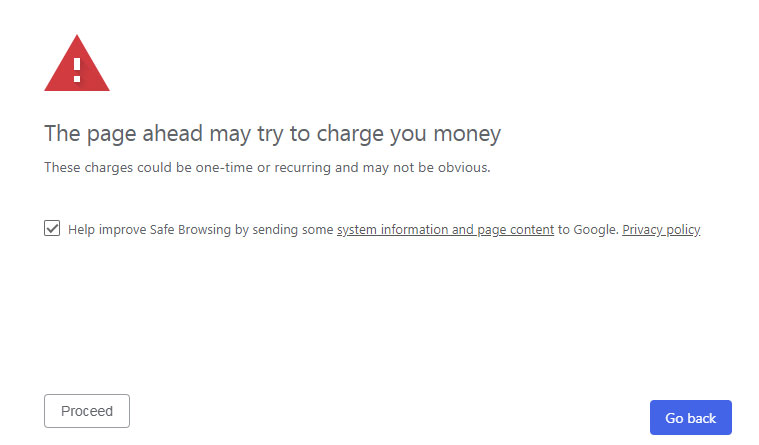 Web Audio API now uses Chrome's autoplay policies
In prior versions, Google blocked autoplay audio from working in Chrome. This caused many legitimate applications, such as games, presentations, and other apps to not work properly. Due to this, Google delayed the release of this feature to give developers time to fix their apps.
With this release, the Web Audio API now follows the same autoplay policies that the rest of Chrome uses when producing sound. This means, that if a site has audio blocked, even an app that utilizes the Web Audio API will be blocked.
Speech Sythensis API blocked
The Speech Synthesis API allows developers to convert text into synthesized audio speech. This is great for accessibility purposes, but is also abused by sites such as tech support scams.
As this is also one of the last ways for a site to autoplay audio without user interaction, Google has disabled the ability to automatically play audio through the API.
Now, for a developer to use the API they must launch it only through user interaction or the API will be blocked and a warning will appear in the Console of the Chrome developer tools.