It has been a really bad week for Google and Chrome 69. First there was a large outcry about being forced to login to Chrome when you login to Google.com or one of their services. Then news came out that when you deleted all of the cookies in Chrome, the browser did not properly remove Google's own authentication cookies.
Let's just say Chrome users are not happy. Google, though, appears to be listening and has decided to backtrack on some of these changes in the upcoming Chrome 70, which is slated to be released in the middle of October.
In a blog entry posted today, Chrome product manager Zake Koch explains that even though they introduced these changes with good intentions, based on user feedback they have decided to roll them back and give users more control over how their browser behaves.
"We've heard—and appreciate—your feedback," stated Koch in a blog post. "We're going to make a few updates in the next release of Chrome (Version 70, released mid-October) to better communicate our changes and offer more control over the experience."
These changes include a "Allow Chrome sign-in" toggle setting, which will let you disable the automatic sign in to Chrome when you login to a Google service.

There will also be clearer indicators that tell you if you are logged in, and if so, whether sync is enabled or not. Mockups of how these screens will look appear below.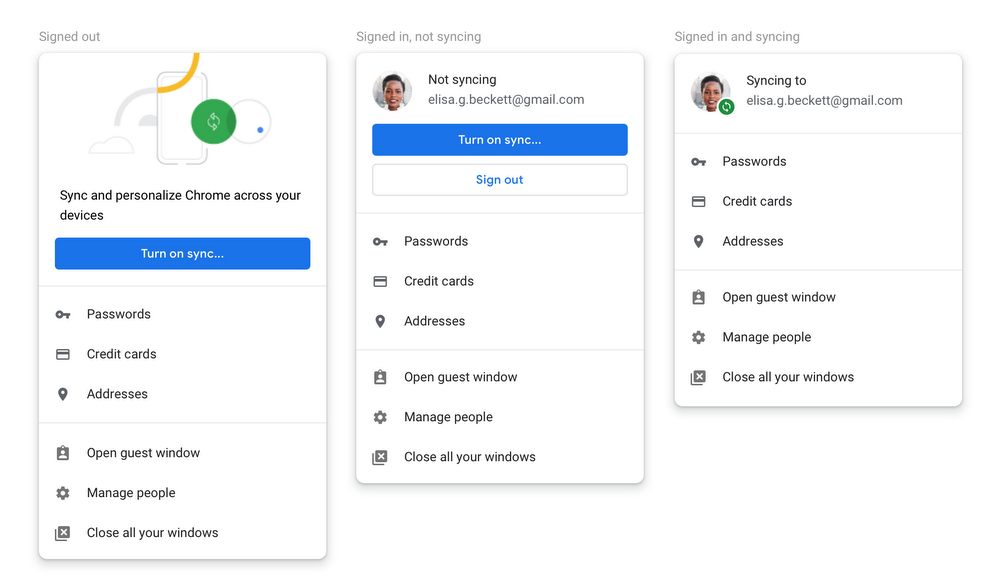 Finally, if you delete all the cookies in Chrome 70, the browser will delete all of them, including Google authentication cookies. This was a bizarre one to begin with and its baffling that this was allowed in the first place.
WWW subdomain still slated to be removed in Chrome 70
While it is great that Google is changing these settings to better explain what is happening and to give users more control over the browser, there is still one glaring change that is not set to be fixed.
That is the upcoming removal of the WWW subdomain from the Chrome 70 address bar. Originally, Chrome 69 removed both the WWW and M subdomains from the address bar, but after people complained, they added them back in.
According to a Chromium bug report, WWW is heading back to the chopping block in Chrome 70, while the M subdomain has been saved.

Since this bug report has been added, there have been numerous comments from Chrome users stating how they feel this is a really bad decision. Hopefully Google will listen to this feedback as well and put and end to the removal of WWW.