Today, Microsoft released Minecraft version 1.2.552.0, which includes support for Windows Mixed Reality. Simply plug in any supported Windows Mixed Reality headset and you can dive right into an immersive Minecraft experience.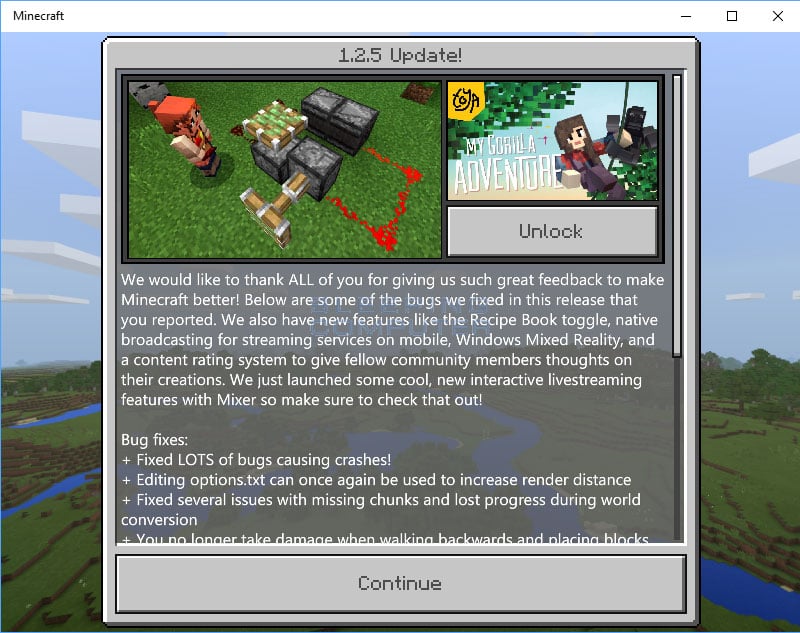 Microsoft has already started implementing VR in Minecraft using the Oculus and Gear headsets, but the introduction of Windows Mixed Reality headsets is Microsoft's attempt to VR more accessible to Windows 10 users. This is because Windows Mixed Reality is designed to support less powerful equipment, have a lower price point, and make it easier to setup with built-in tracking sensors in the headset rather than as standalone devices.
The below video, though recorded using Oculus headsets, demonstrates the existing VR experience in Minecraft.
Also included in this update is integration of Microsoft's live-streaming service called Mixer. This allows Minecrafters to easily stream their sessions without 3rd party software.
The full list of changes in this version of Minecraft can be found below:
We would like to thank ALL of you for giving us such great feedback to make Mincraft better! Below are some of the bugs we fixed in this release that you reported. We also have new features like the Recipe Book toggle, native broadcasting for streaming services on mobile, Windows Mixed reality, and a content rating system to give fellow community members thoughs on their creations. We just launched some cool, new interactive livestreaming features with Mixer so make sure to check that out!

Bug fixed:

+ Fixed LOTS of bugs causing crashes!
+ Editing options.txt can once again be used to increase render distance
+ Fixed several issues with missing chunks and lost progress during world conversion
+ You no longer take damage when walking backwards and placing blocks at your head level
+ Pistons no longer get stuck or break randomly

Keep reporting those bugs to us at bugs.mojang.com so we can get them fixed!

We also have new community-created content in the Store including:
A gorilla adventure from Toya
Don't miss content from new creator Norvale
Adventures of a plumber with Jigarbov
And much, much more!

Lke the update? Have suggestions? Join the discussion at discord.gg/Minecraft or click on the feedback button in the game!