CryptoCurrency exchange Coinbase has stated that they are investigating possible insider trading on the release of Bitcoin cash on their trading platforms. This probe follows the large outcry on social media where people are crying foul that a huge price jump just hours before the new release was caused by insider trading by Coinbase employees.
Bitcoin Cash (BCC) is a fork of the popular Bitcoin cryptocurrency, where everyone who held Bitcoin at the time of the fork received an equal amount of Bitcoin Cash. When the fork occurred on August 1st, Bitcoin Cash was valued at approximately $300 USD. As time went on, it gradually picked up value to the point it was ranging between $1,400 - $1,800 USD through November and December.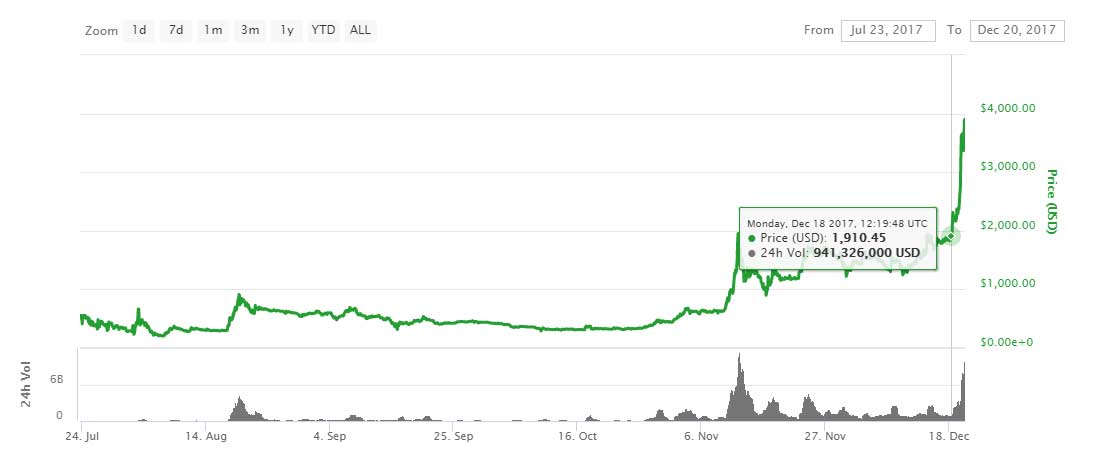 Suddenly, on December 18th, you can see a sudden increase in value where it jumped up in price to over $3,000 just hours before Coinbase announced that it was adding support for BCC. While cryptocurrencies are known to heavily fluctuate, when you see a large upswing like this it is typically caused by either a pump-and-dump scheme or by good news being released about the coin. These concerns were further compounded after Bitcoin Cash jumped to $9,500 on the Coinbase's GDAX trading platform after it went live, which prompted Coinbase to halt Bitcoin Cash trading.
Due to this large upswing right before a big news release, and its subsequent 206% increase on GDAX, many people are crying foul and stating that Coinbase employees used this information to perform insider trading. Coinbase's CEO Brian Armstrong is not taking these concerns lightly.
In a blog post, Armstrong states that Coinbase will performing an investigation into the use of confidential information by their employees:
I take the confidentiality of material non-public information very seriously as CEO. Given the price increase in the hours leading up the announcement, we will be conducting an investigation into this matter. If we find evidence of any employee or contractor violating our policies — directly or indirectly — I will not hesitate to terminate the employee immediately and take appropriate legal action.
As cryptocurrency trading is unregulated, attacks against cryptocoin wallets intensify, and issues like this occur, it is for these reasons that many economists strongly advise against investing heavily in cryptocurrency. With the amount of money being made, though, its doubtful people will listen.