Comodo, the Internets' leading Certificate Authority (CA), has sold a majority stake in its SSL issuance business for an undisclosed amount to Francisco Partners, a San Francisco-based venture capital firm. The sale came out of nowhere and has surprised many technology experts.
Comodo is by far the leader in the SSL certificate market. The company claims it issued over 91 million certificates and is currently serving over 200,000 customers across 150 countries. Statistics by W3Techs have Comodo at a 38,7% market share, providing SSL certificates for 16.6% of all sites on the Internet.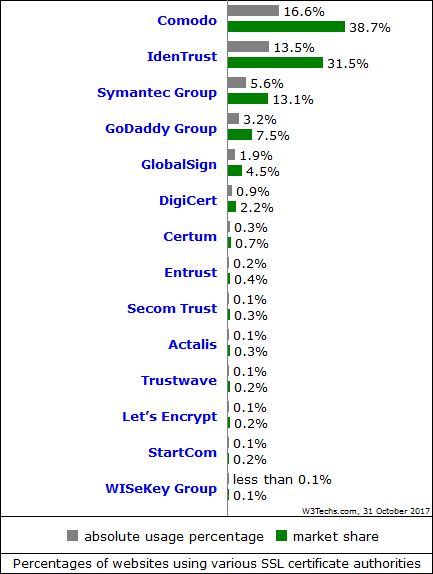 Second top CA sold in the past three months
This is the second Top 3 CA that sells its business in the past three months. Symantec sold its CA to DigiCert at the start of August for 950$ million in cash and a 30% shares option.
Symantec sold its SSL business because Google was planning to distrust all Symantec certs in Chrome starting next year, following a string of repeated security incidents.
Comodo's decision to sell appears to be a pure business decision on the part of Comodo's management, as the company was not facing any official investigation on the ground of SSL mis-issuance, despite some small blunders here and there.
Comodo bought by big Silicon Valley VC
The terms of the transaction were not announced, but the buyer — Francisco Partners — is a mammoth on the venture capital stage.
The company has recently sold its majority share in CORSAIR (high-performance PC components) for a whopping $525 million. The company is focused exclusively on investments in technology
and technology-enabled services businesses. Past investments include Blue Coat (cyber-security), Barracuda (cyber-security), WatchGuard (cyber-security), 2Checkout (online payments provider), Plex (hosting software), and more.
Francisco Partners intends to keep the Comodo brand for the time being. Experts believe the company bought Comodo's CA business in an attempt to expand its market share even further and target the government and enterprise sector, a very lucrative market previously dominated by Symantec, now up in the air.
Bill Holtz, former COO of Entrust and CIO of Expedia, has been brought in to serve as the new CEO of Comodo's CA business.
Comodo's CA business was founded in 1998, started issuing certificates in 2001, and is a founding member of the CA/Browser Forum, an organization tasked with managing SSL-related standards and rules.