Today at the Worldwide Developers Conference (WWDC) 2018, Apple announced a new version of the macOS operating system —version 10.14, codenamed Mojave.
Mojave's main headliner is the operating system's new Dark Mode, one of the most user-requested features in recent years.
Dark Mode is your basic "night view" desktop theme that replaces the white and bright grays —a staple of the "Apple look"— with black and dark gray colors.
Dynamic Desktop, Stacks, and new apps
But a darker desktop won't be the only thing changing this fall when macOS officially launches. Apple also announced another new addition to macOS, a new feature called Dynamic Desktop that automatically changes the desktop wallpaper based on the time of day.
Another new macOS feature is Stacks. With the click of a button macOS users will be able to group and arrange icons on a messy desktop based on their file types, such as images, documents, spreadsheets, PDFs, and more.
This isn't your regular "icon sorting" tool either, and the feature isn't named Stacks by accident. The new Stacks feature will display icons on top of each other, in piles. When the user clicks a stack, the icons expand automatically and allow the user to interact with each one.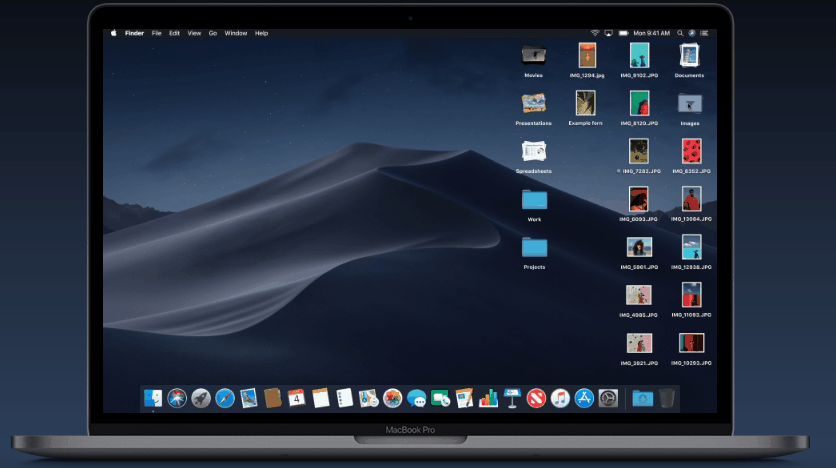 Apple is also adding new apps for macOS as well, such as News, Stocks, Voice Memos, and Home. While the first three have self-explanatory names, the Home app is meant for interacting and controlling HomeKit-enabled smart devices.
Other new features have also been added to the default macOS app Finder, but unless you're a photography nut, you won't really notice the new previewing and photo management features.
Oh, and by the way, FaceTime is also getting a long-awaited "group chat" feature, about ten years too late. Last but not least, the Mac App Store is getting a redesign.
| | | |
| --- | --- | --- |
| New macOS News app | New macOS Stocks app | New macOS Voice Memos app |
| New macOS Home app | New FaceTime group chat feature | New Mac App Store design |
But while the addition of a Dark Mode and Stacks in macOS are the more flashy features announced earlier today, the one that has developers all giddy is the addition of new features to the app developer framework to support iOS apps on the macOS desktop in the future.
Apple said the new News, Stocks, Voice Memos, and Home apps were ported from iOS to the Mac desktop from their original iOS codebase, and starting with late 2019, these features should be available for the rest of iOS/Mac app developers as well.
Other New Features
≡ Screenshots deliver new on-screen controls for easy access to every screenshot option and new video recording capabilities. A streamlined workflow enables easy screenshot sharing without cluttering the desktop.
≡ Continuity Camera allows Mac users to take a picture or scan a document nearby with their iPhone or iPad and have it appear instantly on their Mac.
≡ Markup tools are now integrated into Finder, Quick Look and Screenshots, making it fast and efficient to add comments to content and share with others.
≡ In Safari, enhanced Intelligent Tracking Prevention helps block social media "Like" or "Share" buttons and comment widgets from tracking users without permission.
≡ Safari now also presents simplified system information when users browse the web, preventing them from being tracked based on their system configuration.
≡ Safari now also automatically creates, autofills and stores strong passwords when users create new online accounts and flags reused passwords so users can change them.
≡ New data protections require apps to get user permission before using the Mac camera and microphone or accessing personal data like user Mail history and Messages database.
A first beta version of macOS 10.14 Mojave should be available later today via the Apple Developer Center portal for registered developers. A public beta is scheduled to start in June, for all users. You can watch the full Apple WWDC 2018 keynote below.