Had a post in the HiJackThis logs forum and was advised to try here.
Original Post
Thanks to the advice there i got rid of the spyware etc that was in my computer but still a couple of minor problems i'd like assistance with if anyone is able to help please?
Seems to be really slow starting up...the computer boots up quickly but when it gets to the desktop can take a good 5-10 minutes before you can start anything, if you click earlier it takes a good few minutes for something minor like IE or Outlook to open.
There does seem to be a lot of things running in the background, a lot of which i'm not really sure of and have no idea wether i should be disabling them or if their needed - i don't think of it is spyware or malicious but just not sure if most of it is needed to be running in background..
ATI and Gigabyte utilities specifically...i never use them but they've been on the computer since i had it upgraded a couple of years ago..
Another thing since i've had problems is when opening a folder on the computer (My Documents, My Music or My Pictures for example) there's no toolbar at the top anymore, still one on the left but there used to be on top aswell, have tried right-clicking everywhere on the screen to see if it's something i can manually enable but no joy?
When i open any of those folders or another one i get this error quite a lot aswell...pops up 4-5 times before it goes away and lets me access whatever folder it is: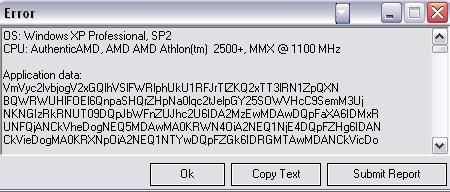 Anyone any ideas on how to solve these or how i could find out more about it?
I know it says only to post one problem but i'm not sure if these are all connected in the same problem or not so apologies.
Cheers!